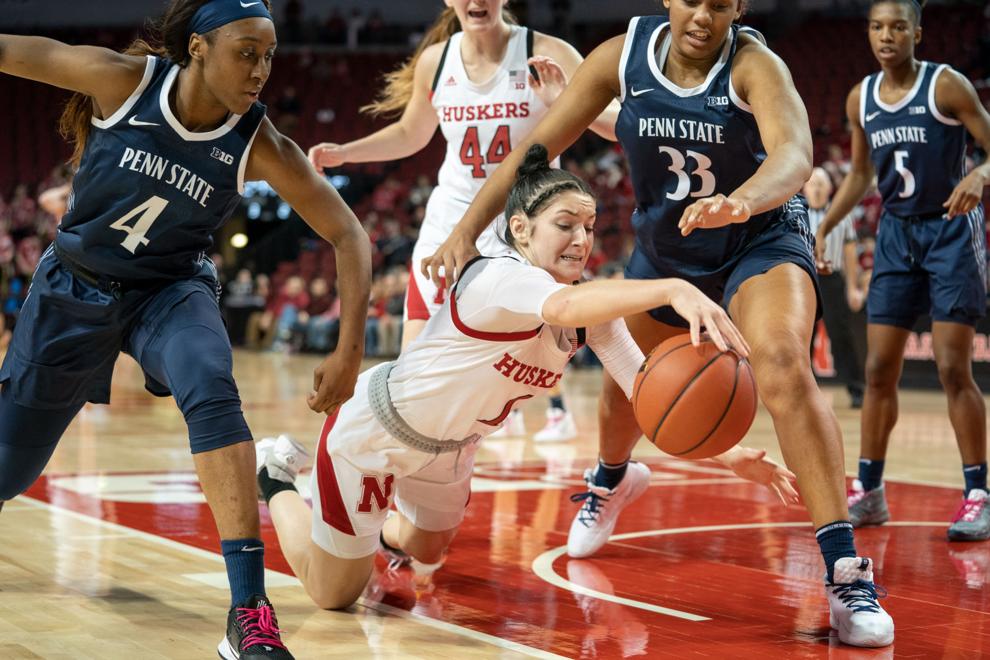 Freshman guard Makenzie Helms has an important Latin phrase tattooed on her body.
On her right forearm, the words "per aspera" are written in tattoo ink, while her left forearm says "ad astra." The Latin term "per aspera ad astra" means "through hardships to the stars."
The tattoo symbolizes the hardships she went through to get where she is today, the most significant struggle being her chronic compartment syndrome diagnosis. With chronic compartment syndrome, the muscles in legs are supposed to have a layer of connective tissue, fascia, around them that expands when you walk or run, but Helms' fascia didn't expand.
The pain began when she was in seventh grade, but Helms struggled with it for about five years before being diagnosed. Helms was told throughout the five years that it was just a case of severe shin splints. However, Helms described the pain as "shin splints times a thousand."
Helms attended Loomis Chaffee, a boarding school in Windsor, Connecticut, for her first two years of high school. Attending the prep school brought a lot of pain because she had to walk around campus for all of her classes.
After playing at Loomis Chaffee for two years, she began gaining interest from colleges, including Nebraska, and decided to move home and play for her hometown school, East Haven. Nonetheless, Helms still struggled with a lot of pain in her legs throughout her junior season.
"[Helms] would fight through because that's the type of kid that she is," East Haven head coach Anthony Russell said. "We figured that we'd ride it out for the junior season because we were on the hunt for a state title and then in the off-season we would re-evaluate."
East Haven went on to win the state title in Helms' junior season. After that season ended, Helms found out she had chronic compartment syndrome and had surgery on the second day of her senior year, before having a second surgery in April of her senior year.
After Helms' first surgery, she struggled with letting herself rest because she was motivated for her senior season. This caused Helms' senior season to be significantly more painful.
"She's a champ. You know even if she's hurt, she's gonna play through it," Russell said. "She played through our postseason where at halftime during our league championship, she was actually out the door dry-heaving because she was in so much pain and then she came back in and dropped 20 in the second half."
As the regular season games were winding down, Russell mentioned the coaching staff thought about resting Helms. However, they decided against it because her specialist said the only way to truly alleviate the pain was to get the surgery done. East Haven was on the hunt for another state title, so the coaches would try to rest her in practice as much as possible and just utilize Helms in games.
Another reason for continuing to play Helms was her goal to score 1,000 points at East Haven. According to Russell, the state doesn't recognize someone being a 1,000-point scorer unless they stay at a school for a certain amount of time. With that rule, Helms had to try to reach that accomplishment in half the time as most players.
Although East Haven didn't reach its team goal of becoming back-to-back state champions, Helms reached a personal goal and ended her career with 1,073 points scored at East Haven in her short two years there.
Aside from Helms' painful season, she still managed to be named the 2019 Gatorade Connecticut High School Player of the Year and was ranked as the No. 27 point guard in the nation by ESPN.
"It's just unfortunate we came up short that year. I think if she was at full force and wasn't battling some serious health issues, that we would have went further," Russell said.
The lack of rest and recovery after the first surgery led to the need for her second surgery. When going in for her second surgery, Helms' doctors said the scar tissue was the worst they had ever seen.
When the surgeons went into the second surgery, it looked like they hadn't done anything during the first surgery, according to Helms.
After her second surgery, Helms and Nebraska took recovery much more seriously. Helms wasn't able to play at all over the summer, including when the team went overseas. However, the recovery seems to be paying off as Helms experiences very little pain now. 
Now that Helms is healthy and gaining her momentum back, she can focus on her goals and contributing to the team.
"I want to be like the top person for assists, like boys or girls. That's gonna be my main goal for sure," Helms said.
Russell sees her potential in the passing game. He called her the best passer he's ever coached and Russell has coached both boys and girls teams for the past 21 years.
"She sees the floor as well as anybody," Russell said. "She had a pretty comprehensive package in terms of her basketball."