Dear readers,
The University of Nebraska system has over $10 million invested in fossil fuels through its public and transparent accounts controlled by the Board of Regents, and it has tens of millions more dollars invested in fossil fuels in its private account controlled by the NU Foundation. The image shows the breakdown of the University's public investments at the time of the last report at the end of June. The University prides itself on its academics and the preparation that it gives to its students so that they have a bright future, but these investments show support for giving its students a very bleak future instead.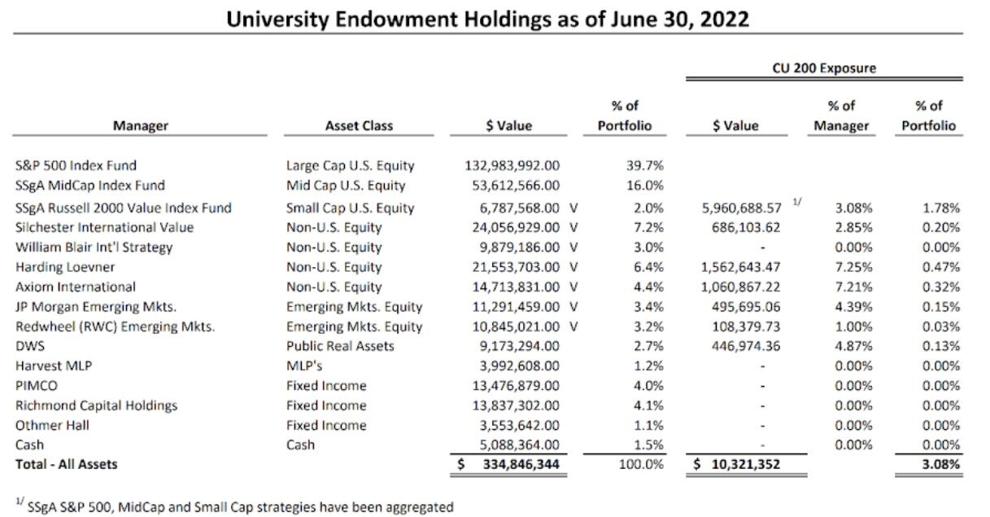 For this reason, the registered student organization SustainUNL created a subcommittee called DivestNU in 2019 to push the NU system to divest from fossil fuels. We have been told by University administration to focus on other environmental issues that are more important. However, divestment is important because it takes money away from fossil fuel-producing or holding companies. If enough people were to divest, then these businesses would fall and give way to green solutions. A common definition of divestment that DivestNU uses is the Carbon Underground 200 (CU 200) list of the top 100 coal and top 100 oil and gas reserve holders in the world.
In the past, DivestNU has held meetings with University administration such as Chancellor Green, helped plan climate strikes, tabled at many environmental/climate-related events and spoken at Board of Regents meetings in support of divestment. Additionally, ASUN has passed resolutions in support of divestment for several years in a row to indicate consistent student support for such an important issue. However, we are no closer than when we started to a public commitment to divestment from the Board of Regents.
DivestNU is not going away, though. In fact, we are only getting stronger. As the NU system's investments are representative of all four NU campuses, our coalition is expanding to the other campuses as well. We are in contact with sustainability leaders from the University of Nebraska Omaha, University of Nebraska Medical Center and University of Nebraska at Kearney in efforts to create more pressure on the NU administration by showing system-wide student support.
In addition to another ASUN resolution, we are hoping to gain the support of the Faculty Senate and Graduate Student Assembly. Individual meetings with regents are also a priority. We have meetings scheduled with three regents before Dec. 3, and we plan to meet with the other five regents individually as well to discuss and alleviate their concerns.
Divestment from fossil fuels is one of the biggest ways that the NU system can affect climate change and — in turn — its students' futures. DivestNU will continue to fight and hold our administration accountable until it commits to and follows through on divestment.
Sincerely,
Ryan Martz
Ryan Martz is a senior meteorology-climatology major. He is also SustainUNL's community outreach liaison.