Editor's Note: Debate moderators Carly Jahn, Nick McConnell and Becca Hummel were not involved in the reporting or editing of this story. 
The Daily Nebraskan hosted the 2022-23 ASUN Executive Debate between the campaigns Advance and Illuminate Tuesday night, featuring honest dialogue and intense back-and-forth debate between the candidates. 
The topics of the debate focused on COVID-19 policies, sexual violence on campus, the cost of attending the University of Nebraska-Lincoln and Diversity, Equity and Inclusion. 
For the Advance campaign, Jake Drake is running for President, Christine Trinh is running for Internal Vice President and Alec Miller is running for External Vice President. 
For the Illuminate Campaign, Meyri Ibrahim for President, Dulce Garcia is running for Internal Vice President and Harrison Lloyd is running for External Vice President. 
With the coin toss to determine which campaign would speak first in favor of Advance, they chose to defer the opening statement to Illuminate. In Illuminate's opening statement, Garcia said, "One of our values for Illuminate is advocacy. Advocacy action is not just dialogue with no promises to do better, but direct tangible action, that is why I am running." 
Going off of Garcia's statements, Lloyd said that meaningful change on campus cannot be achieved if voices are excluded from the conversation. 
Advance's opening statements from Drake, Trinh and Miller touched on their previous experience in ASUN. 
"We can't stress enough how important ASUN is and how [much] it has affected our lives," Trinh said. 
The first section of questions focused on the impact of COVID-19 on the university, starting off with a question asking how the candidates feel the university's administration has handled issues surrounding the pandemic. 
"We don't make the decisions about mask mandates," Drake said. "We don't make the decisions about vaccines, but what we do is provide a student voice to administrators and to the COVID task force for what direction we want to see the university take."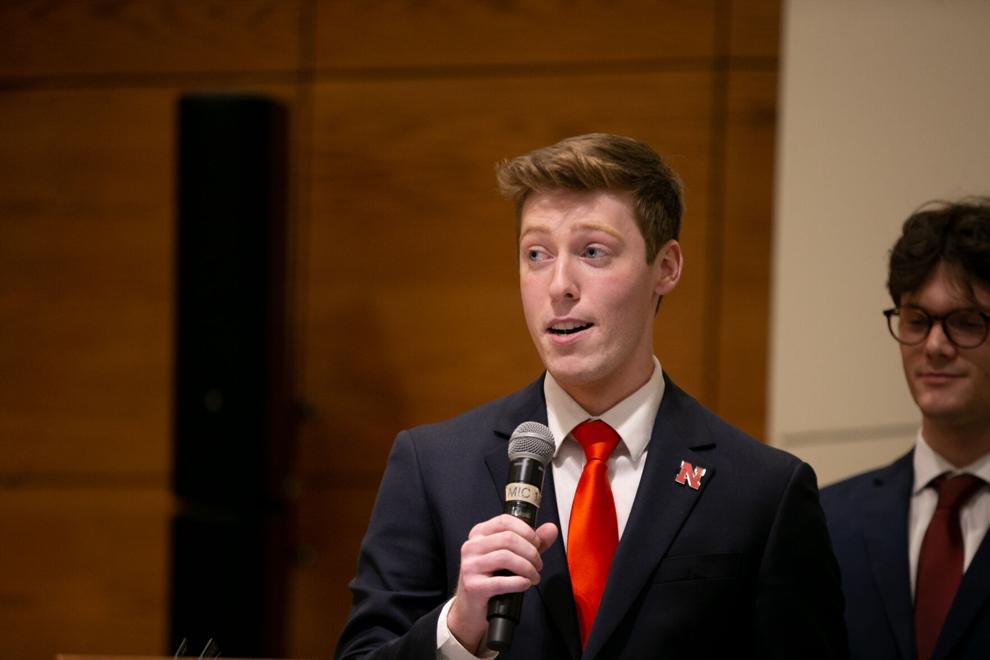 Drake went on to add that the administration has punted decisions to the Lincoln-Lancaster County Health Department rather than making different decisions that might be better for students. 
Ibrahim followed Drake's response by pointing out the lack of students who work with the administration regarding COVID-19. Ibrahim said that when there is only one or a few student representatives on a board who don't communicate with or seek input from other students, that can lead to changes that only positively impact few. 
"I hear a lot about people that are marginalized such as those immunocompromised, those that have disabilities, those that are Black, Indigenous and other students of color that are at higher risk of COVID-19," Ibrahim said. "They're not being adequately represented." 
A follow up question to both campaigns focused on the removal of the mask mandate on campus. Both campaigns agreed that there should have been more communication with students regarding the removal of the mask mandate. 
When asked about new ASUN legislation regarding COVID-19, both campaigns noted that they are not health experts and will not be able to make significant changes at the end of the 2021-2022 academic year. 
The debate questions switched to sexual violence on campus, focusing on the alleged assault at the Phi Gamma Delta (FIJI) fraternity in August 2021 and how the newly elected government would help students feel safe on campus. 
"[ASUN] policies have not been sufficient. And we have not done enough historically to prevent [sexual assault] or to support survivors," Drake said. "We can't always ask people to tell their entire raw stories in order for them to have change and be heard. But what we have to do is acknowledge that they exist and follow through when they follow up on projects and ideas." 
Ibrahim touched on her time on the Chancellor's Student Committee on Sexual Misconduct. 
"I do recognize that the policies and procedures that my committee specifically worked on were not implemented until national outrage happened," Ibrahim said. "I think a lot of that fell on the burden of student survivors because they have to go out and say, 'I am someone that has been affected by this.'"
The moderators directly asked the presidential candidates if they attended the protests during the start of the 2021-2022 academic year in front of the FIJI fraternity house. Both presidential candidates said they participated in the protests. 
"As an organization, we have to stand with survivors and we have to hear their stories and understand that there still needs to be changed," Drake said."We also need to be empathetic, understanding leaders in this debate because we only make positive change around this topic when we work together."
The third topic of the debate focused on money and the affordability of student fees. 
With Advance having the opportunity to speak first, Miller recalled that just recently he spoke with a student regarding the affordability of UNL. 
"We could do a better job at educating students on different scholarship opportunities. We also talked about how overwhelming it is," Miller said. "There are a lot of different scholarship opportunities. There's a lot of different options. So just kind of slowing down and taking students step by step."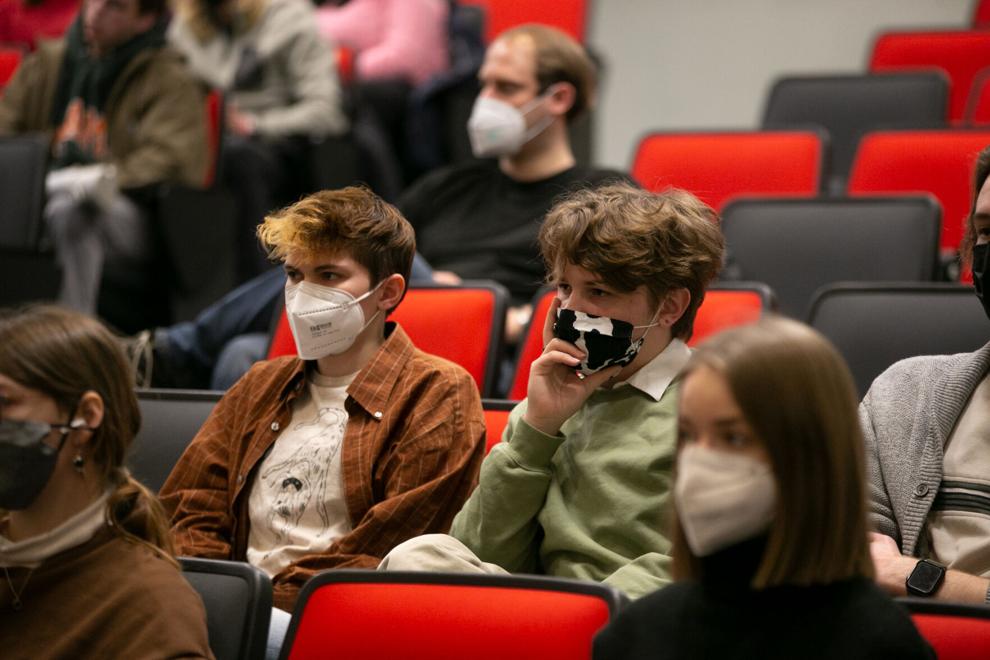 Lloyd pointed out that he has heard that students want more transparency with student fees which will help students understand where their money is going. 
Rebutting Illuminate's statement, Trinh added that both her and Drake are first-generation students who wouldn't be on campus without financial aid. 
"I know that going through and filing the FAFSA was a difficult task for me because my parents immigrated here over from Vietnam and really didn't have a clear understanding of the American public systems school system," Trinh said. "So just placing greater emphasis for first gen students and students who really need the financial aid."
Garcia followed up Trinh's point, saying she was a first-generation student as well as a Deferred Action for Childhood Arrivals program recipient which means that some resources are not accessible to her such as FAFSA. 
"We should put a greater emphasis on first gen and low income students. So making sure that there's resources that are very intersectional that just don't fall into citizenship status, because we have a great number of international students," Garcia said. 
The last area of debate focused on diversity, equity and inclusion (DEI). 
Drake started off by talking about how he is proud of "extremely diverse campaign of powerful leaders who have their own stories and things that they want to accomplish." 
Drake followed up his comments by saying, "We're not here to tokenize our campaign. The only thing about real diversity, equity and inclusion must be followed by action. And we have a powerful platform of action items and things that we can accomplish to do better this year." 
A rebuttal from Illuminate called out the lack of Black individuals on Advance's campaign. A back and forth of rebuttals took place between the campaigns regarding the diversity of the campaigns. 
"I recognize that is very hard to get all communities in a campaign," Garcia said. She also said that there were no Black people on Advance's campaign. 
Drake followed up Garcia's comment saying that there is a Black member of Advance's campaign, but that he was not going to tokenize her. 
"The reality is that we do recognize that DEI is not just people of color," Drake said. "I will be proud to serve as the first openly gay president of the University of Nebraska." 
The next question from the moderators for the presidential candidates was what makes their campaign most suited to lead campus on diversity, equity and inclusion. 
"It's one thing to fight for a seat at the table and that's really important, everyone deserves one," Drake said. "But it's another follow that up with actually really accomplishing something." 
After Drake's response, Ibrahim answered and touched on how it has been amazing to see people that have not had a seat at the table, who have shared their frustrations with student government and the lack of inclusivity and equity within it, ready to create change. 
"Representation is so important and not only representation but equitable representation," Ibrahim said. "I'm so proud of the team that we have and the people that are represented in it and I think that we have the true ability to create equitable change in multiple parts of this campaign."
Another question focused on the candidates' support of the Journey for Anti-Racism and Racial Equity Plan, where both campaigns answered in support of the plan.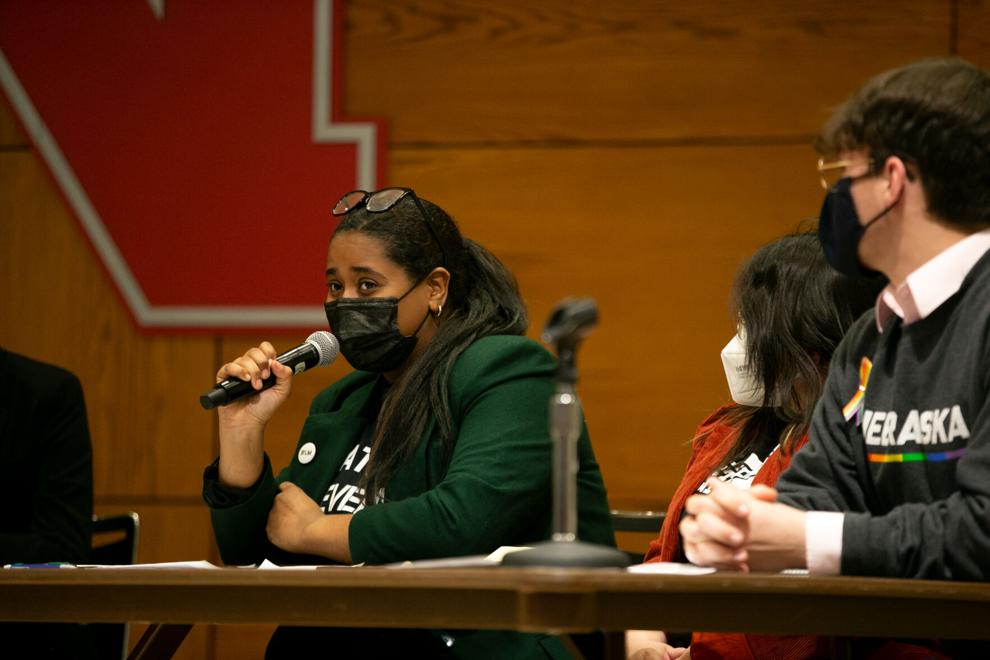 After Advance's response in support of the Journey Plan, Ibrahim followed up with a rebuttal, saying that, "I do think that specifically you three have contributed to the exclusion of Black students." 
This comment was made in regards to Trinh's past actions as Speaker of the Senate when she questioned if a Black woman was fit for a position she was appointed to, a situation which Illuminate referenced multiple times. Trinh rebutted the remark, saying it was not because of race but due to concerns over position qualifications. 
"I brought [concerns] up not because of racial issues and I apologize. I have apologized to the Senate and everyone who was affected," Trinh said. "I was elected into my position to serve as the will of the students of the student body, and as a courtesy to members in the Senate." 
Following rebuttals on this topic, the campaigns included closing statements and two questions from students. 
For Advance's closing statement, Drake said, "We have to understand that there are a lot of issues that we have to tackle and we're not going to be able to do it alone. we serve the students, we serve the organizations and the people who do the work, and it's our job to give them the tools that they need in order to succeed." 
Ibrahim spoke for Illuminate's closing statement. She touched on the campaign's four values: advocacy, accountability, accessibility and attainment. 
"DEI is not a pillar but rather a manifestation of our team and our lived experiences," Ibrahim said. "When it is placed into a single category, it is performative because it results in the exclusion of those that do not sit in the majority."
Ibrahim thanked the attendees and said how excited she was for the election and the impact students have for the future of student government. 
Students will be able to vote for ASUN March 1-2 on MyRed. A full recording of the debate is available to stream on The Daily Nebraskan's YouTube channel.
Editor's Note: This story was updated to clarify the situation surrounding Trinh questioning the appointment of a Black woman.