University of Nebraska-Lincoln students joined in solidarity on the steps of the Nebraska Union and in front of the Phi Gamma Delta fraternity — commonly referred to as FIJI — Tuesday evening to protest an alleged sexual assault that occurred in the house late Monday night.
The alleged assault, which was reported to the UNL Police Department around 4 a.m. Tuesday morning, spread among students via word of mouth and via social media, such as Snapchat and Yik Yak. Soon, protesters gathered loosely around 10 p.m. Tuesday.
FIJI has had multiple sexual assault allegations, and the fraternity was suspended in 2017 after members of the fraternity harassed Women's March protesters in January that year.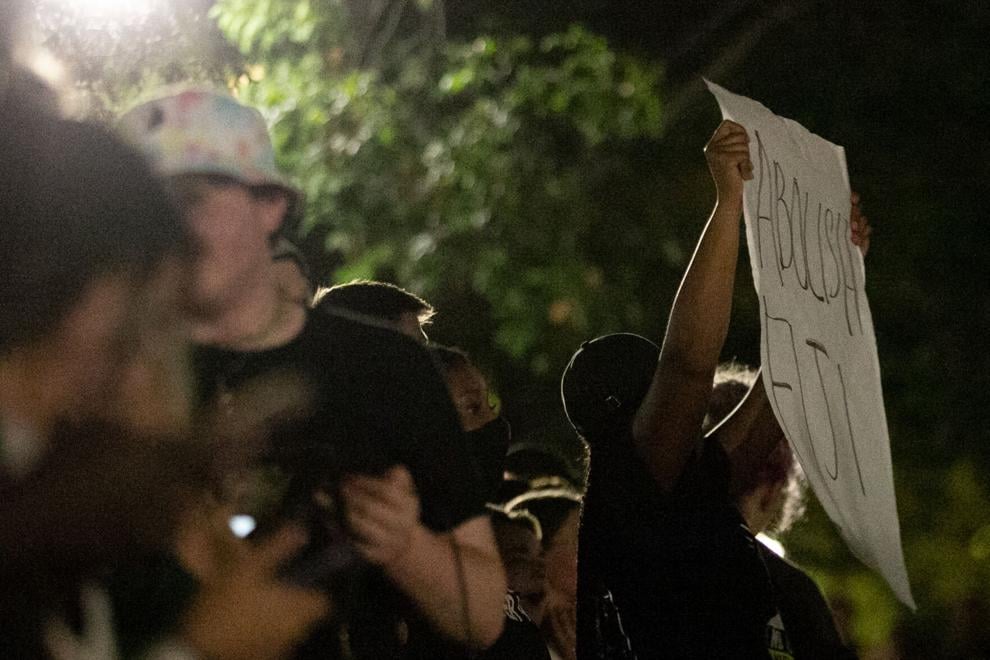 Students but also people of all backgrounds were scattered and spilled onto FIJI's property, with police closing off R street between 14th and 16th streets.
Chants broke out, such as: "F*** FIJI," "No means no!," "Momma raised a p****" and "Kick them out!" 
When UNL suspended FIJI in 2017, the fraternity's headquarters still recognized them as a fraternity. FIJI was able to recruit members, but freshmen could not live in the house. In spring 2019, FIJI petitioned for reinstatement and had to meet many requirements, including education on sexual misconduct. FIJI appeared before the UNL Interfraternity Council on Aug. 23, 2019, to share with a board how the fraternity had improved, plans to improve their chapter and why it should be reinstated.
Leslie Reed, UNL's public affairs director, said the university could not comment on an ongoing investigation. However, she said that at the conclusion of the investigation the university would move forward with any subsequent recommended disciplinary action.
UNL's Office of Fraternity and Sorority Life declined to comment directly. 
Trystin Somers, a communication studies major, said it was good to see many men at the protest. 
"What I'm seeing here tonight it's very good that there's a lot of men here, because it's good enough that ladies are coming out in support of an ending all forms of sexual assault," Somers said. "It's really good to see that there's allies here from the male gender as well that, even though they do get sexually assaulted as well it's definitely very disproportionately affected among ladies."
Hannah Howard, a sophomore elementary education major, said they heard about the protest through other people and wanted to support the survivor and let them know they are cared for. 
"The FIJI house is what I hear the most has a bad reputation and repeat offenders, especially when it's roofie-ing and something predetermined is so disgusting, and I think that the campus has to do something about that," Howard said.
Brent Lucke, a senior marketing and management double major and an Association of Students of the University of Nebraska senator, said there needs to be meaningful action within Greek life. 
"I think there's definitely time for some actions to be taken," Lucke said. "Both some sort of reform, potentially restructuring of how particularly Greek life selects its members and what sort of culture internally. Not just the formal culture, which they have cleaned up, but particularly the informal culture. You can say, within the house is that I think it's been allowed to be pervaded by the sort of sentiments that leads to that behavior for too long."
Earlier in the evening, ASUN's executive team released a statement in support and solidarity of sexual assault survivors and that they stand by women affected by the situation.
"ASUN is led by strong women leaders who understand the reality of sexual assault on college campuses. We stand with you, always," the statement reads. "We urge the University to take initiative to prioritize support for student survivors."
ASUN also encouraged students to use their voice — "the most powerful tool" — productively and safely and reach out to ASUN with any questions, comments or concerns. Internal Vice President Taylor Jarvis said before the protest that she, external Vice President Patrick Baker and Chief of Staff Cameron Collier would attend. 
"This is not an ASUN sponsored protest but it is something that we want to, that I want to go to personally not only as a student leader but as a student on campus as a woman on campus to voice that this type of situation is not okay." Jarvis said.
Local activist Dominique Liu-Sang arrived around an hour into the protest with a megaphone ready to invigorate the crowd.
"What do we do when our lives are under attack?" the crowd yelled. "Fight back."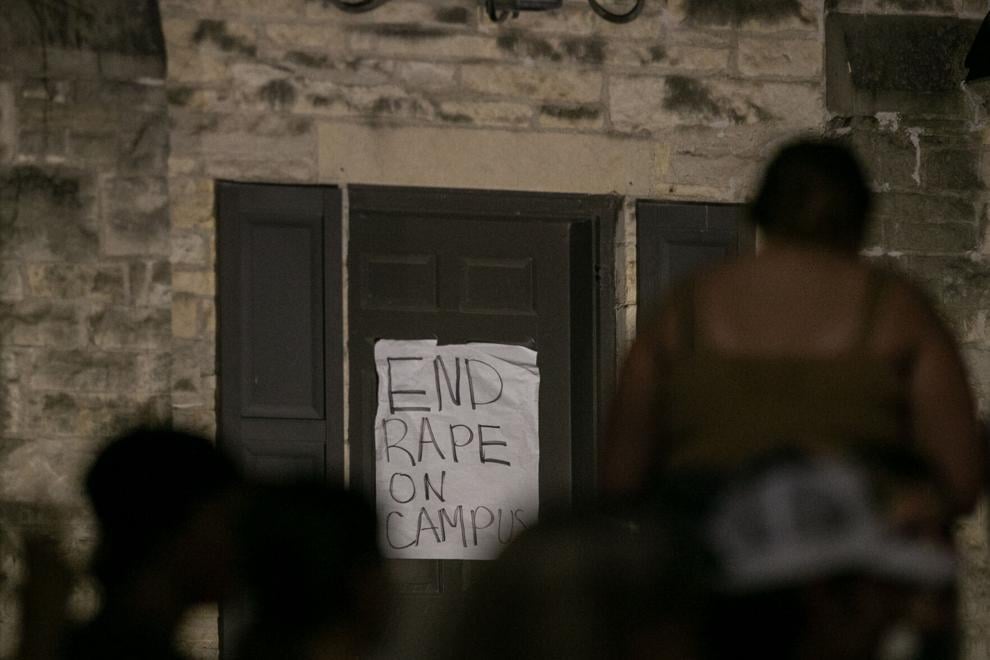 Protesters attempted to surround the house, but police sent them back to the front. Eggs were also thrown at the house.
Lincoln Police Department Cpt. Max Hubka said about eight officers were deployed to assist UNLPD.
Some protesters were detained for stepping across a small stone wall onto the lawn of the fraternity, he said, but a majority were peaceful and friendly with police.
"For the most part, from what I witnessed, people seemed to be following the law," he said.
Jake Drake, a junior political science major and an ASUN senator, said he was happy to see UNL come together. 
"I'm proud to see the turnout," Drake said. "It's also sickening that it takes something like this to happen, but the fact that UNL can come together about something like this and stand up is important"
As the crowd slowly grew smaller throughout the rest of the night, water was offered to protesters. At one point, a survivor of sexual assault detailed their own assault by the same perpetrator, citing a pattern of sexual misconduct. A protest leader asked survivors of sexual assault to raise their hands if they were comfortable. Nearly a dozen people joined in support. 
There were five minutes of silence for the survivor, as well as for any survivor of sexual assault, where some protesters joined hands in support.  
Vowing to return Wednesday at 10 p.m. as well and every night as needed, protesters demanded change from the university, accountability for the perpetrator and the full abolishment of FIJI.
"Every day until they're gone," protesters chanted.
UNL's Phi Gamma Delta chapter released a statement Tuesday saying the fraternity is working with UNLPD to investigate the allegations.
"We take these allegations very seriously as they absolutely do not meet our fraternity Code of Conduct," the statement reads.  
The fraternity's national headquarters could not be reached for comment before publication.
If you or someone you know is a survivor of sexual assault or violence, you can reach out to UNL's Center for Advocacy, Response and Education at victimadvocate@unl.edu, Institutional Equity and Compliance office at 402.472.3417 or UNL's Counseling and Psychological Services at 402.472.7450 for additional resources.
Zach Wendling, Carly Jahn and Nick McConnell contributed to the reporting of this article.
This article was updated at 8:05 a.m. on Wednesday, Aug. 25, to clarify the university would move forward at the conclusion of the investigation with recommended disciplinary action.