About 100 demonstrators gathered in front of the Nebraska Capitol building Sunday morning to protest President-elect Donald Trump.
Chelsea Dappen, a senior at Nebraska Wesleyan University, passionately spoke against Trump.
Dappen, a sexual assault survivor, was diagnosed with post-traumatic stress disorder four years ago. She said that her PTSD was triggered by the president-elect and that she refuses to be neutral about the election.
"As a sexual assault survivor, I know firsthand the dangers of neutrality and becoming a bystander." Dappen said. "In our culture, we're trained to mind our own business and not stir the pot. Sometimes, the pot needs stirred."
Dappen said comments Trump made to Billy Bush in a recorded conversation in 2005 were an admittance to sexual assault.
"The second we stop calling him out, his words become normalized," she said.
Lincoln resident Michael Funk, 24, said he protested because he's against everything Trump and his associates stand for. He's also concerned for the LGBTQ and Muslim communities, he said.
At the protest, he held up a sign about conversion therapy, which he said Vice-President-elect Mike Pence supports. Pence has not taken an official stance on conversion therapy but has supported using federal funds to provide "assistance to those seeking to change their sexual behavior," according to his website in 2000.
"[Conversion therapy] does awful things to LGBTQ teens," said Funk, who described himself as an ally of the LGBTQ community. "For transgender people, the attempted suicide rate is somewhere around 40 percent already, which is just ridiculously high, and conversion therapy exacerbates that."
Jack Pietenpol, 56, was the lone Trump supporter outside the capitol. He said he saw a post about the protest on Facebook and decided to attend, standing across the street with a Trump yard sign.
"All Trump supporters aren't what people think and what the media has made Trump supporters out to be," he said. "Sure, there are some bad factions, and I don't agree with those factions, but we're your neighbors, your co-workers, people that you sit next to in restaurants. We're not bad people."
Pietenpol said he didn't receive any negative feedback from the protesters.
"We're all Nebraskans," Pietenpol said. "We're pretty tolerant of each other and each other's views."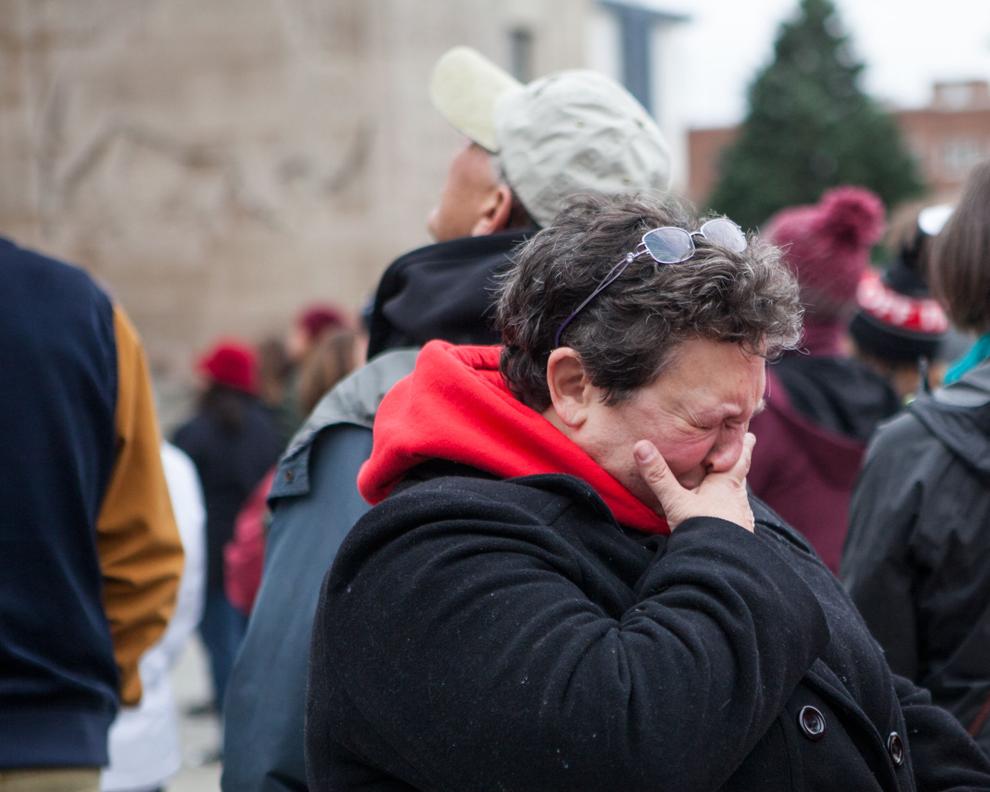 Lincoln Southeast High School teacher Paul Smith also spoke to the protesters. Smith, who is involved with the Freedom Writers Foundation and teaches Holocaust literature, said he fears the alt-right movement that'ss recently emerged on the political scene.
"I'm afraid of three things in life – it used to be two," Smith said "I'm afraid of cancer, I'm afraid of Alzheimer's and now, I'm deathly afraid of the alternative-right," Smith said. "That's a group that reminds me of Nazi ideology."
In an interview after his speech, Smith expressed concerns about Trump's choice for secretary of education, Betsy DeVos. He said he and other freedom-writer teachers will band together to halt any policies harmful to students and educators.
"Our call to action needs to be nonviolent," Smith said. "The whole world is watching."
Event organizer and University of Nebraska-Lincoln student Kristen Gorski said protests are also planned for Martin Luther King Jr. Day and Inauguration Day. Josiah Johnson, another UNL student and event organizer, said another protest is in the works for Dec. 11.