When looking over the landscape near North 112th and Adams streets in Lincoln, an unusual patch of dense greenery stands out against the surrounding farmlands. A thick block of tall trees, intertwining foliage and dark, lush greenery provide a stark contrast to the brown and gold tones of the agriculture enclosing it. 
In 1959, this field-turned-nature preserve was bought by Walter Bagley, a former associate professor of forestry at the University of Nebraska-Lincoln, and is now known as Prairie Pines, a wildlife refuge. 
Preserving this land as a natural ecosystem is of the utmost importance, according to Sue Kohles, a coordinator for Prairie Pines Partners nonprofit. The official mission of the organization is to "sustain a habitat for all living things through conservation, education and experience to promote a lasting connection with the natural world and its resources." 
Originally, the land where Prairie Pines resides was wild prairie. From there, it was processed for agriculture and pastures. The land then came into the hands of Bagley, who bought it with the intention of creating  a nature preserve. In the beginning, he used it as a small Christmas tree farm to pay off the land. Within a few decades, the flattened acreage blossomed into the diverse wildlife preserve it is today. 
Along with the mature trees of the woodland — some of which now reach over 100 feet tall and were mostly planted by seed within the past few decades — Prairie Pines also contains a small section of reclaimed grasslands and an area for UNL-sponsored agricultural research. 
Trees love company, and at Prairie Pines, each tree has a few neighbors surrounding it, according to Kohles. The land also has an array of natural windbreaks and even a small arboretum that houses dozens of different tree species and rare wildlife speckled throughout the groves.
"We don't cut down every dead tree because it's habitat," Kohles said. "And because we haven't done this, the threatened long-eared bat has been acoustically detected in some of the first trees that Walt Bagley planted when he bought the land."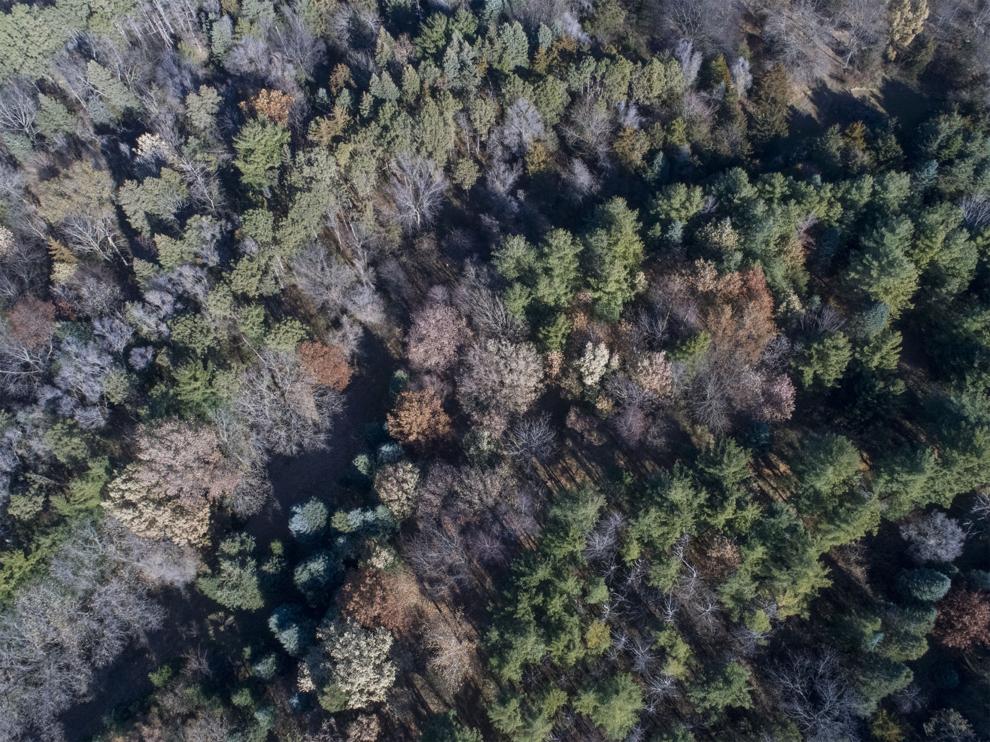 A few years after its founding, Prairie Pines was donated to UNL as a place to be protected in its natural form for the well-being of plants and animals alike. In this transition, Prairie Pines also formed partnerships with other organizations like Community Crops, a nonprofit that educates people on how to grow their own food, and became a place for student horticulture research. Prairie Pines created a space where people can interact with a healthy, preserved natural world without the distraction of the city. 
Aaron Clare, the forestry properties manager for the UNL-affiliated Nebraska Forest Service, works to supervise and protect land such as Prairie Pines. 
"People should go to Prairie Pines to escape the urban landscape and immerse themselves in the solitude of the forest," Clare said. "When you go out to Prairie Pines from Lincoln, you're leaving town and then you're in the corn and soybean fields, but as you get closer to Prairie Pines, you notice all these trees. And, as you pull in, it's so different from anything else on the landscape." 
Nature is an excellent stress reliever, Kholes said. With Prairie Pines' wooded surroundings, clear paths and separation from the city, she said she believes it provides an area where any Lincolnite can come to take a break and simply enjoy wildlife and, in the future, nature-based events like concerts in the woods. 
In order to push Prairie Pines to its fullest potential, Kohles said volunteers are needed. She urged students to get involved in any way possible, whether that be taking the time to train as a forest volunteer or using Prairie Pines as the setting for a school project. Kohles said the only way Prairie Pines will survive is if people know and care about it. 
Although they have exciting plans for the future, Prairie Pines currently offers a couple of activities, including public hiking on the second Saturday of every month and a children's nature art camp in the summer. 
"When you're at Prairie Pines, you choose," Kohles said. "You go wherever you want. You don't have to worry about the paper that's due or the work that isn't done in the yard or something about work. You come here, and you be here."
This article was originally published in the January 2020 special edition of The DN.
This article was modified at 4:40 on Jan. 20 to correct the name of a Prairie Pines Partners coordinator