While seeing someone who looks like you in a leadership role is not necessary for personal achievement, Karen Kassebaum, a University of Nebraska-Lincoln administrator, said seeing someone like her is motivational and empowering.
"I know some people think, 'Oh, well, you don't have to see somebody,'" Kassebaum said. "Yeah, you do, because historically a lot of the doors that we're trying to get in have been closed."
While UNL, local and national organizations lag behind in diverse leadership, many local Black leaders are ready to make change a reality.
History in the making
Before Jan. 20, the United States was solely led by male presidents and vice presidents, and all but one president was white. The election of President Joe Biden and Vice President Kamala Harris changed that, with Harris being the first woman and first Black woman of South Asian descent to be vice president.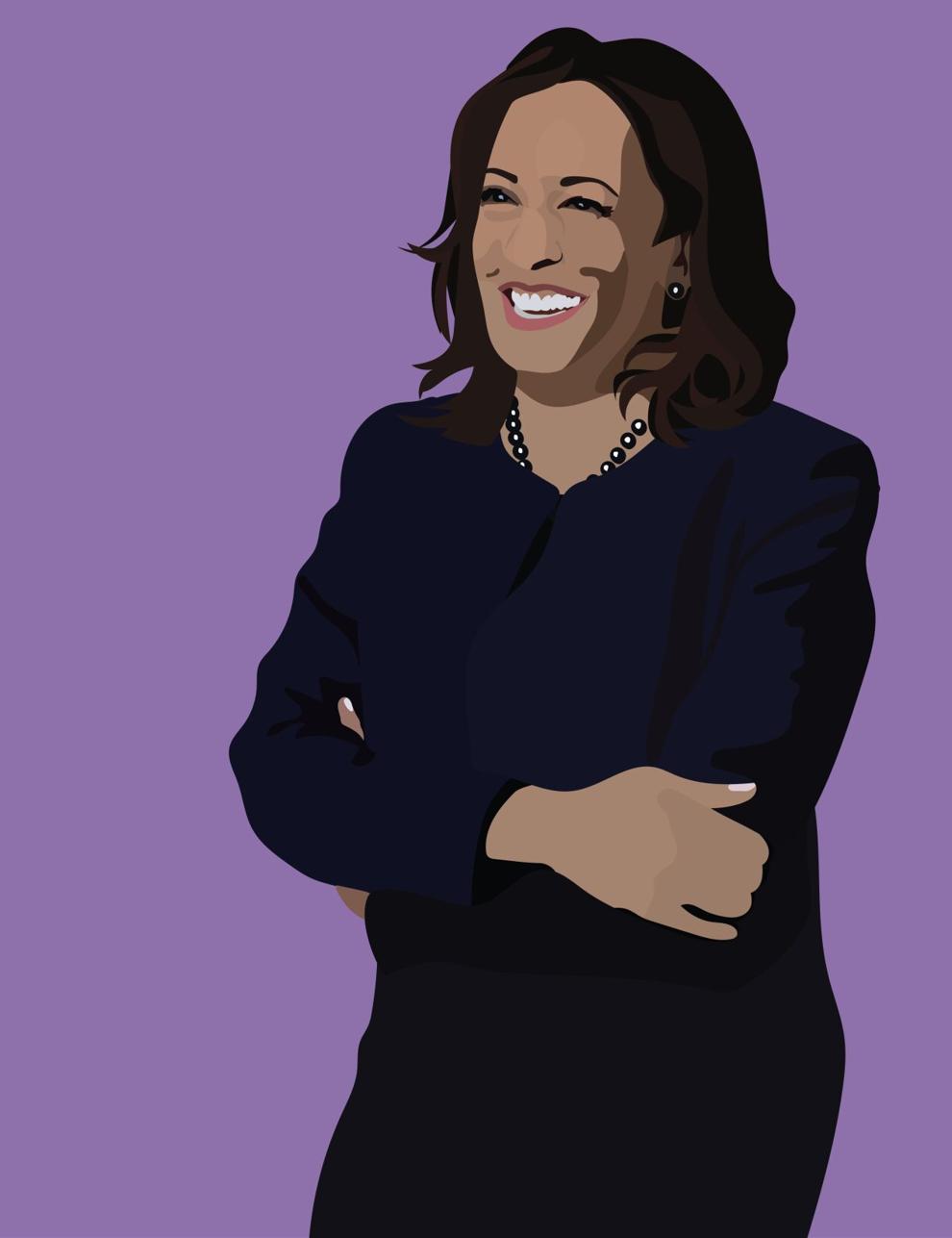 On Dec. 14, as Nebraska's five electors met to certify the state's Electoral College votes, Precious McKesson, donning a blue face mask that featured the statement, "We won't be silenced," made history alongside Harris. She was the first woman of color to cast an electoral vote for a Democrat in Nebraska.
For McKesson, emotions were overwhelming that day, but she was proud to be part of the history Harris was making.
Though Harris is the first woman and has changed the narrative, McKesson said she certainly won't be the last, echoing statements Harris has made since being elected.
"[Opening] that door and breaking that ceiling for so many other women to see that, 'Hey, you know what, with hard work and dedication you can make this happen,'" McKesson said.
According to McKesson, Harris is bringing women's issues to the national stage and highlighting different sets of lived experiences, with her Black experiences being "icing on the cake." McKesson's passion is making sure people of color know they can be candidates for office like Harris, then ensuring the community is investing back into those candidates.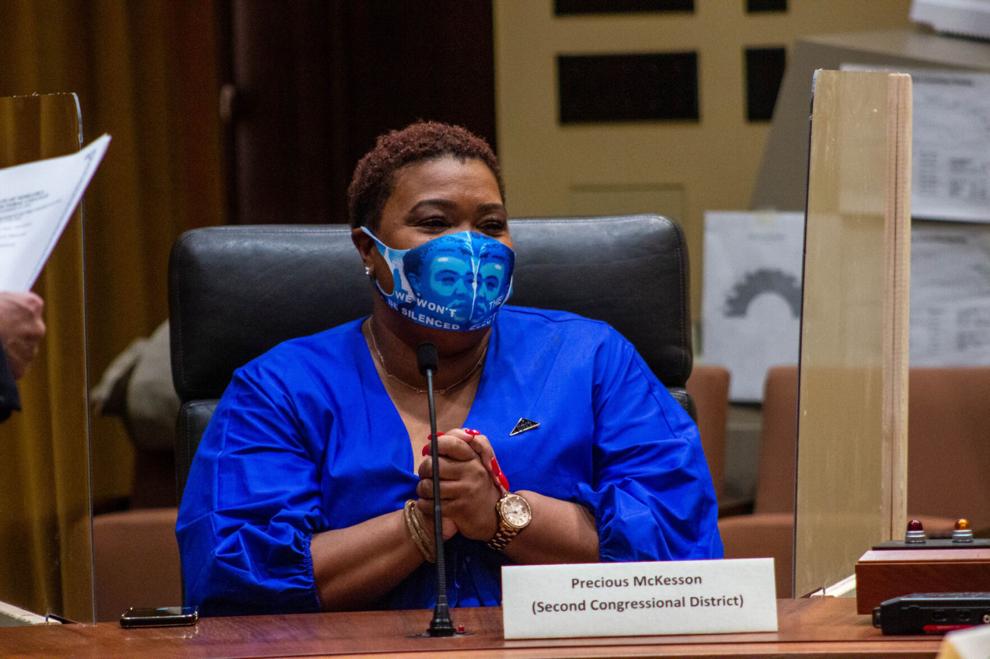 McKesson has seen more candidates of color getting excited about running for office, but they need extra support, she said, as they don't have the same cushion of generational wealth and supporters white candidates often do.
"We don't come with that," McKesson said. "[We] have to start from the bottom and work our way up."
As a leader herself, McKesson feels it is her duty to represent those around her and use her voice for what's right, something her daughter can look up to.
Nebraskans have stepped up putting Black Lives Matter signs in their yards, but now, those words must be put into action.
"I think we're going in the right direction," McKesson said.
Elections matter
Nebraska has never had a Black senator or representative in the U.S. Congress, and has had only 10 Black state senators since 1937, when the Nebraska Legislature merged into a unicameral system, according to information from the Unicameral Information Office.
Of these 10 individuals, nine have served districts in Omaha, but Lincoln residents have never elected a Black person to represent them.
JoAnn Maxey, the first Black woman to serve in the unicameral, represented Lincoln for two years after being appointed to the Legislature in 1977. In 2009, Sens. Brenda Council and Tanya Cook would break a more than 30-year absence of Black women and be elected to Districts 11 and 13, respectively, the same North Omaha districts occupied by the Legislature's only two current Black senators.
Sen. Terrell McKinney, who holds the historic seat of former Sen. Ernie Chambers and Council, said those former leaders created the foundation, so it's up to him to take that and advance it for his constituents.
In Nebraska, where Black people do not make up a large portion of the population, McKinney said it's still important to have diverse leaders, including more Black senators.
"The more experiences the better, especially different perspectives on issues to create more understanding," McKinney said.
Diverse leadership is critical to retaining talent because people must feel like they belong. Retention is something Nebraska has a problem with, McKinney said.
While the past year has been helpful for bringing attention to the issues facing Black people, McKinney said the focus now must be on holding leaders accountable.
"Making sure those words weren't just words, making sure we get action," he said.
McKinney said people should not be afraid to ask questions or challenge their peers because everyone has a different experience, and the best solutions may come from just sitting in a room together and disagreeing. Still, people must open their ideas and be open to change.
"Stop living in the 1960s and realize that the world has to change," he said.
Leaders must listen to those they've been elected to lead, he said, and they should be unapologetic in standing up for what's right.
But even with social change, McKinney said the top priority needs to be how to address economic disparities and poverty rates, because social change would lose value without the same economic change.
McKinney said while there is a long way to go for change, he is hopeful and urged those who may want to follow in his footsteps to continue to be themselves and live their truth.
"Don't be afraid, don't be insecure and say like, 'I'm not ready,' or, 'I don't know this,'" McKinney said. "Believe in yourself."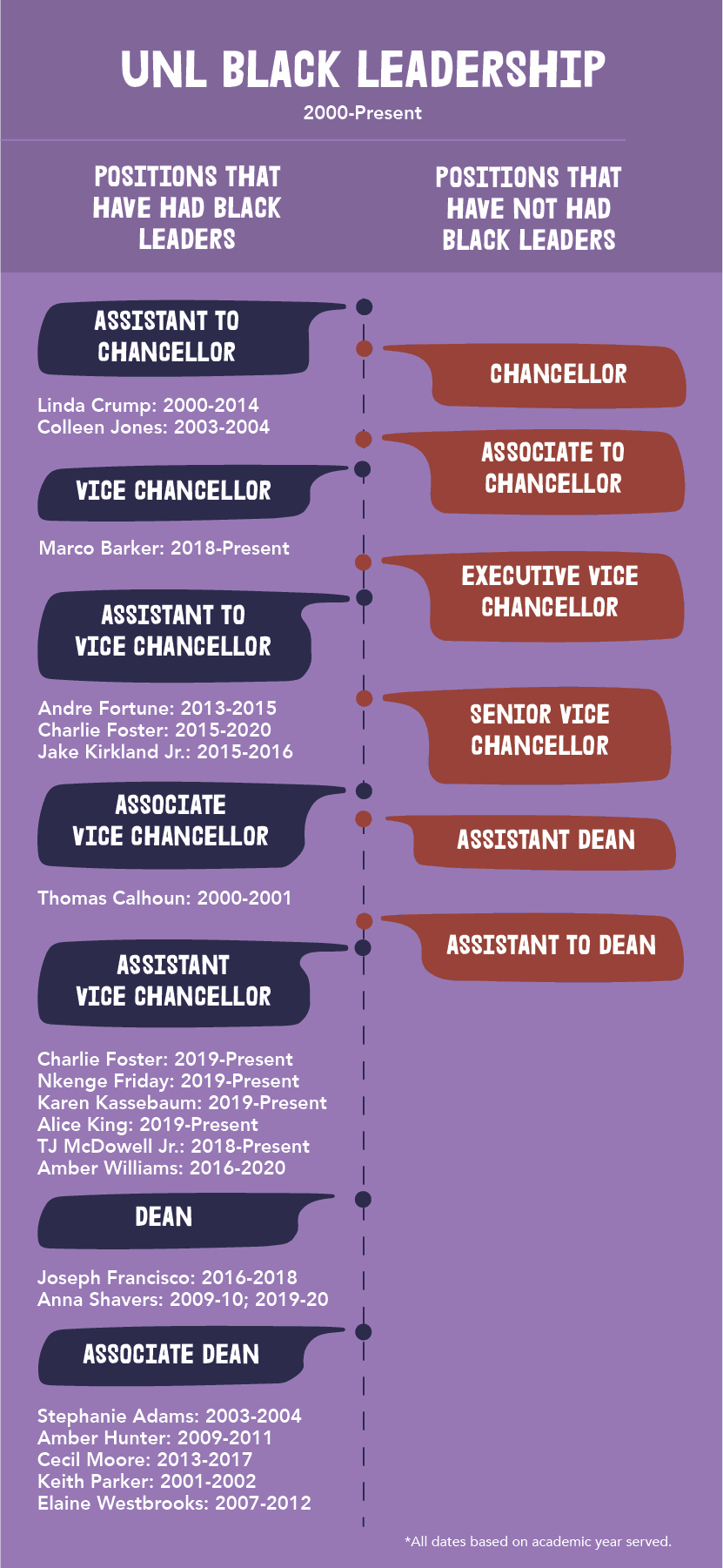 Hirable change
Though UNL is the largest employer in Lincoln, its top administrators have lacked Black leaders.
Only the University of Nebraska at Kearney has had a Black chancellor, and of the eight University of Nebraska presidents, none have been Black. There have also been no Black regents elected to the Board of Regents, according to Melissa Lee, NU's chief communication officer.
Since 2000, there have been 19 Black administrators at the dean, vice chancellor and chancellor level, which includes administrators on an interim or acting basis. Before that, Melvin Jones, a former vice chancellor for business and finance, had been one of the only other Black administrators at UNL before his death in 1999, according to data provided by Leslie Reed, UNL's public affairs director.
And for the Association of Students of the University of Nebraska, Batool Ibrahim would be the first Black president if elected this month.
Kassebaum, assistant vice chancellor for inclusive leadership and learning for UNL, is working to make campus a more inclusive space at the administrative level. She said her job is to provide education opportunities and administer leadership development training on campus related to diversity, equity and inclusion.
She said diverse leaders will set the trajectory for where UNL can go next.
"The leaders are really … supposed to get us where we're trying to go, pull it all together, help us with our roadmap and show us what a leader is supposed to be doing," Kassebaum said.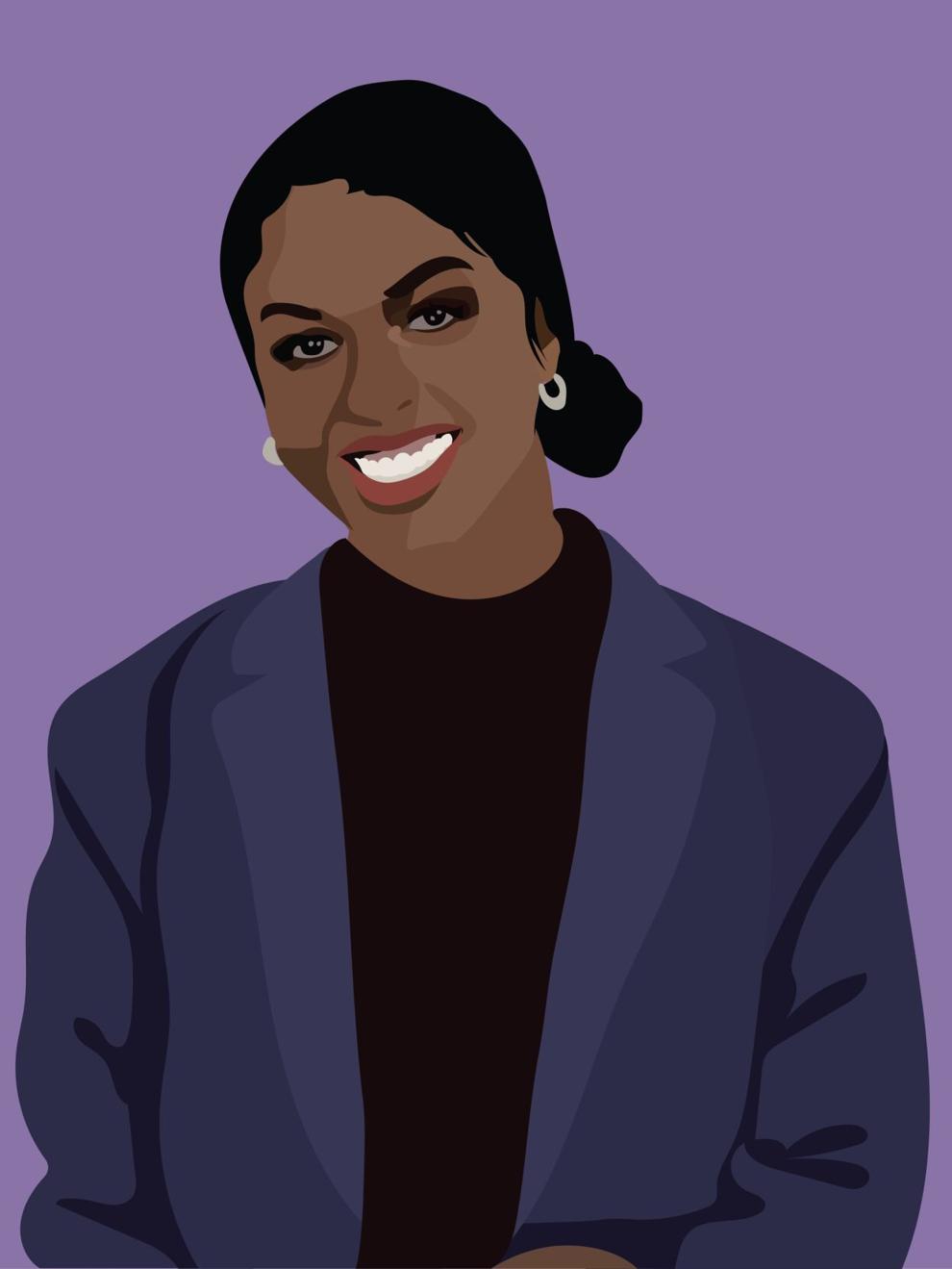 In Kassebaum's 16 years at UNL, Marco Barker, vice chancellor for diversity and inclusion, is her first Black boss. She said this has allowed her to speak about issues in a different way than she's been able to with previous bosses.
Kassebaum said this allows her to focus directly on the mission she was hired to do, rather than hide who she is. In this way, she said she can be outgoing, passionate and outspoken.
"Depending on the boss that isn't African American, it feels like there's more work into getting them not to look at me as a stereotype," she said.
While diverse leaders must be hired, Kassebaum echoed McKinney in saying that work must be done to create an inclusive workplace they want to stay in. It's not about a quota or a set number of leaders from certain backgrounds, she said, and diverse leaders also cannot be the only employees who are sought for questions regarding diversity.
"It's about respect," Kassebaum said. "Respect their work; respect them as individuals."
She said it's also not about hiring someone because of their identity. Instead, it's about hiring people whose voices are being underrepresented.
"Everybody has to start looking at their areas or they're not going to get any better," Kassebaum said. "Because if you don't diversify your crew, they're going to stay stagnant."
Changing the world at a young age
Though she is just 21, Dominique Liu-Sang is working to make a difference while at UNL.
Liu-Sang, a sophomore agricultural sciences major, said leadership is not just about being in charge or telling people what to do. Instead, it's about being a keystone of a group.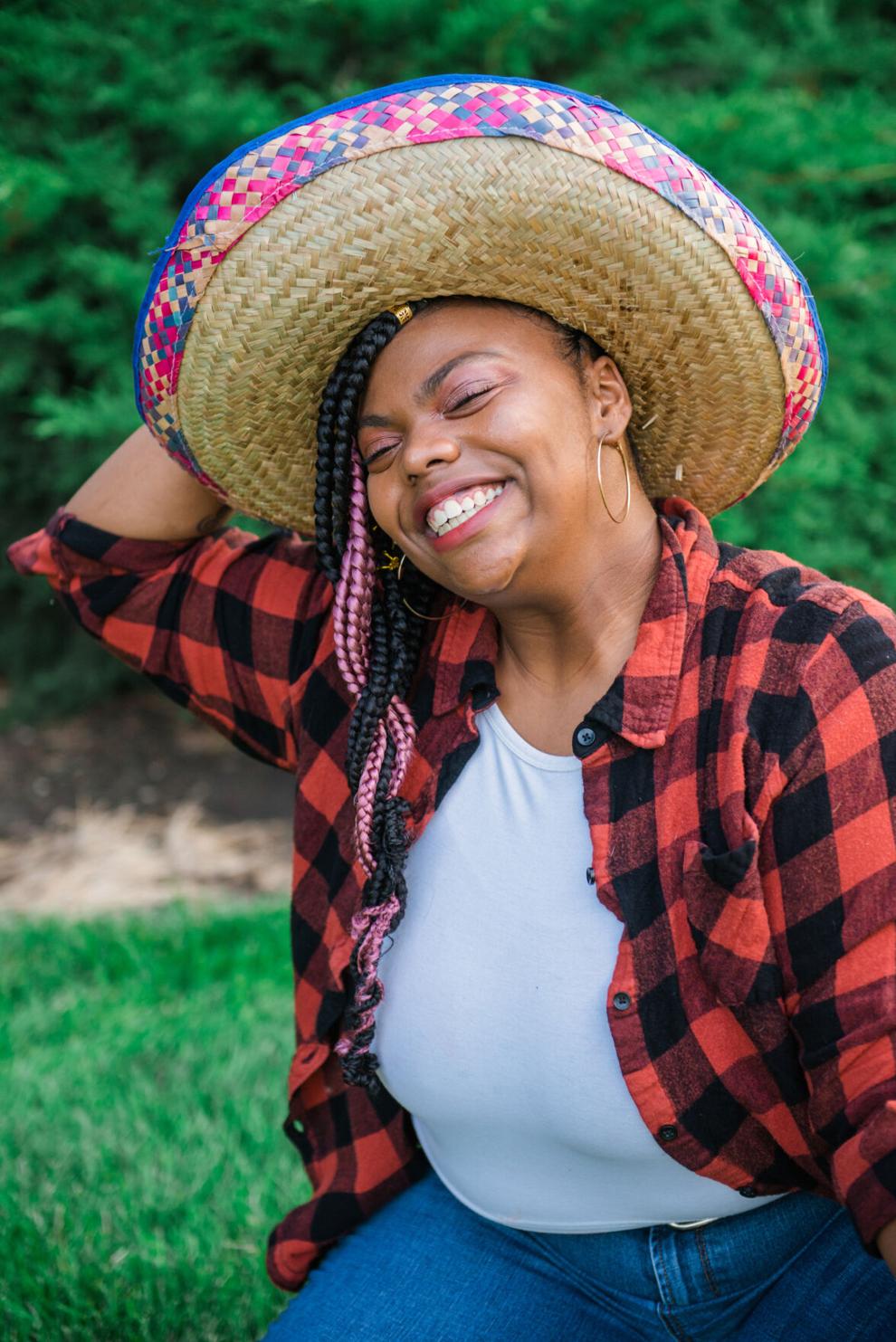 Liu-Sang is a member of the Black Leaders Movement in Lincoln, a nonprofit that "promotes the development of young Black leaders to achieve equality and justice for the Black community," according to the organization's website. 
The organization also provides a place for tough conversations.
"You can't have these hard conversations with your white peers if they don't even understand the basic concept of systemic racism or the negative generational effects of the traumas being Black," Liu-Sang said.
The movement formed over the summer when young, Black leaders organized a protest at the same place and same time and joined together, creating a diverse set of young Black leaders. The youngest was 17 at the time, and there is now a 16-year-old involved as well, she said.
One of Liu-Sang and the group's key focuses is to bring light to the injustices people face each day.
"No matter who you are or where you are in America, if you are Black you will face oppression regardless," Liu-Sang said. "Even if you're rich and famous, you still experience racism and systemic issues."
One change she wishes to see is for people to be more color conscious rather than color blind, which she said negates the trauma Black people have historically faced. Another change she wants to see is people understanding their own privilege and not getting upset by it.
"We're not saying that you didn't have to struggle, we're not saying that you didn't grow up poor, we're not saying any of that," Liu-Sang said. "It's just that you have a privilege inherently for being white, that's literally it, and you could use it for good."
Liu-Sang said everyone has privilege and she, who grew up in a deaf household, learned how small things like hearing, walking, talking and seeing are privileges.
"Everyone in this world is privileged in some way, but it's how your privilege affects others is what we need people to realize," Liu-Sang said.
Her role, she said, is to uplift those who don't have a voice.
"I speak up every day, that's just the bottom line," Liu-Sang said. "No matter where I go, what I do, bringing up a sentence of something that should be brought to awareness can change an entire conversation and alert a lot of people of things that they didn't even think about."
While there is a need for more Black leaders, Liu-Sang said the world needs leaders of different backgrounds, ethnicities and races in general.
"While us minorities in America are fighting the same oppressor, we all have different stories," she said. "Those stories and those backgrounds are what make diverse leadership beneficial."