Tens of thousands of country music fans filled Memorial Stadium for a concert to remember. 
Just before 8 p.m. on Saturday night, a five minute countdown began, leading a crowd into thunderous cheers. As the timer came to an end, smoke billowed from the east and west as Garth Brooks' band ran onto the stage. Brooks appeared under a rising drum platform to play "All Day Long."
American flags waved proudly along the stadium's rims as fans of all ages belted their hearts out.
Nearly 90,000 fans filled the stands, making Lincoln Brooks' largest selling show since 82,000 fans in Dublin and 84,000 in Denver packed in to see the country music legend perform.
"To say we're excited is an understatement," Brooks said Friday afternoon at a press conference. "This is a miracle that we're even getting to play here."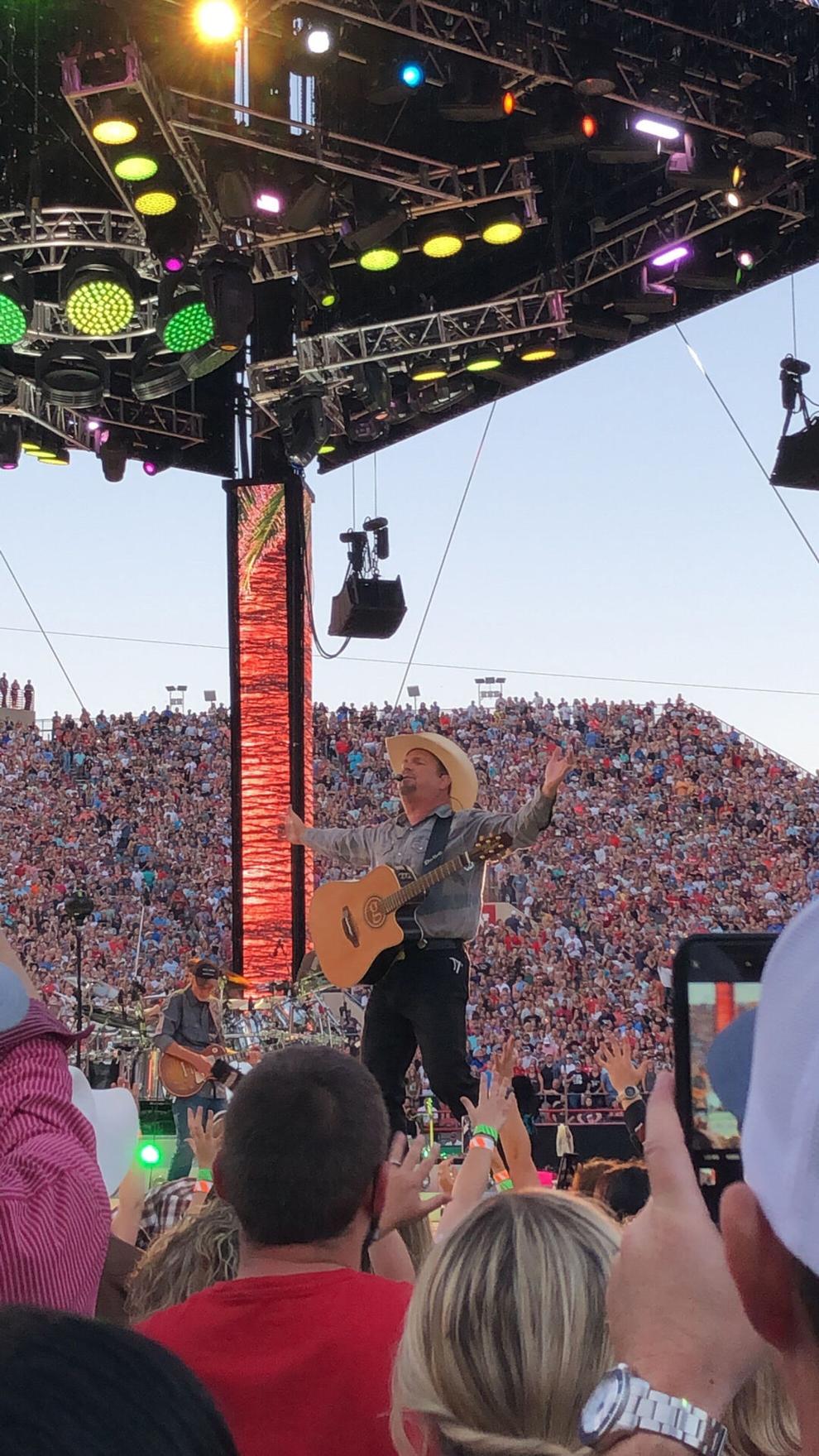 Brooks said on Friday that his goal was to get the crowd singing by the second line of the second song. In anticipation for the concert, he said he expected people to sing, and they did not disappoint. By the second song, "Rodeo," the crowd joined with, and not too long afterward, Brooks was reaching into the crowd's outstretched hands and touching hearts.
"You're going to watch, and you're going to listen," Brooks said Friday. "And by the second line, I'll tell you what kind of night we're going to have. And if they are where I hope they are, the laziest guy in the planet just gets to sit all night long. I'll start, you'll finish. I'll start. You'll finish. I'm going to work you like a rented mule." 
It didn't take too long for Brooks to announce during the concert, "I am home," followed by, "This is going to be a stupid night."
By the time Brooks got to "Two Pina Coladas," he had the fans singing every other line. The night was filled with laughs, jumps, slow dancing, smiles and tears from not only the fans, but Brooks as well. As the sky began to darken, fans began waving phone lights for songs such as "The River" and "Unanswered Prayers."
"This is the coolest thing I've ever been a part of," Brooks said in response to the fan's lights.
Nearly 45 minutes into the concert, Brooks asked the audience if they wanted to slow things down.
"I'm the captain of this ship, I can slow this thing down if you want to now," Brooks said. "You really want to go at this pace all night long, do you?"
The audience responded enthusiastically, and the party kept going.
In order to perform to everyone in the stadium, Brooks' concert incorporated a circular stage, allowing him to sing to each fan in the stands. He said on Friday that the stage style can make the concert a little hard and more tiring, but that he was excited to engage the whole audience.
"I'm tired of not being with people," Brooks said to the crowd. "Five minutes into this show, I decided I was going to enjoy it more than you."
Around 9:45 p.m., fans were in for yet another treat as Brooks' wife, Trisha Yearwood, joined him on stage. Brooks began singing Lady Gaga and Bradley Cooper's, "Shallow," as Yearwood rose from the west side of the stage to fill in the female vocals.
After the audience quieted down, Brooks stood in disbelief commenting on how he sang for two hours to get cheers, while all she had to do was sing one song.
Yearwood proceeded to perform "Walkaway Joe," with her husband playing guitar before giving back the spotlight.
Prior to the concert, Brooks credited his success to the people on his bus. He said he didn't need a pre-show ritual when he surrounds himself with the right people.
"I know that I'm about to see the drummer that started this thing with me in 1988, who's got a heart of gold, sweetest guy, that wants his best show to be tonight," Brooks said on Friday. "You get to go out there on this stage, which you're scared to death anyway because it's a high pressure situation, but the people on the ship are all people you love, and you know they love you so you know you're going to be safe."
In addition to introducing each band member on stage with him, Brooks gave Pat O'Neill, an audio technician and engineer, the chance to run around the stage as the audience cheered him on. O'Neill sported a Scott Frost jersey as the Grand Island native was thanked for all of his hard work at the previous night's sound check. Brooks said that O'Neill walked around the entire rim of the stadium to ensure that everyone would get the best sound in the house.
Friday night's sound check was open to University of Nebraska-Lincoln students and staff members. Students were allowed one free ticket, while staff members could buy up to two tickets for $10 each. Brooks said at the event that all of the funds collected would go back into the university for scholarships. In addition to having the chance to prepare for the show, it also gave Brooks a chance to reach out to a new generation.
"So then the college student comes here, and you get a chance to pass along music like 'We Shall Be Free.' Pass along music like 'The Change,'" Brooks said. "Things that no matter what your age is, you believe as a fellow human being, as an artist, that that message needs to be heard."
A UNL senior named Carson got a special surprise at the sound check. After asking Brooks a question about how to get a career in set work, he was offered a job on the tour. Carson was also announced at the concert and given his chance to run around as the stands cheered him on.
Joe DeSanti from Omaha was in the stadium Saturday night with his friend Mindy for their first time watching Brooks perform. DeSanti said he listened to Brooks for years and was lucky to receive tickets from Brooks' manager.
"My favorite part about Garth Brooks is probably just the fact that his music can bring this many people together," DeSanti said. "It's just something about country music that makes you feel American."
Jason Long from Omaha watched Brooks for his fifth time Saturday night, and brought along his nine-year-old daughter, Emma, for her first experience watching Brooks perform. 
"I want my daughter to experience what Garth Brooks has to offer," Long said. "He's the greatest entertainer ever."
According to Long, it was probably Brooks' best concert yet and he would absolutely bring Emma again. 
Although Brooks didn't play Emma's favorite song, "Ireland," Emma said she still liked the concert and danced around to the roaring music.
As the first concert in Memorial Stadium since Farm Aid III in 1987, Brooks said he hoped this could present the opportunity for more bands in the future.
"We owe a lot of things to University of Nebraska for opening their door," Brooks said. "I know this is something that isn't common, so my hope is that it goes really well for them. So maybe it might become something that's a little bit more common, because anybody that plays music needs to play in front of this crowd."
Brooks estimated that nearly 50 percent of the crowd for a show in Nashville, Tennessee is out of state fans. However, for Lincoln, he said he would guess 90 percent of the stadium was filled with Nebraskans.
"These people know their country music inside and out," Brooks said. "It's sheer joy to get to play here, to play to this iconic stadium."