To enter University of Nebraska-Lincoln facilities this semester, community members must first show proof of a negative test to wellness attendants stationed around campus.
Last semester, though masks were required on campus and many classes were online, building access was not monitored. With new policies implemented for the spring semester, this is no longer the case. 
Largely composed of student workers and staff supervisors, wellness attendants are stationed at the main entrances of many campus buildings. Attendants check building access status through the Safer Community app to make sure community members are eligible to enter buildings and are complying with health policies, such as mask wearing. 
Attendants were supposed to start on the first day of the semester, but UNL's two back-to-back snow days pushed back their debut. Julie Koch, wellness attendant supervisor, said some students were uncertain of campus policies, so implementing the attendants was difficult. 
"It's been a challenge with the second round of testing," Koch said. "A lot of students claimed that they didn't know they would have to test again."
Koch said she strongly recommends students and staff regularly check the app to make sure to get their test done 24 hours or more before the previous test result expires.
The university hired Koch into her position two weeks ago. She had previously worked for six years as an acceptance agent in UNL's passport office but was displaced when the pandemic hit last spring. 
Koch said her job is to troubleshoot problems that attendants are having as their main point of contact and ensure their duties run smoothly. She walks around buildings where attendants are present to check on them and make sure they have adequate signage, tables and supplies, such as disposable masks and disinfectant spray. 
Judy Walker, associate vice chancellor for faculty and academic affairs, is overseeing the hiring, training and scheduling of wellness attendants at both City and East campuses this semester. She said 90 attendants have been hired, with plans to hire more.
The daily schedule for wellness attendants is based on expected foot traffic, Walker said, as they are usually placed in buildings with more in-person classes.
So, not every building or main entrance will be covered by an attendant every day, but community members are still expected to be ready to display their status if asked by staff. 
"There was never an intent to put them in every building," Walker said. "It's not like campus is locked down."
As more attendants are hired, Koch said she expects fewer gaps in attendant coverage. 
To ensure students display a valid result, Koch said the color of the background of the access status page as well as the ring around the user's profile picture changes every day. Attendants are trained to look for the "color of the day" as well as the rotation of the ring to ensure students aren't showing photos of an outdated negative result. 
Community members who are unable to use the app are asked to access Safer Community using a desktop or laptop and print out a new access status page every day. If one does not have access to a printer, two kiosks are available at the 17th and R parking garage and the East Campus Service Building. 
Koch said there have been a few incidents of students who had a "denied entry" status trying to walk past attendants. In these cases, attendants are trained to gather as much information as they can and report the incidents to the Office of Student Conduct & Community Standards. 
Two wellness attendants said that outside of these situations, most students have been compliant with the process. 
"Most of them are really chill about it," Ben Czapla, a wellness attendant and junior secondary social science major, said. "A couple times people have complained, but usually in a couple seconds they get their phone out."  
Jeremiah Agyakye, a sophomore chemistry major, said he found out about wellness attendant job openings through an email from his adviser and has not encountered many issues in his first week on the job.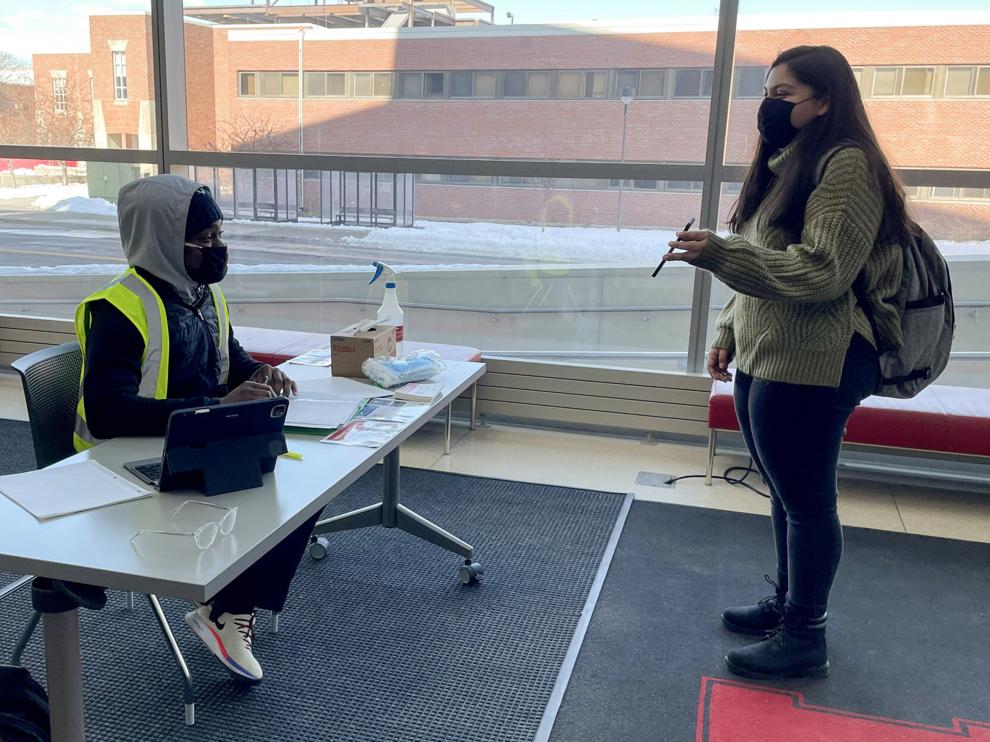 He said most students seem to be generally familiar with the process and have their access page ready to go when they enter the building. 
On Wednesday, the university announced plans for a third round of mandatory re-entry saliva testing. If positivity rates remain low and no spikes or outbreaks occur within the community, the university will transition to mandatory randomized mitigation testing. 
Walker said that if mitigation testing were to occur, wellness attendants would continue to be posted at entrances and community members would still need to display their status before gaining admittance. 
If somebody tests negative in the third round of re-entry testing, their status would remain granted unless they are chosen for a random mitigation test or test positive in other forms of testing. 
"We will continue to have wellness attendants because, as the chancellor's message stated and assuming the third-round results are as expected, we will shift from everyone being tested regularly to mandatory random mitigation testing," Walker said in an email. "The mandatory aspect of this, along with the test results, will continue to be tracked through the app." 
While wellness attendants continue to settle in and grow their ranks across campus, Agyakye said he is proud to help keep the community safe and healthy. 
"It's important," he said. "Campus is where we live, and it's a place to be safe and know that you shouldn't fear coming to class or going into certain facilities."