As "Kinky Boots" star Lola would say, "Ladies, gentlemen, and those yet to make up their minds," Friday night began the first of five "Kinky Boots" performances at the Lied Center for Performing Arts, which blew the heels I now wish I was wearing clean off my feet.
To start off the night of the Tony Award-winning show, my mom and I arrived at the Lied at 7 p.m., a half hour before the start. The Lied Center's front doors prominently bore "Kinky Boots" posters, and my mom insisted we get a picture taken in front of one. The first person to accept our plea for a photographer happened to be in ecstasy waiting for the show. He said it was the second time he and his husband had seen "Kinky Boots," and the musical was at the top of their favorites list. The smile beaming on his face from talking about it was already enough to make my night, and now after seeing the show, I haven't stopped smiling inside and out.
Yeah, that sounds corny, but the musical's wholehearted warmth and genuity was a necessary refreshment.
An introduction and thanks to donors was given by Bill Stephan, the Lied's executive director, and an actor did a little skit for cell phone silencing. Then lights, camera . . . you know the drill.
Mr. Price, played by Jeffrey B. Duncan, was the first on stage with his son, Charlie Price (played by Lance Bordelon) singing about how beautiful shoes are in "The Most Beautiful Thing in the World." The sardonic, materialistic themes develop a daunting environment on stage. A juxtaposition of business and humanity is created as Charlie's fiancee, Nicola (played by Hayley Lampart) obsesses over expensive shoes while Charlie is torn between following his own dreams or maintaining his father's business.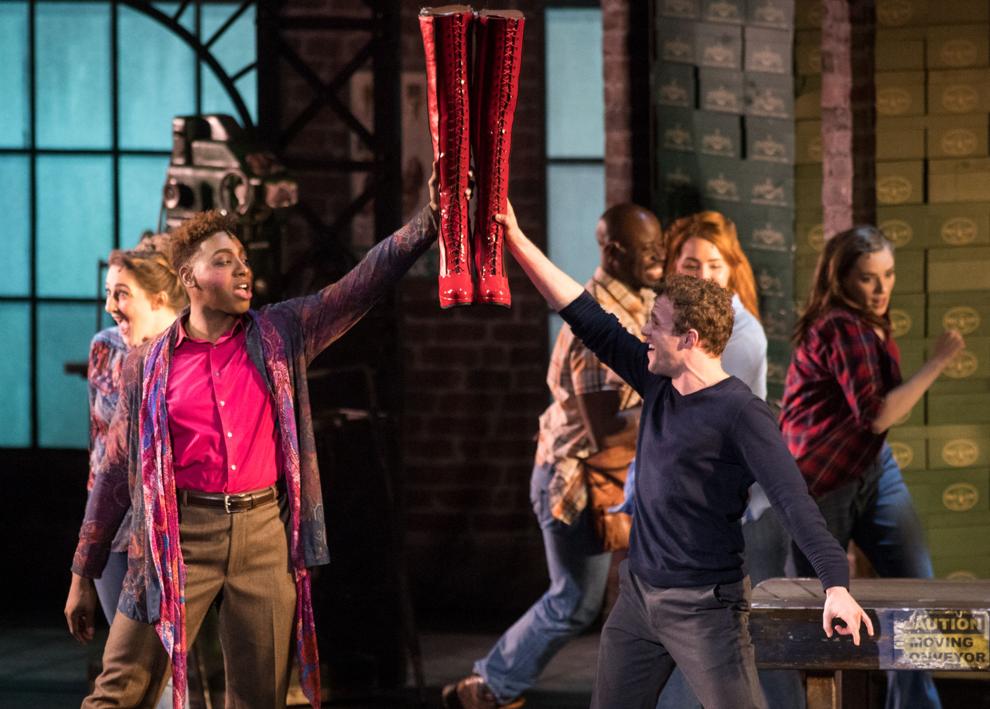 Between scenes, the meticulously decorated set spun and transformed, with realistic depth and blocking that attracted all my attention. The set easily changed from a shoe factory, a bar and a cabaret venue in a few quick sweeps of blurry movement. Charlie, the main character, ran from scene to scene in the first act, looking for a lifeline after his father suddenly died, leaving the shop to his son. His first solo, "Step One," gave Bordelon the opportunity to peek from the chorus into a resounding, impressive tenor.
Lucky for him, Bordelon's first encounter with his co-star and drag queen Lola (played by Jos N. Banks) got him knocked out by her shoe and taken back to her dressing room where they became acquaintances. Through leg kicking, hip popping and impossible acrobatic acts in six-inch stilettos, Charlie and Lola come together to make the "Kinky Boots" boots, saving the family shoe business.
However, the play's attention is far from shoes. The focus lies within a critique of gender stereotypes and expectations, a challenge of social criteria, a flashy, grandiose, beautiful nod toward progressive ideologies of humanity. Lola, who also has a past of winning boxing championships, has her masculinity challenged by Don, a 'manly' shoe factory worker. The challenge from Don: a boxing fight. She lets him win. Her challenge to him: accept someone for who they are.
"Kinky Boots" intricately depicts family loss, self-discovery and assurance, through a never-too-late-to-change, coming-of-age story that fills hearts with joy and bones with electric sensation.
At one moment, the stage will be set to the shoe factory and an unexpected cabaret song and dance will break out amongst Lola's drag queens, while the cast uses a real conveyor belt and spinning set to dance, run and flip over the stage. Another moment, Lola is belting her powerhouse vocals in a full gown with lights beaming out behind her in a robust, heartbreaking solo during "Hold Me In Your Heart." Banks proved his talent from the get go, cleanly resting on notes high in the soprano register during "Land of Lola" and "Not My Father's Son." Most of the time he's dancing vigorously.
I implore you, go see "Kinky Boots" while it's still at the Lied. It'll be the best investment you've made this month. With an amazing cast and a vibrant, uplifting story, "Kinky Boots" will make a positive, lasting change on your week, or even longer, depending on your fleeting attention span.
Tickets are still available on the Lied Center website and in the box office.