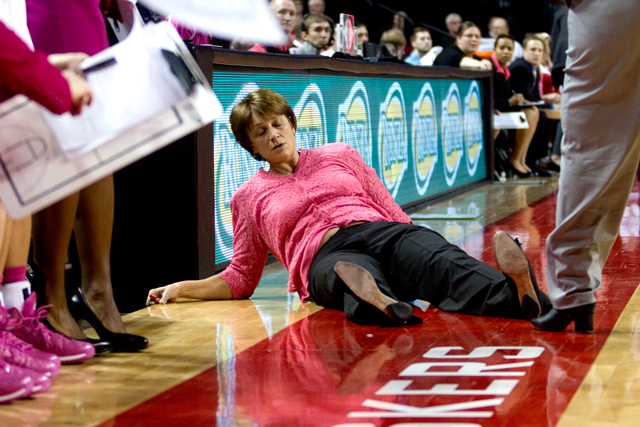 Nebraska coach Connie Yori is back in the game.
After passing out during the second half of the Huskers' victory against Indiana on Sunday, Yori was taken to the hospital, and assistant coach Sunny Smallwood took the reins for the rest of the game.
"My secretary had a great analogy," Yori said "It was like I was a redwood tree in a redwood forest. Timber! I had not been feeling well for a couple weeks. I just know before the game I wasn't feeling great, and at half time I told the coaches, 'I feel really dizzy.' It's hard to believe the doctors told me I was dehydrated because I probably drink a gallon of water a day."
The coach said that a lot of the problem stemmed from the pressure as a college basketball coach.
Now Yori will be coaching the Huskers once again as they go into their next Big Ten matchup against Ohio State on Thursday at the Buckeyes' home court.
"I think Ohio State is scary," Yori said. "We don't have a lot of depth, but a lot of teams in the conference don't have a lot of depth."
After two losses in a row against Purdue and Northwestern, the Huskers have won six consecutive conference games, to put them at No. 17 and 19-5 overall, 9-3 in the Big Ten.
"We're playing for each other, preparing better and staying focused," senior forward Jordan Hooper said. "I think we had to get a couple losses to get knocked down and to start playing the way I know we can play."
In the Huskers' last game, against the Hoosiers, they trailed Indiana up until midway through the second half. Nebraska pulled ahead by 15 points to take home a 76-61 win.
"Things have just started going better for us," said junior forward Hailie Sample, who scored 6 points and had 6 rebounds against Indiana.
Against Indiana, Hooper drained a season-high six 3-pointers and broke the school record with 270 career 3's. Kiera Hardy previously held the record with 267 3's in her career.
"I'm going to get prepared for Ohio State first and then prepare for everything else as it comes," Hooper said.
Ohio State (14-14 overall, 4-8 Big Ten) is currently unranked, but it is coming off four straight Big Ten losses. The Buckeyes lost most recently to Michigan State, 70-49.
Leading for the Buckeyes is sophomore guard Ameryst Alston, who averages 17.6 points per game. Sophomore guard Cait Craft, the younger sister of Ohio State's men's point guard Aaron Craft, averages 8.2 points per game and has 32 3-pointers in the season.
The Buckeyes are currently in a tie for eighth in the Big Ten, and they have gotten 11 wins at home so far this season.
Nebraska leads the all-time history against the Buckeyes with a 6-4 record; Nebraska won four consecutively in the past years. In their meeting last season, the Huskers took a 58-39 win in Lincoln, led by junior forward Emily Cady, who averages 13.5 points and 9.4 rebounds per game.
The Huskers only have three more regular season games before going into the Big Ten Tournament, which will be followed by the NCAA Tournament. After playing Ohio State, Nebraska heads into its third-to-last game against the Penn State Nittany Lions on Monday.
sports@dailynebraskan.com