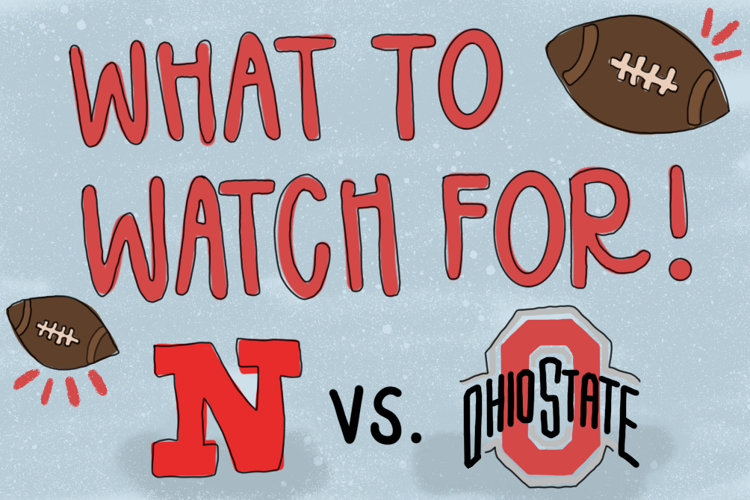 Big Ten and Nebraska football will officially be back this weekend as the Huskers take on No. 5 Ohio State. 
Much has changed from last year's matchup, as College GameDay will not be in attendance, nor will any fans outside of players' immediate family. Following 2018's 36-31 loss to the Buckeyes, some Husker fans were hopeful that they would at least see something like that again in 2019. 
That didn't happen, as the Buckeyes smashed the Huskers 48-7 in a game that was over after the first quarter. Nebraska couldn't generate any offense until garbage time, while Ohio State gained nearly 600 yards.
Now, Nebraska will go into Columbus, Ohio, as more than a three-touchdown underdog with Ohio State favored by 26 points. Regardless of how one-sided of a matchup this may be on paper, there are some things to watch in the season opener. 
Adrian Martinez's chance to bounce back
When College GameDay came to Lincoln last season, the matchup between Buckeyes' quarterback Justin Fields and Nebraska's Adrian Martinez, both sophomores at the time, was looked at as one of the main storylines to follow. 
Fields lit it up as promised, finishing with 212 passing yards, 72 rushing yards and four total touchdowns. On the other hand, Martinez, who was tied with Fields for the third-best Heisman odds coming into the season, struggled mightily.  
Martinez threw three interceptions in Nebraska's first four offensive drives. By the end of the first half, he was 2-of-8 passing for 10 yards and three interceptions. He also took three sacks, including a strip-sack, although he recovered his own fumble. 
Going into the break, the Huskers were down 38-0. Martinez improved his statline a bit in the second half by passing for 37 yards and having a 56-yard run that led to Nebraska's only touchdown in the third quarter. He finished the game with 47 passing yards and three interceptions. Besides his 56-yard scamper, he struggled on the ground as well, as his other 14 carries amounted to 25 yards. 
While Fields retains his Heisman odds from last season, Martinez will come in with less expectations than last year. If the Huskers want any chance of pulling off an upset, the junior will have to limit the early mistakes and pass for a lot more than 47 yards. 
A Martinez bounceback isn't something to watch only because of the opponent, either. Earlier this week, Martinez was named the starting quarterback, but the fierce competition from redshirt freshman Luke McCaffrey has been noted. Throughout press conferences from the last two weeks, coaches and players have reiterated that McCaffrey is equally as capable of running the Husker offense. 
Unlike last year, Martinez's starting job is not guaranteed throughout the season. If he struggles over the first few games, it's not out of the question that McCaffrey could have his chance to take the spot. 
Run game success
One of Nebraska's biggest strengths last year was running the ball. Nebraska's leading rusher from 2019, senior Dedrick Mills, is returning and will take on an even bigger role as the lead back. 
Mills ranked 10th in the conference in carries last year, but eighth in yards with 745 and tied for fifth in touchdowns with 10. The next three leading Husker backs in yards were then-freshman Wan'Dale Robinson, then-sophomore Maurice Washington and then-senior Wyatt Mazour. Washington left the team seven games into last season, Mazour graduated and Robinson is expected to be used primarily as a slot receiver, rather than the all-purpose role he had in 2019.
Those changes will open up even more work for the bell cow back in 2020, which could lead to success on Saturday. Against Ohio State last year, Mills averaged 6.1 yards per carry, finishing the game with 67 yards and one touchdown on 11 attempts. If Nebraska doesn't get behind early like it did last season, the ground game will be key to the team's chances.
On the defensive side, the Huskers need to be able to stop the Buckeye rushing attack. Nebraska ranked 11th in the Big Ten in rushing defense last season, and Ohio State took advantage of the Blackshirts' failures in stopping the ground game. 
As a team, Ohio State ran for 368 yards and three touchdowns, averaging 6.9 yards per carry. While the Buckeyes' leading rusher, J.K. Dobbins, has since gone to the NFL, sophomore running back Master Teague III could be just as dangerous. Teague had 12 carries for 77 yards and two touchdowns against Nebraska last year, along with a 28-yard reception. 
The Buckeyes also brought in former Oklahoma running back Trey Sermon as a graduate transfer. Sermon tore up the Big 12 in his three years in Norman, totaling over 2,400 yards from scrimmage and 25 touchdowns. It is unclear who the Buckeyes will feature as their lead back on Saturday, but both Sermon and Teague will be difficult to slow down. 
The turnover battle
When I wrote a 'what to watch for' article for this matchup last year, I mentioned that Nebraska needed to force turnovers and take advantage of them to have a fighting chance.That didn't happen, as Ohio State didn't turn the ball over in last year's matchup.
The strength and focus of Scott Frost's defenses since his days at UCF has been getting takeaways. In 2018, when Nebraska only lost by five to the Buckeyes, the Blackshirts forced three turnovers, including recovering two of their six forced fumbles. 
It should be noted that Ohio State is a significantly different team than it was two years ago. Fields threw one interception in Big Ten play last year, so picking him off may be a near-impossible task. Out of Ohio State's 16 total turnovers last season, 13 were fumbles, so Nebraska's best bet may be jarring the ball loose. 
Even if the Huskers are able to force a few turnovers and score off of them, not turning the ball over themselves will be important, especially early on. First half turnovers have sunk the Huskers in both matchups with the Buckeyes under Frost. The aforementioned three picks last year erased whatever chances Nebraska had of making the game competitive. One of those interceptions came in Ohio State territory, and another came after the Huskers had collected two first downs on a drive and were approaching midfield.
In 2018, Nebraska's one turnover ended up making a huge difference. The Huskers had the ball at Ohio State's 5-yard line in the second quarter before they had a false start which was followed up by a Martinez backwards pass that the Buckeyes recovered. If Nebraska had scored there to cut into the 7-16 deficit, it could have had a larger lead than the 21-16 advantage it held at halftime, which would've made an Ohio State comeback that much harder. 
It's clear that the Buckeyes are a significantly more talented team than Nebraska. If the Huskers want to come out on top, there's no room for any giveaways or missed takeaway opportunities.