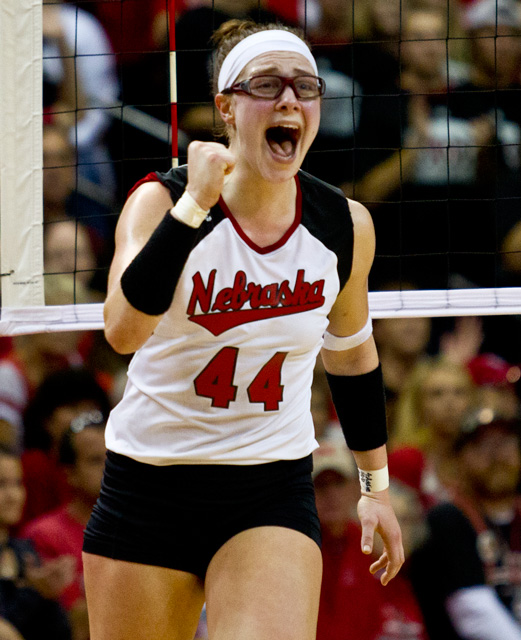 John Cook hasn't seen his team go this far in an NCAA Tournament in two years.
Flash back to Dec. 10, 2010.
The Nebraska volleyball team went up north to face Washington in Seattle, only to lose to the Huskies 3-1 (25-16, 25-20, 25-21, 29-27).
The following year, the Huskers would see their season halted even sooner when Kansas State stormed into Lincoln Dec. 2 and defeated the home team in the second round, 3-2 (22-25, 25-22, 31-29, 25-22, 11-15).
But so far this season, NU (24-6) has done more than prove its thirst for finishing business. The Huskers are looking to reverse the two-year trend and should be riding high after victories in six of the Huskers' last seven games.
Sure, they had a couple of blunders against Michigan and Michigan State that turned into their fourth and fifth losses of the season. And a five-set drop at Minnesota three matches didn't make matters any better. Yet, the month of November couldn't have gone any better for the Huskers.
Their successful finish in the regular season's final month overshadowed all the team's early problems.
The Huskers closed out the month on cloud nine, capturing four of its five final matches – every victory was a sweep.
There's no question home court advantage has played an essential role in the success of Nebraska's team this season.
However, there is a question that hangs above the heads of Cook and his 2012 squad: Can they keep hold of their triumphant run now that they'll be away from the Coliseum for the rest of the season?
Seeing how five of the team's six losses this season have come on the road, its future matches aren't looking too promising.
A 7-5 record as guest to their opponents isn't enough to assure the team will win its next match away from home.
Only time will tell how the team will fair in its next match(es), but the way the Huskers have played so far this postseason, it doesn't look like they will end the 2012 season any time soon.
Nebraska's offense has exploded for a combined .413 hitting percentages in its first and second round matches against Maryland East Shore and Northern Iowa.
Senior Hannah Werth swung a team-high .667 and totaled 11 kills in a 3-0 sweep against UMES to begin the tournament off on the right note. Mancuso showed off her leadership as well blasting 12 kills en route to a .435 hitting percentage.
The two outside hitters' stellar performances aided to a .455 team hitting percentage. Though Gina Mancuso and Werth lead the Huskers with 398 and 341 kills, respectively, their two above .300 swings were nowhere to be found the next day.
The combined 739 kill hitters collected nine hits each last Friday against the Panthers to hit a measly .227. However, juniors Jordan Broekhuis and Hayley Thramer did come up clutch and did so immensely.
In its second round three-set win, Morgan Broekhuis swung for a team-high .625 hitting percentage (10 kills), while Hayley Thramer slammed for .538 (eight kills) to advance to their first regional action in two years.
Fast forward to Friday, Dec. 7 against No. 13 Washington (25-6) at the CenturyLink Center in Omaha.
If Nebraska hopes to advance past the first round of regional play for the first time since they were in Omaha in 2011 (Dec. 11 vs. Iowa State), it's going to take a team effort.
Although some may look at the fact that the Huskers don't have that one go-to offensive threat for Lauren Cook to set up every play as discouraging, I'm not so sure it's not a blessing.
But Omaha is close enough to home to keep a friendly crowd. Nebraska shouldn't have a problem moving on past the CenturyLink Center and toward a national title.
Nedu Izu is a junior broadcasting and psychology major. Reach him at sports@dailynebraskan.com