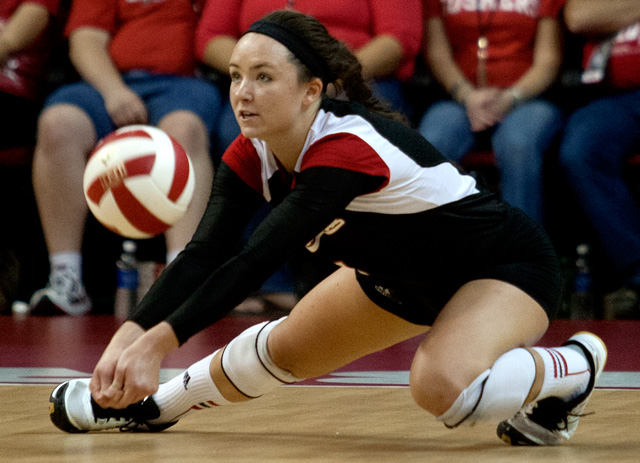 Since Tom Osborne announced his plans last week to step down as AD on Jan. 1, 2013, rumors have floated around as to who will take over the 75-year-old's job, one of them pointing to Nebraska's own volleyball coach.
Cook was flattered with the idea earlier this week.
"I can't say anything at this point. I hear I'm on several watch lists. But I find it ironic that Coach Osborne's timing is on January 1, right when our season's ending, so the timing could work out," Cook said with a laugh.
Thursday, UNL Chancellor Harvey Perlman announced that former Miami AD Shawn Eichorst will be the one to succeed Osborne next semester.
Although Cook was flattered with the thought of becoming NU's next athletic director, the volleyball coach can now focus on more important things, like how to cool off his squad's next opponent.
Before meeting up with Indiana (8-8, Big Ten 0-4) on Saturday, No. 4 Nebraska (11-2, Big Ten 3-1) will compete against hot-hitting No. 12 Purdue (13-2, 4-0) in a matchup on Friday.
The Boilermakers head into the match on a major winning streak, taking all four games against conference opponents.
In order to keep clear from being their opponent's fifth Big Ten victim, Cook said the Huskers must reduce the amount of swings from Purdue's senior outside-hitter.
"Ariel Turner is just a great hitter," he said. "She gets a ton of swings and does a great job of managing the game."
Turner, who was named Big Ten player of the week on Monday, currently ranks fourth in the conference with 4.23 kills per set.
Turner, the 2011 All-American was also the Big Ten player of the year last season and assisted in sweeping Nebraska in last year's meeting.
In order to defeat Turner and her teammates this time around, the Huskers will have to stay focused throughout the entire match, Cook said.
"Last year we went there, we were just going through the season and … we hit bottom there," the coach said. "We didn't compete. They jumped on us, and we just weren't ready to play. I hope our players remember that and are ready to do something about it."
So far, the NU players have shown their driven focus in the last three conference matches.
After losing their first Big Ten match against Penn State, Nebraska went on to capture their next three, taking down Ohio State, Michigan State and Michigan along the way.
The winning streak has helped Nebraska rank fourth in the conference, which currently has seven teams in the AVCA Top 25 poll.
NU sophomore Lara Dykstra said to stay successful in the best conference women's collegiate volleyball has to offer, the team must keep motivated.
"Every night's a battle," Dykstra said. "Coach told us that in the Big Ten, no team is going to give up. Everyone's going to fight until the end."
Friday's match against the Boilermakers will begin at 7 p.m. and can be seen on the Big Ten Network. After Friday's showdown, the Huskers will travel south to take on the Hoosiers on Saturday at 6 p.m.
sports@
dailynebraskan.com