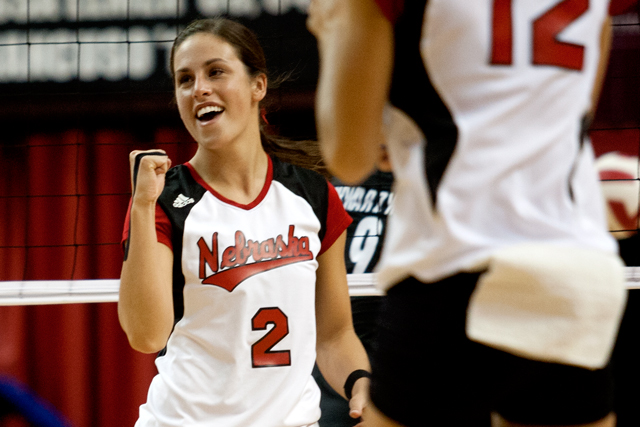 In its first Big Ten match of the 2012 season, the Nebraska volleyball team began the night capturing the first set 25-23. The NU coach was thrilled to have his team begin the match with the momentum on their side.
However, that set would be the only one to go Nebraska's way.
The No. 3 Cornhuskers (8-2 overall, 0-1 Big Ten) lost the following two sets, 26-28 and 17-25.
The Huskers began the fourth set with a 9-1 lead, however, what happened next left the NU players and their coach displeased.
"We went soft at critical times and we didn't pass the ball," Cook said.
Penn State would go on to post eight consecutive points to tie the game up and never looked back.
The Huskers inched back, coming as close as 24-24 but fell short of a comeback as the Nittany Lions captured the fourth set 26-24 on a service ace.
Cook wasn't impressed with the match's conclusion.
"I'm disappointed in the results because I felt like we had a shot to win this," he said.
The heartbreaking loss wasn't easy to swallow and their next conference opponent this weekend won't be any easier.
Although Ohio State is ranked 23rd, they still present a challenge to their Big Ten counterparts, according to senior Lauren Cook.
"We struggled at Ohio State last year, and that's a tough place to play," the setter said. "I'm definitely excited but there is a lot of pressure coming off a loss, and I think everyone is going to be looking to see how we rebound from that."
This Saturday, the Huskers will take on the Ohio State Buckeyes (9-3) in Columbus, Ohio.
Although NU has lost its last two matches, John Cook said he's proud of his team and still thinks they have something to prove before coming back to the NU Coliseum next week.
"I think we can be a great team," John Cook said. "We have to learn from this … if we can get everyone playing well at the same time we're a great team."
Coach Cook was impressed by junior Hayley Thramer in Wednesday's match.
"She competed really well and followed the game plan," John Cook said. "Penn State has great hitters, and she did a super job following the game plan and that's how you get eight blocks against a team like this."
Along with her solid performance on defense, Thramer also tallied 10 kills. In the team's last two road losses, she has totaled 19 kills and 12 blocks.
Thramer, like her coach, said she's hoping the team's next match turns out opposite of their previous two.
"There's a lot of good dynamics going on between all of us right now and we're all on the same page," she said. "We all have one goal in mind and we want to do whatever it takes to get that done."
NU played Ohio State twice last season; the Huskers won both matches in four sets, adding to their 17-3 conference record in 2011.
Cook and the Huskers hope to end this season's losing skid against the Buckeyes on Saturday at 6 p.m. The match will conclude NU's three-game road trip before returning to the Coliseum on Wednesday against No. 25 Michigan State.
sports@
dailynebraskan.com