The Huskers made an exciting addition to the sidelines this year as they are now allowing men to join the cheer team for the first time in over a decade. Along with this change, Nebraska will be allowing stunts and tumbling once again.
Sixth year senior Jake Jundt, seniors Andy Mason, Niko Gavino and Ramarro Lamar, freshman Logan Larsen and sophomore Luke Swanson make up the six male cheerleaders this season. Out of all of these men, Larsen is the only one who came in with a cheerleading background. Larsen spent his high school years cheering at Lincoln High.
Each of them has a different story of how they found their way to the Huskers spirit squad. 
"I found out because I was doing some gymnastics outside of the dorm rooms here on campus," Mason said. "And I got caught by the RA and they were impressed and they were like, 'You can't do it in here but I heard that men can tryout for the Husker cheer team,' so that's how I found out about it for the first time."
Sophomore Luke Swanson had connections with the cheer team before the news broke about accepting male cheerleaders.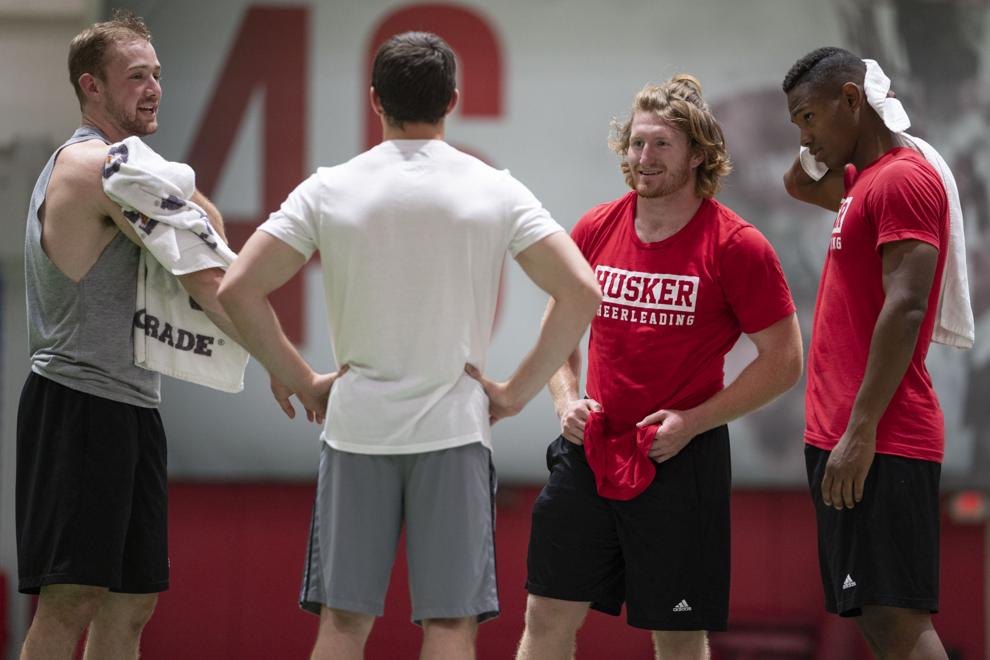 "I actually interned for Husker Power," he said. "I helped train cheerleaders in the weight room so they kind of knew me prior to this and the captain actually texted me one day and asked me to tryout with the cheer squad."
Although the announcement about new male cheerleaders was in March, this decision has been in the making for quite some time. It's been something head coach Erynn Butzke has pushed for, especially since Nebraska joined the Big Ten. 
"I was a member of the Scarlets dance team as an undergrad," Butzke said. "At that time, we had male cheerleaders and that was something that I really treasured about my time on the team. The relationships and experiences I had, was something that was really a part of the collegiate atmosphere and something that I wanted for Nebraska as we moved into the Big Ten."
Butzke applauded Bill Moos for helping to push for this change. 
"He wanted to pull the best out of all athletics," she said. "He took a real interest in us and us wanting to do more. I give him a lot of credit with helping us take that step."
As you can imagine, this isn't a decision that just affected the new men on the team. The veteran women cheerleaders are also trying new things with the addition of stunts, tumbling and male cheerleaders. However, this doesn't seem to pose an issue. Butzke describes her team as harmonious so far.
The experience on the sidelines is something unique that none of these male cheerleaders had experienced before. 
"It's really hard to explain how amped up we get on game days," Mason said. "It's something that is a very neat experience and I'm very lucky that I'm one of the very few people that have that experience. It's just absolutely entirely different from going as a fan to going as a competitor or as a cheer squad member."
As the season continues, the men hope to set examples for others who may be wary of trying something new.
"If you see something you want to try, go for it because that's basically what we all did," Swanson said. "We had low to no experience and we learned a lot over the last three weeks."
Butzke and her cheerleaders want to continue to see more men on the team. When Butzke was on the team, there were 14 men. Both Butzke and the cheerleaders recognize that having more men means they can do more advanced stunting. This only improves the game day experience, which is the group's common goal.
"We have a great game day atmosphere," Butzke said. "Just because it's great now, doesn't mean we can't work to make it better."