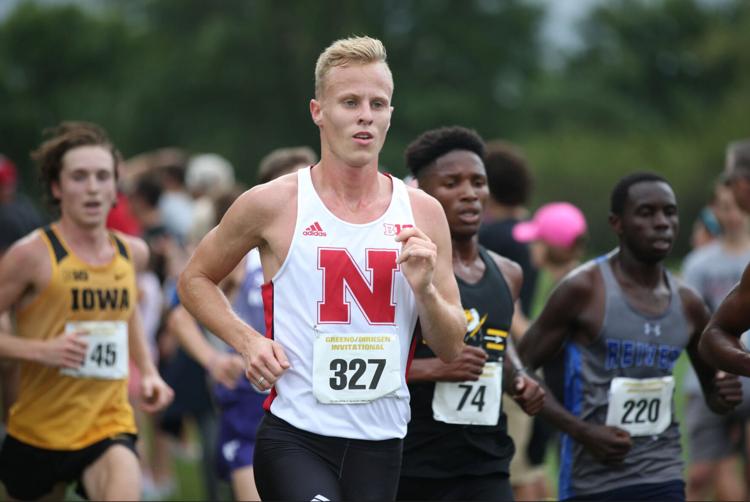 Most of Nebraska's sports teams are made up of athletes from diverse backgrounds. The men's basketball team is represented by athletes from six different countries, women's golf has athletes from four countries, and so on. However, the Nebraska men's cross country team only has two international athletes and both hail from South Africa. 
Junior George Kusche has already made his mark at Nebraska through two seasons. He broke Nebraska's school record for the fastest mile, running it in 3:57.9, and also becoming the first Husker to run a sub four-minute mile. Kusche also holds the school record in the 3,000-meter run with a time of 7:50. In April, Nebraska signed another South African middle-distance runner, junior Dais Malebana. Malebana, a transfer from Cloud County Community College, is close to Kusche in time, holding a personal best of 4:02 for the mile.
"I realize that George is on a level, a very high level, and Dais is hoping to get there," cross country and distance track coach David Harris said. "And that's one of the things when we recruited him, he wanted to really come to a division one school and improve his running abilities."
Kusche is from Malelane, a small farming town about four hours from South Africa's capital, Pretoria, where Malebana is from. However, Kusche also attended high school at Afrikaanse Hoër Seunskool in Pretoria, putting the Huskers' two top milers in the same city close to a decade before they teamed up in Lincoln.
"[Dais] went to a high school about 20 miles away from our high school, so we used to compete against each other," Kusche said. "The first time I competed against them was actually my eighth grade, which was in 2012, a long time ago. And we competed against each other since then quite regularly in South Africa. And we were friends back then too, so I definitely knew about him."
Despite their early ties, both maintained that Kusche did not heavily recruit Malebana to Nebraska from the start.
"[Kusche] told me to make the decision that was good for me and not to make any decision because he's here, which was good," Malebana said. "I respect that. Because, you know, some people just say, 'come here.' And he said, if you feel like Nebraska is a good fit for you, you're more than welcome to come join us, if you like another school that you feel like is a good fit for you, go ahead."
Kusche and Malebana are hardly the first African or South African, runners to grace Nebraska's cross country and track teams.
"There's a long history of South African athletes in our track and field program that goes back to the middle 80s, and actually, male distance runners," Harris said. "Jean Verster was really the first one. He was our school record holder until George broke the mark. I was actually here when Jean was first, I came as an assistant coach back then."
Verster, who improved his times by a decent margin post-collegiately, held school records in the indoor mile and the 3000-meter before Kusche came.
Kusche, who has qualified for five national championship races in the last two years at Nebraska, has even loftier ambitions for this year. He said he'd like to "place pretty high" in the NCAA championships if he doesn't win it. 
It's unclear what the upcoming cross country season will look like if there even is one. The cross country national championships, usually held in late November, have been pushed to March as this school year's cross country season is currently slated to begin in January, right when indoor track usually begins. Harris isn't sold on the prospect of a winter season.
"It would be very difficult because track season is going to be very important to both of these athletes," he said.
Some middle-distance athletes, such as Malebana, use cross country and the indoor track season mostly to prepare for outdoor competition.
"Honestly at this point, indoor [track] and cross country for me is just helping me to run better track times," Malebana said. "My bread and butter is outdoor [track]."
Most SEC, ACC and Big 12 schools are still independently holding fall cross country meets right now, but it does not seem as if Nebraska will follow suit.
"I think our season is canceled, and I think it will stay that way," Kusche said. "As for the plans to race from January to March, I don't know how good an idea that is. It mixes up a lot of your planning, training-wise, and it's just a big mix up because nobody's used to running cross country in January."
Kusche also mentioned that since it is an Olympic year, he doesn't want to be thrown off schedule too much. He said he is already planning on making a run at the Tokyo Olympics this summer, representing South Africa. The extra year has afforded him more time to improve and to hit the qualification mark for his event, which is a 1500-meter time of 3:35.0 seconds. In order to qualify for the Olympics, Kusche will have to run a hundredth of a second faster than the current NCAA record of 3:35.01 for the 1500 meters. He has already run 3:39 for the event.
"George is there," Harris said. "Now George has to fine tune this, so to speak, to get to the 3:35 and under, that's another level. I really, honestly think last year he could have gotten it or gotten close, very close."
"It's pretty fast but definitely doable," Kusche said.
Either way, the actuarial science major plans to parlay his collegiate success into a professional contract in the States.
"I would like to pursue a pro contract in the US," Kusche said. "I started college more focused on actuarial science, but as I improved my performances, it became more realistic to go pro. So my plan is to run professionally and then complete the board exams for actuarial science."
Malebana, who is majoring in human development and family science, also hopes to earn a pro contract after his collegiate career.
"I'm hoping I can run those good times," Malebana said. "And then hope that can help me to sign a secure, good contract."
Malebana has run 3:46 for the 1500-meter, seven seconds slower than Kusche, but he now has the perfect training partner to help him compete with the best in Division 1 and hopefully earn that pro contract.
"Right now, it's just about building and working hard, and then I'm not too keen on the results (times), I'm just going to try to build myself mentally and physically up to be strong," Malebana said. "Usually I say I work hard and surprise myself."
Nebraska's two leading middle distance runners are linked by their heritage and learning the English language. Both athletes learned English later on in life and have mastered it now after a couple years in the United States.
"English is my second language," Kusche said. "I speak Afrikaans, which is my home language. So when I came to the U.S., I didn't struggle with English, but I definitely wasn't as comfortable speaking it as I am now."
"I speak a lot of different languages," Malebana said. "Sotho, Zulu, but there's other tribes around, so we just use the same. I pretty much understand more languages around. Actually, I learned English at a later stage in life. I learned English was about, I can say 13. But I had my native languages that I used back in South Africa."
After competing against each other growing up, Kusche and Malebana will team up to lead the Huskers' cross country and distance track teams and aim to become not only the top duo in the Big Ten, but one of the top tandems in this nation and their own. Kusche has already experienced plenty of success, and he said that Malebana will help him continue his growth, just as he helps Malebana.
"It'll be good to have him with me when I do key workouts," Kusche said. "Just to have someone push you and run next to you."