Being labeled as a captain means different things to different people, but one aspect is the same for all captains.
This aspect is leading by example, which means showing relentless practice to get better and always bringing a positive mentality to the team. 
According to swimming and diving associate head coach Patrick Rowan, junior captain Izzie Murray is just that.
"She's intense … she doesn't mess around, which was something that stuck out to me when I first started to recruit her," Rowan said. "She was able to crush it in the class and on the pool deck making the swimmers and classmates around her better."
Murray has always had that side of her that doesn't mess around, even in the third grade. When Murray was younger, she was like most kids. She played any sport that she could, but she realized she wasn't giving one sport enough effort. Instead of giving multiple sports half effort, she decided she wanted to give swimming all of it. 
After going all in on swimming, Murray began to see she was meant for the pool, not just with her talent but with her attitude toward the sport. 
"One day after practice I remember talking with my mom, saying to her to always push me to go to practice because even if I don't want to be going I always love it afterward," Murray said.
When taking that leap to club swimming, Murray did so with her local swim club in Ohio, the Cincinnati Marlins. 
When she started with the Marlins, Murray showed some promise. This was evident in her winning the 10 and Under Wonder award.
"I had won all seven events at the club state meet so that was definitely the highlight of my swimming before high school," Murray said. 
At 10 years old, Murray knew she had a future in swimming so she made sure to work at it with all of her energy, which helped her transition to high school swimming. 
Murray went to Taylor High School and had an exceptional career with an array of accolades. During her time in high school, she was a four-time MVP for the team and the Taylor High School Athlete of the Year. 
"That was one of the most memorable moments from high school because the team didn't get that much coverage at all so when my name was announced and they read off what I did through my four years everyone was shocked which made me feel really good," Murray said. 
Also, Murray was crowned the state champion in the 100-yard butterfly her senior year. 
"It was something that I worked at my whole swimming career, once I touched that wall it was an amazing feeling," Murray said. 
At the end of her high school career, she finished with eight school records. Murray said she remembers all of her record-breaking races, but her most memorable was the one in the prelims right before winning the state title in the 100-yard butterfly.
Murray, after having such a successful high school career, was on a lot of coach's recruiting radars. Before she eventually decided on the Huskers, she was also considering offers from Arkansas and Rutgers. 
Before taking a visit to Nebraska, Murray wasn't sure what to expect, but when she arrived, she felt something different. 
"During my visit, seeing the school, the football game, talking with my counselor and then just the team atmosphere they all turned my opinion and I knew then that I wanted to be a Husker," Murray said. 
Murray had rigorous training in high school that set her up for her great start freshman year, but she did see a change in collegiate sport upon her arrival.
"I learned how to take better care of my nutrition. I hadn't taken that stuff too seriously, but once I came here it helped me up my level of training and competing," Murray said.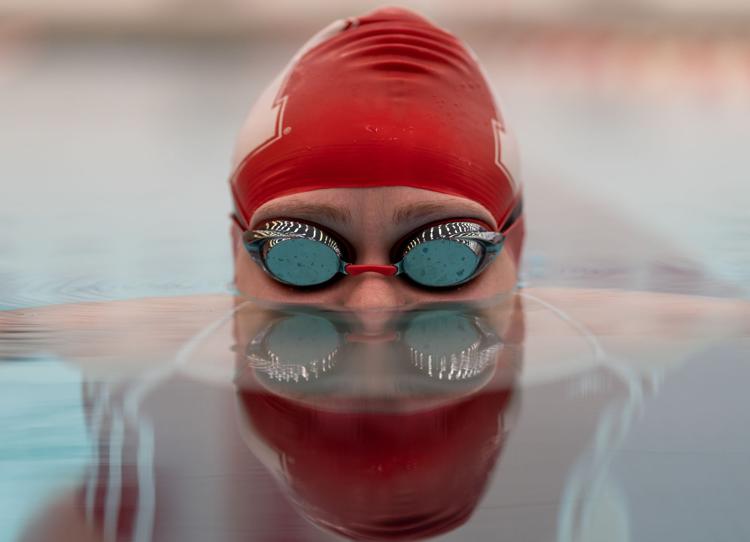 Another way that Nebraska was able to help Murray with her transition was the help of the team psychologist. 
"Here they put a really good emphasis on seeing the psychologist because it is so easy to get inside your head with swimming because your body knows how to swim, but it's crazy how much your head can put a limit on you," Murray said.
This is an aspect of swimming that Murray now takes more seriously. Going into sophomore year, Murray had received help from the psychologist which she attributes to her making that next leap in her collegiate career. In that season, Murray was able to place in the top 10 at the Big Ten Championships in the 200-yard butterfly. 
"Struggling so much in the summer and season leading up to Big Tens, I didn't expect much, but since there were so many people here to help me get through it I just went as fast as I could and put all my doubts behind me," Murray said. 
Junior year is yet another year she continues to help the team grow as a unit. Murray was voted team captain, which meant a lot to her.
"A lot of girls are putting their trust in me to lead this team. I am trying my absolute best to do so by making sure that I come every day and be the best I can be and give it everything I got," Murray said. 
Through all of the meets this season, the Big Ten Championships were her best where she finished with a season-best time in the 100-yard butterfly, good for 24th place. Murray said the team was able to come together and make sure everyone was supported in their races, which made some teammates swim improved times. 
With still some races left in the season, Murray used that success from the Big Ten Championships by finishing in the top ten and also getting to swim at the NCAA Championships. 
"There is just so much about swimming that people don't know about but it is such an amazing sport and is a huge part of my life, I always make sure to give everything I have every day for the sport because what it has done for me," Murray said.