Sophomore golfer Vanessa Bouvet is a seasoned traveler. The knowledge and experience she's gained from traveling has affected many different parts of her life, including golf.
Bouvet has lived in five different countries, including Syria, Venezuela, the United States, New Zealand and Brunei. Her dad is in the oil business, which is why her family moves to so many places. Bouvet's family currently lives in Brunei, a small country on the island of Borneo in the South China Sea.
Bouvet's dad taught her to golf at five years old when they were living in Venezuela. Since then, she has golfed all over the world.
"I feel like it's given me a lot of playing experiences, playing in different countries and different courses," Bouvet said. "I've met a lot of people from around the world." 
Others are noticing how these experiences have helped improve her golfing skills as well as her lifestyle. 
"She has a worldly perspective on life because of living in different countries," head coach Lisa Johnson said. "It's fun to have conversations with her and learn more about culture."
Bouvet started to realize she had a knack for golf when she was nine. She started winning events and found joy in golf. As she progressed, she had the goal of coming to the United States for college and golf. 
"I thought it would be a really good experience considering I want to continue golfing after college," Bouvet said. "I wanted to play at a higher level to see what it's like."
She visited many different colleges in the United States. Her top three choices were Kentucky, Oregon and Nebraska. Bouvet chose Nebraska because it was the place that felt the most like home.
During Bouvet's freshman season, she had a stroke average of 75.79 which was the second-best mark for the Huskers that season. It was also the third-best stroke average by a freshman in school history.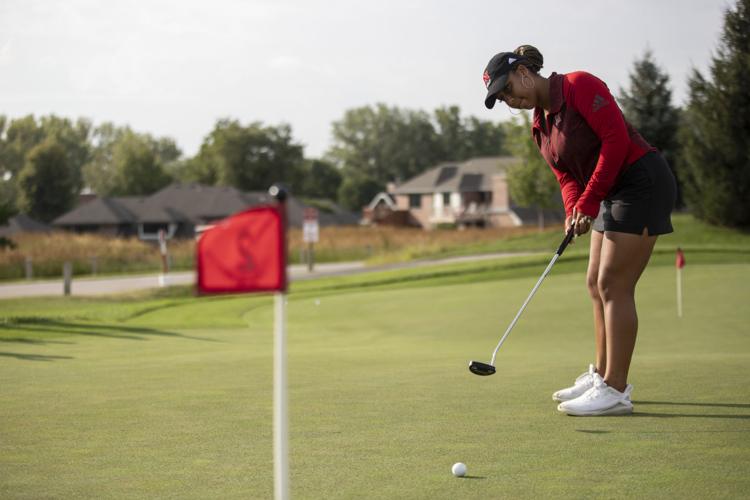 This season, Bouvet wants to improve on her successes from last season. 
"I'd like to win a few college events and finish at least in the top 10 in tournaments coming in the fall and spring," Bouvet said.
Johnson believes that she'll get there and that Bouvet has the skills to win college tournaments.
However, it hasn't always been smooth sailing for Bouvet. At the end of her freshman season, she hit a low point in her golfing career. 
"I had ended the year so poorly," Bouvet said. "It had affected my confidence, then I had the summer to get back on my feet. I just had to take a break and get back into it when the time was right. I played some rounds over the summer and did well so that helped boost my confidence."
Bouvet enters the season on the 2019-20 Big Ten Women's Golfers to Watch list which should help boost her confidence. 
"It's pretty cool," Bouvet said. "I do feel like it's a bit of pressure because I didn't do too well in the last tournament. It's pretty exciting and really cool that people are watching what I'm going to do next. I think this semester is going to be a good one, I just need to be mentally stronger and put in more work."
One of the biggest factors that will play into Bouvet's success this season is her ability to keep a calm mindset and stay confident. Keeping that calm mindset will set her apart and drive her into her golfing future.
Bouvet hopes to golf professionally in the future and go on tour in Europe and the United States.
"She has aspirations to play after college and I believe she has the tools to get there," Johnson said. "It's just a matter of improving even more."