Since joining the Big Ten in 2011, Nebraska football has had only two seasons without a loss greater than 30 points. Over the last eight full seasons and start of the ninth, Nebraska has lost 10 such games to five different opponents. Minnesota and Michigan have each blown Nebraska out once, Iowa has done it twice and both Ohio State and Wisconsin have put big numbers up on Nebraska three separate times.
However, not all beatdowns are created equally. In that stretch, some games had a naturally higher potential for a blowout given talent disparities, ranking disparities and the general mood of the teams. The following is an attempt to rank all of Nebraska's 30-point plus losses in Big Ten play by pain and meaningfulness.
1. Wisconsin, 2012: Final Score 70-31
In Nebraska's second year in the Big Ten, the Huskers finished the regular season with a 10-2 record, including a 7-1 mark in conference play. Nebraska won the Legends Division and faced off with 7-5 Wisconsin in the Big Ten Championship Game. Wisconsin finished third in the Leaders Division, but was playing in the championship game because division winner Ohio State and runner-up Penn State were both ineligible for the postseason.
Nebraska defeated Wisconsin 30-27 to open Big Ten play and the Huskers felt and looked confident, entering the game on a six-game winning streak. However, the Nebraska defense collapsed at Lucas Oil Stadium in Indianapolis.
Wisconsin piled on 70 points behind seven rushing touchdowns, including three each from James White and Montee Ball. In total, the Badgers rolled up 640 yards of total offense, including 539 rushing yards. They also capitalized on three Nebraska turnovers and scored 21 points in each of the first three quarters.
After holding the Badgers down in the first meeting, Wisconsin proved that its loss to Nebraska was an outlier, spoiling Nebraska's second big national moment as a Big Ten team.
2. Wisconsin, 2011: Final Score 48-17
No. 8 Nebraska traveled to No. 7 Wisconsin for its first conference game as a member of the Big Ten Conference. College GameDay chose Madison, Wisconsin for its site of the week, but the game did not live up to its billing.
Nebraska held a 14-7 advantage early in the second quarter after a Rex Burkhead touchdown run, but it wouldn't last long. Wisconsin scored 34 straight points behind a pair of rushing touchdowns by running back Montee Ball and two touchdown passes from quarterback Russell Wilson, who also ran for a score in that stretch.
The Nebraska defense allowed 486 total yards to the Badgers, but racked up 335 yards itself. The biggest issue was that Nebraska gave up three turnovers and forced only one.
The sting of this game lingers because after losing in heartbreaking fashion to Oklahoma in the 2010 Big 12 championship — the team's last game as a member of the Big 12 Conference — Wisconsin gave Nebraska as rude a greeting as Oklahoma did a sendoff. This game set a precedent for the next few years of Nebraska-Wisconsin matchups.
3. Wisconsin, 2014: Final Score 59-24
After years of fielding suffocating defenses in the Big 12, Nebraska's defense was tested in different ways by the Big Ten, where the spread system was not as prevalent. The nadir of Nebraska's transition came in year four against No. 22 Wisconsin.
On Nov. 1 in Madison, Badgers running back Melvin Gordon set a then-NCAA record rushing for 408 yards in three quarters against No. 11 Nebraska. He did it on only 25 carries, averaging  16.3 yards per carry and scoring four touchdowns. Nebraska led the game 17-3 early in the second quarter, but Wisconsin would impose its will from there, scoring 56 unanswered points in a 59-24 romp.
After the dust had settled, Wisconsin rushed for 539 yards and passed the ball only 11 times. The Wisconsin defense also flexed its might, allowing Nebraska only 180 total yards, including 62 passing yards.
4. Ohio State, 2019: Final Score 48-7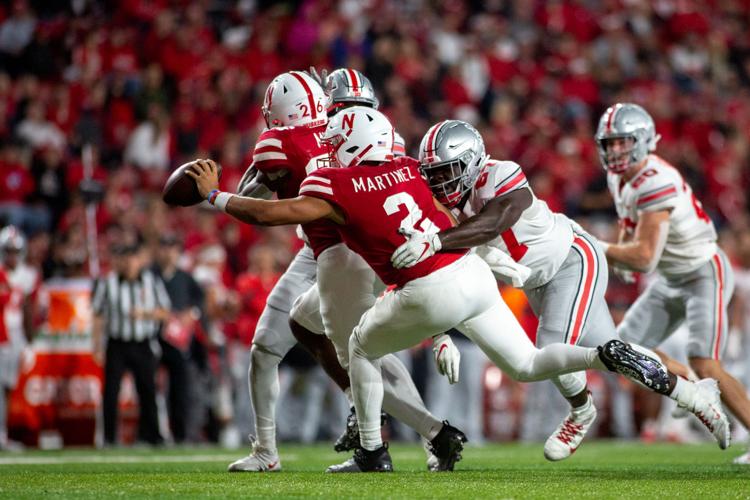 The disappointment and sting from around this game centers more on the theatrics and pomp and circumstance surrounding it. College GameDay chose to come to Lincoln for the first time since 2007, the athletic department unveiled a $155 million renovation project for the football facilities and Nebraska basketball's Opening Night featured the program's first display since head coach Fred Hoiberg was hired and a concert by Rick Ross.
Across football and basketball, there were double-digit numbers of recruits in town for the weekend, which was ultimately disappointing on the football field. Nebraska football had turnovers on three of its first four drives and found itself in a 48-0 hole before running back Dedrick Mills found the end zone.
The 41-point loss was the largest by a home team that hosted College GameDay, besting the previous record of 40 points from 2010 when TCU blasted Utah 47-7 in Salt Lake City. Nebraska was outclassed on both sides of the ball on Saturday. Defensively, the Huskers allowed 580 total yards and all four Buckeyes with a rushing attempt averaged more than six yards per carry.
Offensively, Nebraska gained only 231 total yards, 81 of which were rushing yards by Adrian Martinez. At halftime, Nebraska only had 76 total yards and had yet to complete a pass to a wide receiver.
5. Minnesota, 2017: Final Score 54-21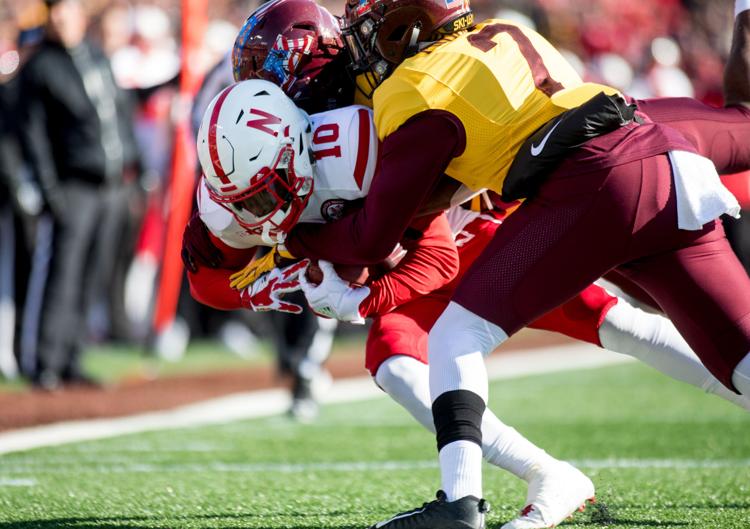 Arguably the most surprising blowout loss came on the road at Minnesota in 2017. Nebraska went to Minneapolis one week after a one-touchdown home loss to Northwestern, but forgot to pack its run defense on the plane and was manhandled by a Minnesota team with a comparable talent level.
The game started inauspiciously for Nebraska as Minnesota's Rodney Smith returned the opening kickoff for a touchdown. Nebraska answered with a touchdown of its own, but Minnesota scored three rushing touchdowns in the next 12 minutes of the game, putting the Golden Gophers up 27-7. Included in that run of points was a 73-yard touchdown scamper by Minnesota quarterback Demry Croft who had fooled Nebraska's entire defense on a simple zone read play.
Nebraska allowed 409 rushing yards and six touchdowns on the ground to a Golden Gopher team that rushed for 163.9 yards per game outside of that game — a figure that would've ranked 64th out of 129 teams.
It was even more disappointing when considering the stakes of the game. Nebraska sat at 4-5 with three games to play — Minnesota, at No. 13 Penn State and home against Iowa. Winning two of three games to become bowl eligible looked hard entering that stretch, but it was next to impossible after this loss.
6. Iowa, 2016: Final Score 40-10
On Black Friday in 2016, No. 17 Nebraska went to Iowa City looking to keep its hopes for a division championship alive. With a win, Nebraska would move to 7-2 and a loss would drop Iowa to 5-4. No. 5 Wisconsin was in the driver's seat for the division at 6-2 heading into a home showdown with Minnesota on Saturday, so the Huskers needed to win if they wanted any chance at winning the division because the head-to-head tiebreaker favored Wisconsin.
The stakes and tiebreakers ended up irrelevant.
Unranked Iowa came out ready to play, scoring on both of its first two drives on plays of 75 yards or more to go up 13-0. After a Nebraska field goal early in the second quarter, Iowa scored the game's next 13 points to make it a 26-3 game. A Tommy Armstrong Jr. touchdown pass to Stanley Morgan Jr. made it a two-score game, but Iowa ripped off the game's last 14 points in the fourth quarter, moving surgically down the field to score with 11 minutes left and two minutes left.
Nebraska would end up third in the division based on that Friday's result and would lose by two touchdowns to Tennessee in the Music City Bowl later that season.
7. Ohio State, 2016: Final Score 62-3
Far and away Nebraska's biggest loss in the stretch, the No. 9 Huskers traveled to Columbus, Ohio to face No. 6 Ohio State one week after losing an overtime heartbreaker to Wisconsin in Madison. As tough as Nebraska's loss to Wisconsin was, that's how easy OSU's domination was the next week.
Nebraska's woes started early as Armstrong Jr. threw a pick six only a minute and a half into the game. The Huskers would respond, driving down to the OSU 3-yard line before stalling out and settling for a 20-yard field goal by Drew Brown.
From there, it was all Ohio State. Quarterback JT Barrett threw for 290 yards and four touchdowns while the deep corps of running backs at Ohio State ran for 238 yards. Nebraska could muster only 204 total yards. Similar to the 2019 game, Nebraska struggled to handle Ohio State's physical advantages and turned the ball over multiple times.
8. Michigan, 2018: Final Score 56-10
Nebraska head coach Scott Frost's first game in the Big Ten came on the road against a top-20 Michigan team with one of the country's best defenses. Nebraska quarterback Adrian Martinez had not played in Nebraska's home loss to Troy the previous week as a precaution. The Husker offense showed rust and was physically dominated by a fierce Michigan defense with future pros on all three levels.
The Wolverines scored the first 46 points of the game and did it every which way. In reaching those 46 points, Michigan ran for four touchdowns, threw for one and had a punt return touchdown as well as a safety. Nebraska finally got on the board late in the third quarter with a 35-yard field goal by Barret Pickering, making the game 46-3.
Nebraska outputted only 2.2 yards per minute against the stout Michigan defense, recording only 132 yards in the 60-minute contest. The Wolverines were credited with 14 tackles for a loss, four sacks, an interception and forced fumble and recovery.
9. Iowa, 2017: Final Score 56-14
At this point in 2017, with bowl eligibility all but off the table after three straight losses, Nebraska was playing for nothing but pride, but even that was hardly enough to motivate the Huskers with head coach Mike Riley fluttering into the end of his three-year tenure at Nebraska.
The Huskers played well in the first half, entering halftime tied 14-14. Iowa came out of the gates firing with Akrum Wadley plowing in for a 1-yard touchdown run to give Iowa its first lead of the game two and a half minutes into the third quarter. Iowa would add touchdown runs at the 9:53 and 8:32 marks of the third quarter before breaking Nebraska's back with a 68-yard touchdown pitch and catch from Stanley to Fant with 90 seconds left in the third quarter.
Two more short touchdown runs in the middle of the fourth quarter shoveled the last of the dirt on the 2017 Huskers' and their head coach's graves.
Iowa ran for 313 yards that Black Friday, led by Akrum Wadley's 19 carries for 159 yards and three touchdowns. Noah Fant had 116 of Iowa's 192 receiving yards on only three catches.
Losses to border rivals always sting, but factoring in the soon-to-be-official firing of Mike Riley, the knowledge of no postseason play and the end of a long, dreary season dulled the pain of this loss more than most others.
10. Ohio State, 2017: Final Score 56-14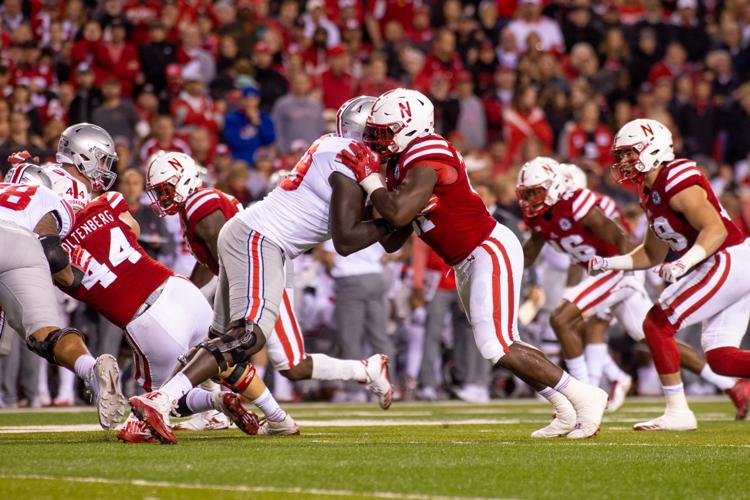 Nebraska welcomed No. 9 Ohio State to Lincoln in mid-October two years ago and forgot to shut the door behind them. Buckeye after Buckeye found their way into the end zone in the 56-14 demolition.
The Huskers started slow and found themselves down 35-0 at the half and 42-0 with 11:30 left in the third quarter. Tanner Lee and JD Spielman connected on a 77-yard touchdown pass to get Nebraska on the board and a touchdown toss from Lee to Stanley Morgan Jr. sandwiched another OSU house call. The Buckeyes would score the game's last points less than a minute into the fourth quarter.
Nebraska was able to move the ball through the air that night as Lee threw for 349 yards and both of Nebraska's touchdowns. However, he was outplayed by JT Barrett, who threw for 325 yards and five touchdowns. Only six of Barrett's 33 passes fell incomplete.
While OSU outschemed Nebraska and featured better athletes (as seen in the Buckeyes' 41 first downs), Nebraska's 12 penalties for 104 yards and a turnover did not help its cause. Neither did the additional 279 rushing yards and three OSU touchdowns on the ground.