According to some experts, it takes 10,000 hours to master a sport or any activity for that matter. While the validity of that claim is debatable, senior infielder Tristen Edwards has done that and more after playing softball for almost 17 years. She has memories starting at four years old playing catch with her dad and two older sisters. 
Offseason training is one of the most important aspects to any sport, and it is something Edwards prides herself on.
Softball is a family tradition in the Edwards household as both of her older sisters played at Nebraska. Because of this, she gets a lot of offseason work done with her dad. Tristen's sister Taylor is now one of the assistant coaches for the Huskers, although she mainly works with the catchers as she was the starting catcher for her four years in Lincoln. 
"Every offseason I did a lot of work with my sisters and dad here in Lincoln," Edwards said. "Because of the knowledge my sisters have and the work ethic that my dad taught me it truly has made me the player I am today."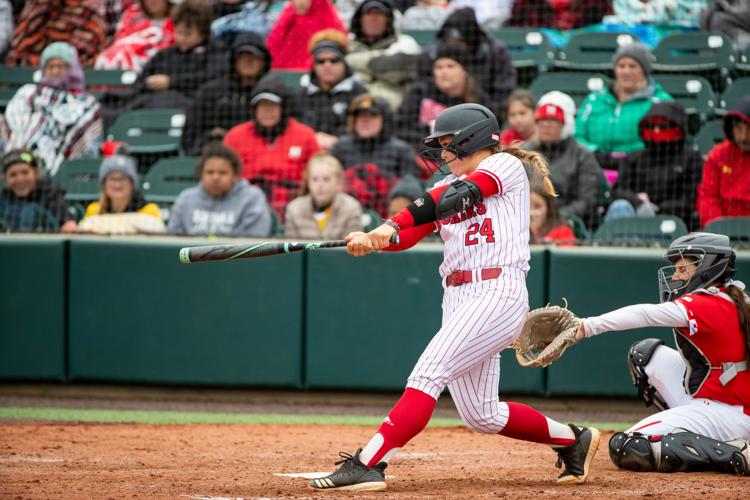 Edwards has had three strong seasons at Nebraska. She credits her success to her focus on the offseason work she does to prepare her for the season. With the season only taking up part of the year, she has to train year round. She said that the main thing she tries to focus on during the offseason is doing everything to the best of her ability.
"Quality over quantity, you would rather take 50 strong swings than taking 100 sloppy swings … it's all about working but making it fun so you can keep a good mental space," Edwards said.
To make things fun and keep the same drive, Edwards said that during the offseason the team does some bonding adventures. Whether it's just watching a movie together or going to the pumpkin patch, they try to stay connected in the offseason. 
"After awhile it can get repetitive so you need that fun break every once in awhile … our team is very close so we try to find things to do in the offseason," she said. 
Another part of Edwards' offseason training is weight training and conditioning. Which she works on to help with her power while hitting, overall quickness and stamina. 
"[I] really love the competitive nature that comes from weight training and conditioning, pushing yourself further with each rep is so fun and important," she said.
Edwards works hard to get better with everything she does in the offseason.
"How hard you work in the offseason, it just makes you that much more prepared for the start [of the] season," she said.
The offseason is a great time to take those steps to be able to show up for your team when it's needed.
Edwards has had a strong start to the fall season for the Huskers. She said that because of her offseason training, she feels more confident when she takes the field. Edwards' work ethic has allowed her to be able to work as hard as possible in the offseason to be successful during the time with the team.
"I never cheat a drill in the offseason, every rep matters, mentally and physically setting you up for game day," Edwards said.