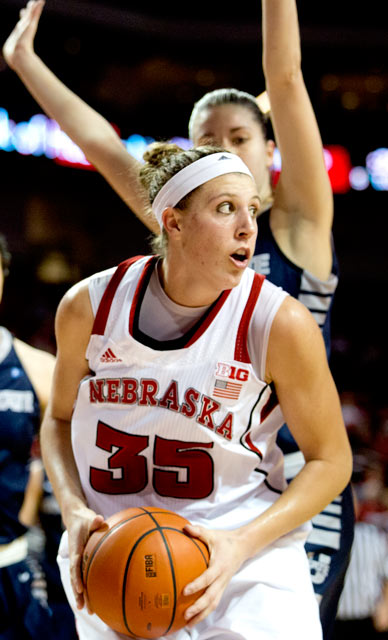 Zero – the number of 3-pointers senior forward Jordan Hooper attempted at Sunday's game against Utah State.
For the first time in Hooper's career at Nebraska, she didn't make or even attempt a single 3-pointer during a game.
"The last time I didn't shoot a 3 in a game was probably sophomore or freshman year of high school," Hooper said. "It was our game plan. We had a different game plan. I was supposed to stay on the block a little bit more this game and work the baseline a little bit more, so I didn't really get a lot of opportunities to get out on the perimeter."
Even with the new game plan and no 3-pointers, Hooper still managed to score 33 points for the Huskers, most of which came from block and baseline shots. Hooper's double-double – 33 points and 14 rebounds – was a career high and helped Nebraska end its two-game losing streak.
With Hooper in the paint and on the block, junior forward Emily Cady and sophomore point guard Rachel Theriot were able to get 7 and 8 assists, respectively, with their looks to Hooper for the points. Cady also ended the game with a double-double, with 16 points and 10 rebounds.
Although Nebraska coach Connie Yori didn't exactly plan for Hooper not to shoot any 3-pointers, her game plan worked out the way she was hoping.
"They kind of sell out in the kind of defense they play," Yori said. "If they don't get a steal, then a lot of times you get a good look. We made a lot of shots, so that was really positive. Jordan was really good, but Emily played a great floor game for us, too."
Utah State coach Jerry Finkbeiner said, his defense is designed to "wreak havoc" on opponents. With this style of zone defense, the Aggies are able to get more steals. Nationally, Utah State is ranked eighth among Division I teams, getting 13 steals per game. During the game against Nebraska on Sunday, the Aggies had a total of 16 steals.
"We're trying to lead the country in steals," Finkbeiner said. "I liked our competitive spirit tonight. All of our players played hard. Nebraska's poise played through some of the havoc we tried to create. Our game plan worked until some of our key players started getting in foul trouble."
In the first half, sophomore guard Makenlee Williams and senior guard Jennifer Schlott had four fouls each for Utah State; Schlott fouled out in the second half. Missing Schlott, their leading scorer, who averages 22.6 points per game, the Aggies couldn't make a comeback against Nebraska. Their style of defense, however, gave Nebraska the chance to see how its new style of offense plays out in a game situation.
"Their style of play allows those kids to stay on the floor a little longer with the zone," Yori said. "This is a defense we are going to see a lot of times this year. We definitely weren't perfect, but at the same time we made a lot of shots. This is the first time we've seen this defense this extensively."
Nebraska's next game is home this Saturday against its in-state rival Creighton at 11 a.m. at the Pinnacle Bank Arena.
sports@dailynebraskan.com