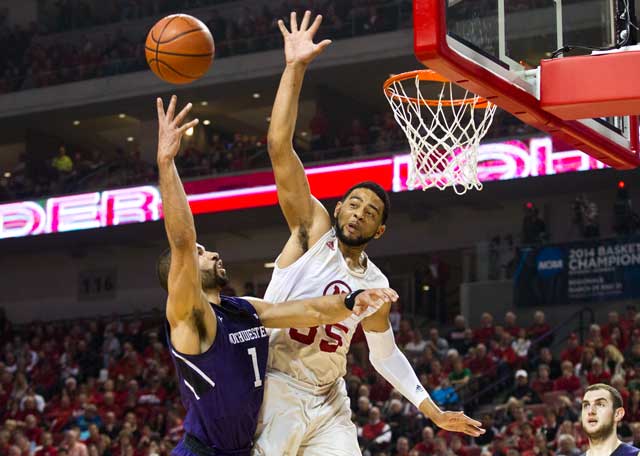 After finishing the month of February victorious in 5 of its 7 games and defeating Northwestern on Saturday, the Nebraska men's basketball team looks to pick up its second straight win of March at Indiana (17-12, 7-9 Big Ten) on Wednesday.
For the first time since November, the Huskers (17-11, 9-7) have a chance to start a month 3-0, and they could end up as a top-5 seed in the Big Ten tournament next weekend.
"We can't afford to lose. We have to win," coach Tim Miles said Tuesday.
Discounting its loss at Illinois on Wednesday, which snapped Nebraska's five-game winning streak, the team's three leading scorers have all taken turns aiding Nebraska to offensive success as of late.
In 19 of Nebraska's 26 games this season, sophomore forward Terran Petteway has led the Big Ten's No. 5 team in scoring, and he boasts 17.9 points per game average that ranks him first in the conference.
Although he's been shut down to 13 and 10 points in Nebraska's past two games, he'd still have Miles' vote for the Conference Player of the Year and a vote from another coach to be on the All-Big Ten First Team.
"Obviously, I would vote for him today; there's no doubt about that," Purdue coach Matt Painter said on Feb. 23, when Petteway scored 29 points.
Besides Petteway's successful field goal sinks, sophomore guard Shavon Shields led the Huskers in their last outing with his second double-double in three games, tallying 17 points and 10 rebounds. He needs 22 more points to reach 600 in his short career at Nebraska. Shields has led the Huskers in rebounding 10 times, including their past three to average 9.7 in that stretch. The sophomore also leads the squad with 162 rebounds and ranks 10th in Big Ten play.
Alongside the two captains, sophomore forward Walter Pitchford averaged 10.4 points per game last month and is nailing 39.4 percent of his shots from downtown.
They're not the Heat's LeBron James, Dwyane Wade and Chris Bosh, who carry their team night in and night out and are paid seven figures. But there's no doubting Petteway, Shields and Pitchford have been coming through lately when the team has needed them most on offense.
But the variety of offensive playmakers said has aided the team to its above-.500 record in conference play, according to Shields.
"We're pretty dynamic in that way," he said. "Walt can score. Terran can score. I can score. We just have different people that have shown up on different nights and kind of play off of each other."
But you can't undermine its latest defensive protection either, Shields said.
"Our defense has vastly improved," Miles said. "There's no doubt about it. That's why we're winning games."
One man in particular has been the talk of Nebraska the last two weeks.
The fans have shown their appreciation through "Benny Parker" chants, and the guys next to the sophomore guard on the floor and bench have shown appreciation as well.
"We've been talking about this the last couple weeks," Shields said. "Benny has been a huge spark off the bench and a huge catalyst in order to get us going on defense."
Because of Parker's 13 steals since Feb. 8, the Huskers have held their past seven opponents to 35 percent showing from the floor.
But they'll be challenged Wednesday night in Bloomington, Ind.
The Hoosiers this year have been led by sophomore guard Kevin 'Yogi' Ferrell's 17.7 points a game and conference-leading 2.8 3-point makes a game. Nebraska forced 19 turnovers and held the guard to 14 points back on Jan. 30, but this time Ferrell and his teammates will be hosting the Huskers at Assembly Hall – a place where they hold a 14-3 record.
"They've had three straight home games," Miles said. "Now they got a lot of mojo. I think that builds confidence, in young teams, especially. We have to be a great defensive to win. Anything less than that, we don't have a chance."
sports@dailynebraskan.com