After suffering an ankle injury that kept him out of gymnastics for the entirety of his senior year of high school, Dillan King entered his freshman year of college at Nebraska ready to compete, but was forced to fight off nerves. 
As he paced and showed his jitters before his routines, Nebraska head coach Chuck Chmelka noticed that King still managed to hit and land solid routines, and he knew it was only a matter of time before King would be fully back.
Fast-forward to present day and King has reached an even higher level than his freshman season. The now-sophomore has added to his routines and has shown a greater level of confidence as he gains experience with each competition he performs in. Conquering more complicated routines on both high and parallel bars, King has shown his coaches that he has all the potential, talent and technique needed to put together a special 2020 campaign.
"My goal for him is simple — be an All-American," Chmelka said. "Hands down, you can't be a national champion until you're an All-American and he has been very steady all year and showed the level of confidence that he has now hitting some extremely difficult routines, especially considering how early it is in the year."
King has also placed lofty expectations on himself, and as he continues to climb and make adjustments, his confidence has risen competition by competition and routine by routine. That confidence has helped propel him to impressive performances early this season, such as his individual title in the Huskers first home competition, that have set the groundwork for a big season.
"My long-term goals for myself this season are to be able to compete in vault as well as parallel and high bars," King said. "I also want to be able to be an All-American this year on both parallel and high bars at the NCAAs and claim as many parallel bar titles as I can throughout the year and help my team in any way I can."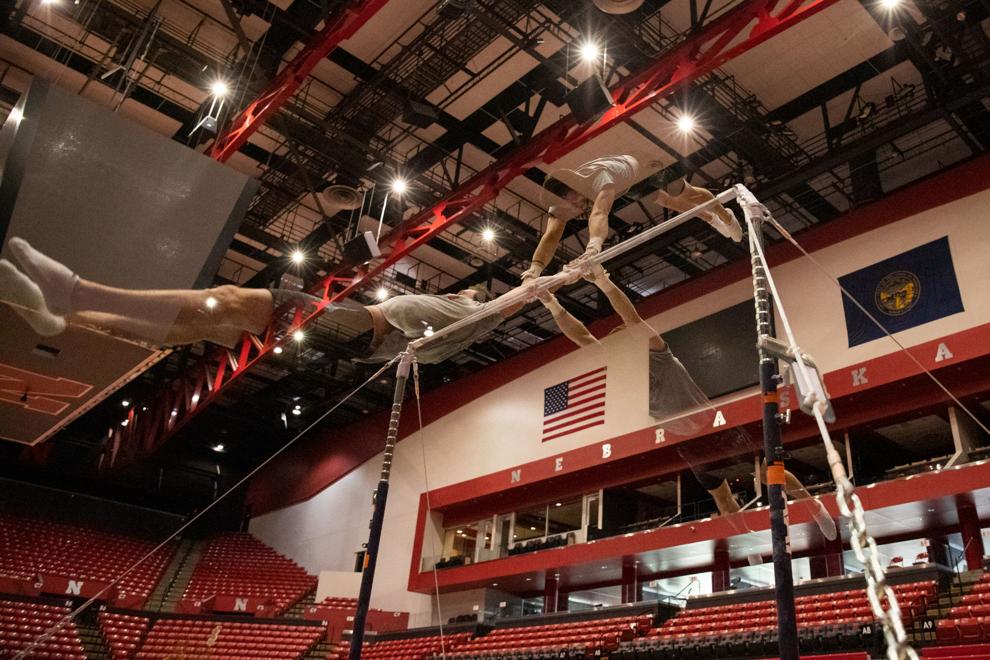 While King was often jittery and anxious before routines during his freshman year, this sophomore campaign has been a stark contrast. He has put forth a more calm and collected attitude before competing and has worked to remain hungry, as well as confident in his abilities. 
King attributes his change in confidence and demeanor to a strong finish at the end of his freshman season as well as his coaches and teammates showing constant belief in him. The team atmosphere helped him remain steady and focused on honing his craft each and every day at practice and that has translated to a turnaround during his routines.
"I think throughout the off-season and preseason my teammates and coaches really helped keep me grounded and focused," King said. "I think having that support system really helps, knowing that when you have an off day or you mess up on a routine that those guys are going to pick you up and keep you focused going forward."
Both King and Chmelka have placed high expectations and goals on the second-year gymnast's shoulders, but with a newfound sense of confidence and a hunger to continue getting better, both believe that 2020 will prove to be a special and achievement-filled year for the young Husker.