Donovan Williams' favorite number is three. 
He's worn it throughout high school and AAU ball, and he's dedicated his life to it. Tattooed on his arm sleeve is GH3 along with a date written in roman numerals: July 31, 2016. It's a day he'll never forget. It's the day 15-year-old Greg Hill, one of Williams' closest friends, was shot and killed in Rockford, Illinois at a party. Three was Greg's number.
The two met at the local YMCA when they were nine, and became close friends through their love of basketball. At the time of his death, Hill was an honor roll student and just about to begin his sophomore year at Rockford East High School. He was expected to be a key contributor for the basketball team throughout his high school career.
"They were very close, very focused and had the same goals and dreams," Williams' mother, Liz Seitz, said. "They would go and play basketball every day and stay out of that other stuff."
Williams was in Houston, Texas at the time, competing in a tournament. Having woken up early in the morning, he scrolled through Facebook, and saw people posting "R.I.P Greg," "Why him?" and other such phrases. It couldn't be his Greg, Williams thought.
In truth, it shouldn't have been his Greg. Hill's death was an accident. One of Hill's friends got into an altercation with a girl, who then called her brother. The brother went to the party and fired on the crowd. Hill wasn't the target.
Williams called his stepfather, who already knew. His stepfather, Daniel English, didn't know how to tell him, and discussed with Williams' mother how to best approach him. It was when English confirmed Hill's passing that grief took hold of Williams. 
The only other person Williams had lost was his grandmother, who passed away in 2012 from ALS. By the time his stepfather called back, Williams had broken the TV and the mirror in his hotel room and ran outside to scream at the world that had taken one of his closest friends.
Rockford, where Williams grew up, is a struggling city. According to 24/7 Wall St., it's the 11th-most dangerous city in the U.S. and has the highest unemployment rate in the state of Illinois. Many young men with hoop dreams, like Williams and Hill, fall into the wrong crowd and never escape. One of those who escaped was Fred VanVleet, now a guard for the Toronto Raptors, someone that Williams looks up to. It was VanVleet's stepfather, a Rockford detective, who informed English of Hill's passing.
"It [Hill's passing] shocked me, and it hurt, but it didn't surprise me," English said. "Where we live, life is cheap, And it's sad to say that but people, they just die all the time. It just happens. It was the first time Donovan felt it, but it wasn't the first time I felt it."
Williams' mother was and continues to be the biggest reason why Williams stayed out of trouble in Rockford. His family was very protective, and used constant activity and sports to make sure there was no time for Williams to get in trouble. 
Despite this protection, Williams was not shielded from some of the harsh realities of growing up in Rockford.
"I don't want to make it sound like I grew up in a struggle," Williams said. "My parents took awesome care of me. But, I also got to see a lot of negative things around me. People who were so talented at basketball but wanted to focus on a little bit of drugs. It's a cycle. Really good in high school, end up getting into a gang or drugs and ended up the same average Rockford youth."
The family left for Lincoln, Seitz's hometown, in 2016. It was crucial that the family leave Rockford. They tried to extend this to Williams' friends, the ones who hung out around the house, but when they left for Lincoln, some of them fell into the wrong crowd. Hill was one of these people.
Now, Williams is one of the top-ranked guards in the nation, committed to Nebraska and one of the top-ranked recruits in Nebraska basketball history.
Another one of the biggest moments of adversity in Williams' life was the ACL tear he sustained in April. It came in a game that was already decided, with Williams' AAU team up 50 points. His mind was already on the next game, where he would've played against RJ Hampton, who now plays professionally in New Zealand and is a top NBA prospect. 
The game between the two was circled long in advance. Both were top-20 guards in their recruiting class, with Hampton second and Williams 20th, according to ESPN.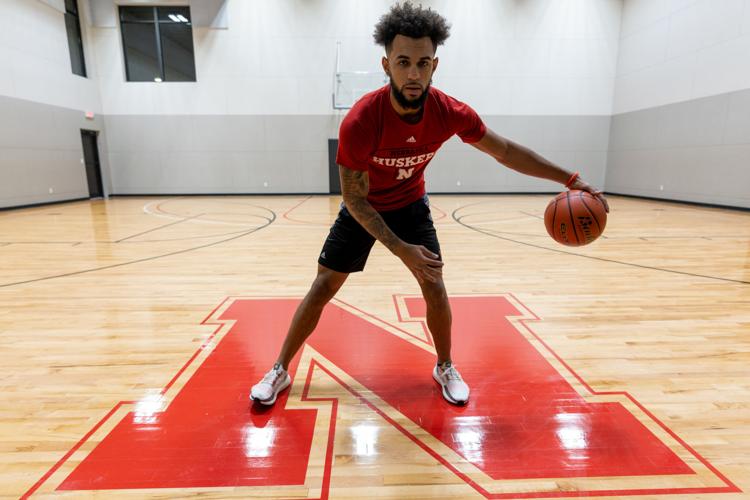 Williams decided to get another dunk in a game where he had two already. He drove in the lane, jumped up with much less hop than he's used to and came down with his knee feeling weak. It took a few moments for the pain to come, terrible pain that he described as the worst in his life. He thought it might've been a sprain because of the lack of swelling, but he didn't know.
A while later, Williams got back from school and saw his mother and stepfather in the living room. His mom asked him to sit down, and told him that his knee injury was worse than expected. He thought it might've been his MCL or PCL, but his parents told him it was an ACL tear. Williams froze, and then started to cry. He knew the reputation ACL injuries have as the grim reaper of budding careers. It took him a few days to come out of his bedroom after that.
"People outside don't understand, it's not just injury," Seitz said. "It's a lifetime of work. He was right on the cusp of a really big summer he had sacrificed for and that [the injury] happens. When you see your child, who has dedicated his life to a goal, when he has a major block in that goal, it's very hard."
Five days before his injury, Tim Miles was fired from his position as head coach of Nebraska basketball. His family considered reopening his recruitment before the tear and letting the new head coach (who would later be announced as Fred Hoiberg) re-recruit him. But, the injury sent him to a dark place, and the interest Nebraska still showed under Hoiberg made the decision an easy one.
Being away from basketball has given Williams a new perspective on the game.
"I'm not mad about the injury," Williams said. "You'll never hear me say 'Why me?' or 'Why now?' The only thing that makes me kind of mad is waking up every day, and you see kids taking it for granted. That was probably the most painful thing for me, watching kids take the game for granted. I'll never do it again."
Williams, according to English, was always one of the toughest people he knew. He would play sports with his brother's class two years older than him. When English would train Division I athletes, high school kids and professional basketball players, from the age of 12 and older Williams would train with them.
English was also a large reason for Williams' dedication to basketball. English trained him rigorously from a young age, much in the same way he would train his Division I athletes. Williams would go on to outpace his stepfather's drills, getting up at 4:30 in the morning to train before anyone else was there.
One of Williams' biggest role models is Washington Wizards guard Bradley Beal who, along with Nike, owns the AAU team that Williams played on.
"He's had a big impact on my life in terms of my injury," Williams said. "He was like, 'Dude, I've seen you play, we've all seen you play, you've got it, you've got the tools to get to the NBA. Don't let nothing stop you from getting to where you want to be.' Everything he said this summer I took in. I took it all in." 
He also remembers how Beal, who won the NBA Community Assist award last season, treated everyone on the team fondly.
"He's the most awesome guy I've ever met in my life," Williams said. "There was never one second where he was acting like he was too superior for us. He seemed like he was one of our friends. "You would never for one moment think he's an NBA All-Star. No, he's just my friend."
Williams has tried to live up to Beal's example. One time, a group of middle school students invited him to a birthday party through Snapchat. The parents and kids didn't expect him to show up. Williams did, much to the surprise of everyone, and started texting the kids outside of their house. He gave the birthday boy money as a gift, gave the kids a few pairs of autographed shoes and played basketball with them for an hour. 
When he tried to leave, the kids started crying, according to English. This was because they didn't want him to go and they were so surprised he came in the first place. Williams left and immediately called English, crying on the phone because of how much the kids meant to him. 
In his short career so far, Williams has already attracted some detractors. People who see his obvious passion and confidence on the court and view it as arrogance. Williams hears the background noise about him, including how he can sometimes appear abrasive, but he doesn't let it affect him. His motto is, "If it's not something about me, it's something else."
Williams hasn't yet signed his letter of intent, but he is 100% committed to Nebraska. He wants to have his family around when he signs, which hasn't been possible yet because of how busy his family is. His brother, Bryson Williams, is in the midst of football season as a Wisconsin defensive tackle.
"Basketball is what he does, not who he is," Seitz said. "He doesn't see it that way, but there's so much more to him. So much more strength, so much more leadership, perseverance than that."
With the help of his family and the memory of his friend, Williams is determined not to be another one of the people lost to Rockford. Both have given too much for him to not be the absolute best he can. His biggest inspiration was and continues to be his mother.
"I just want to pay her back for everything she's done for me," Williams said. "Make it worth it."