On a warm afternoon in late July 2012 in Penticton, British Columbia, Bud Riley was craving pizza.
So Mike Riley picked up his dad from the hospital, checked out a wheelchair and rolled the 86-year-old exactly one mile down Main Street.
They rolled past a gas station, a Super 8 and a Burger King, surrounded by mountains and cars whipping by on the busy intersection.
When they got to Boston Pizza, Bud ordered pepperoni. Naturally, Mike did too.
It was always that way – Mike following Bud.
A few family members joined to eat and catch up. Riley was getting ready for the 2012 season after Oregon State went 3-9 in 2011. But he had a quarterback returning who he liked, and the season didn't begin for another two months anyway.
On this July day, things were perfectly fine. He was with his dad, eating pizza on a beautiful summer afternoon.
In the distance, just beyond the mountains, storm clouds loomed.
* * *
Mike Riley, not long awake, his short black hair fading to grey and wet from the morning shower, sits at a table inside the Embassy Suites in downtown Lincoln with his wife, Dee.
This morning, he's trying to figure out where exactly he is.
He's not sure how far away Kansas City is. And where's Kearney, Nebraska? His friend, Bill Snyder, coaches in Manhattan, Kansas – how far away is that?
Dee answers with shrugs between bites of her banana.
"We're still getting used to this whole Midwest thing," Riley admits.
What Riley does know is that the walk between Memorial Stadium and the hotel he and Dee have called home for four months takes about 15 minutes. So at 7:15 a.m., after two strawberry yogurts and two cups of hotel coffee, he throws on a black Nebraska hat and begins his morning walk down 10th Street.
Besides the overcast sky and the smell of morning rain, the walk is much different than the bike rides Riley used to take from his home in Corvallis, Oregon, to work at Oregon State. But the truth is, Riley didn't ride his black Sun City bike to work much anyway.
It turns out there's a lot about Mike Riley people may not know. Like how he likes to read a chapter of a good Michael Connelly mystery novel before bed. Or that he claims his favorite athletic moment was in high school, when he hit a two-out, two-strike single to bring home his best friend to go to the Oregon State baseball championship. Or that despite signing a contract for $2.7 million, he's still walking to work every morning in worn-down tennis shoes and a black leather jacket he's had forever from a hotel down the street from Memorial Stadium.
Mostly, though, people don't know why Riley left his dream job in north Oregon's Garden of Eden for Lincoln, Nebraska.
Riley learned how to throw a football on Oregon State practice fields and had dreamed of retiring a Beaver since he moved to Corvallis when he was 12 years old.
So why – at 61, with five years left on his contract in his haven – did he leave?
The answer, like Riley's hotel breakfast, is simple. And it's all about footsteps: How long you can follow in your hero's, and what happens when they run out.
* * *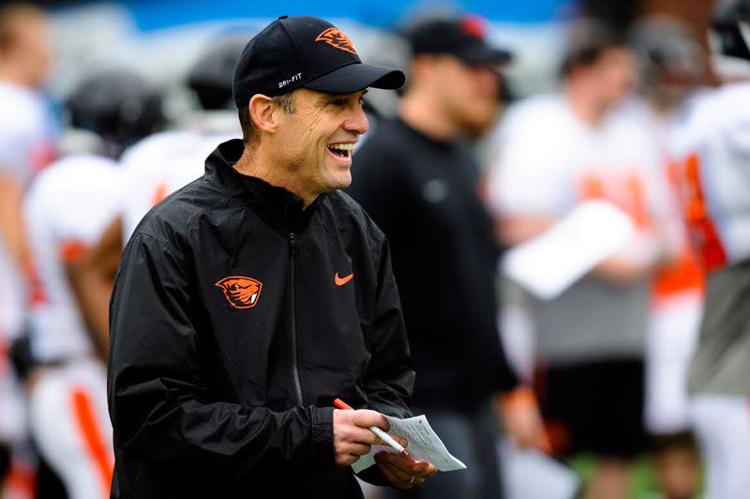 Mike Riley's life really began at 12 years old, when he met Corvallis.
Bud Riley scored a secondary coaching job at Oregon State in 1965 after coaching for three years at the University of Idaho, so the family moved to the 50,000-person college town that never really gets over 75 degrees or under 45.
Mike found a few neighborhood buddies who were as addicted to sports as he was and began a routine of shooting hoops at St. Mary's Church until the janitor kicked them out. They'd ride their bikes and play one-on-one basketball behind Oregon State fraternities and then play whiffle ball after.
"We were just gym rats; total jocks," said Gary Beck, childhood friend and Oregon State Coordinator of Support Services. "Corvallis made it ideal for us. We'd just ride our bikes to play whatever. We could get to wherever we wanted in about 15 minutes."
Mike was lanky and studious, a magnet when he walked down the hallways at Corvallis High School after winning the starting quarterback position as a sophomore.
On Fridays, he'd lead the Corvallis High Spartans on the field, and on Saturdays, while Bud ran the secondary for the Beavers, Mike and his friends would re-enact plays on their knees on the carpet while they listened to the game on the radio.
Mike walked with Bud on the sidelines at practice and watched films with him in the car before church on Sundays. Bud wore a ball cap, so Mike started wearing ball caps too. Bud stood with his hands behind his back while he coached, so when Mike coached little league football on Saturday mornings, he followed suit.
You can still catch him, one hand wrapped around the other behind his back, today.
Bud was stern, but he was fair. Beck played for his friend's father in the '70s and said Bud yelled and disciplined, and you sure as heck didn't want to be on the wrong side of his scowl.
But one step off the field and all Bud Riley really needed was a glove to play catch with, a bleacher to sit on to watch his sons play baseball or football or a dinner table to tell stories at.
In Mike's mind, especially after Bud died in 2012, that was the life. That was the goal: becoming his dad.
He wanted to coach the Beavers and catch the sunset on the porch with his family after practice. After playing at Alabama under legendary coach Bear Bryant from 1971 to 1974, Mike scored the defensive coordinator job at Linville College in 1977 – and so began the journey of following in Bud's footsteps.
In 1987, he'd take over the Winnipeg Blue Bombers, a team his father coached until 1977. A decade later, Riley ended up back in Corvallis as the head coach of Oregon State. He left for a short stint in the NFL, and in 2003, signed in Oregon State again.
He was home.
When Riley took the podium after being hired, he announced it would be his last stop.
* * *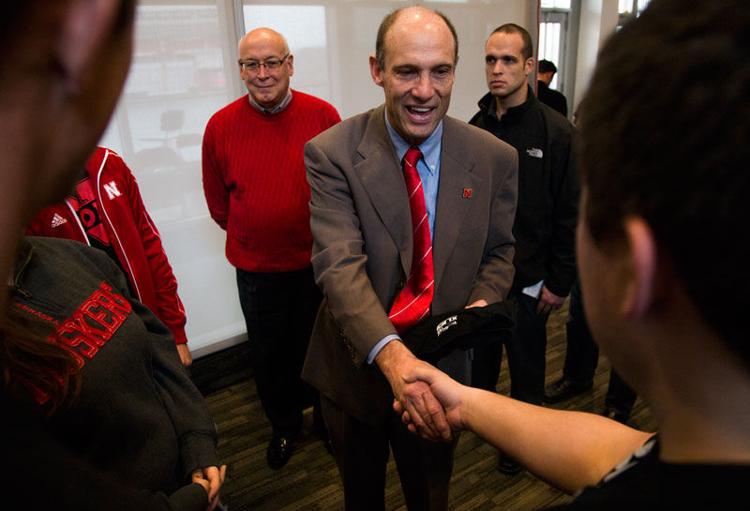 Mike Riley sits in a black leather chair in his Memorial Stadium office wearing his usual blue jeans, hiking boots and a navy sweater – but he's not exactly comfortable.
Can you blame him? Five months ago, at the drop of the hat, he could pick up his 3-year-old grandson, Eli, to go to Flat Tail Brewing in downtown Corvallis to grab a burger with ketchup, mustard and pickles. And after that, he and Eli could take a stroll on the Willamette River, and maybe after that, get some gelato and be home by Eli's bedtime.
Now, Grandpa is 1,620 miles away, and Riley is picking Eli up from the airport and checking out new playgrounds near Haymarket Park.
He's also sitting in the chair of a man whose exit at Nebraska was messy.
The differences between Bo Pelini and Mike Riley are stark. Pelini, the defensive guru, and Riley, the quarterback whisperer. Pelini was the bombshell waiting to explode on the sideline, while Riley is considered to be one of the most genuine people in college sports.
The biggest difference, though, may be that Husker fans knew what they were getting with Bo Pelini. Nine wins, two of which were won or lost in the fourth quarter, tirades on the sidelines and that trademark Pelini scowl.
But what about Mike Riley? Who is he?
"I'm a fairly simple guy," Riley said. "People ask me what kind of car that was, or whatever, I usually say it's a silver car. So I don't know much about cars, and I'm not a very fancy dresser. I have pretty simple tastes."
If Bo Pelini was an episode of Jerry Springer, Mike Riley is Mr. Roger's Neighborhood.
Riley's perfect Sunday begins, as all of his Sundays do, with church. Then maybe the zoo with his grandson or maybe a children's museum. Eli loves the animals.
He couldn't say the word "marry" when he proposed to Dee because he was so nervous, and sometimes he's still shocked she decided to marry him. With 93 wins, he's the winningest coach in Oregon State history, but he acts like he's won three. And five months ago, he was coaching on the same field that he grew up on.
But last year, his Oregon State Beavers went 5-7.
He heard "Fire Mike Riley" chants at home games last year. When a columnist told him on a radio show that he'd lost it, he would never win again and he needed to be fired, Riley responded with, "Thank you."
After in-state rival Oregon walloped Riley's team by four touchdowns on Nov. 28, murmurs of Riley leaving the program grew louder.
Portland Tribune reporter and childhood friend Kerry Eggers spoke with Riley every Sunday. Two days after that November loss, he asked Riley a question that everybody had in mind.
"Mike, your contract goes through 2019," Eggers said. "Do you intend on staying through that?"
"I do," Riley said immediately. "I have no intention of not coaching. I'm more excited than ever. I feel better than ever. I have a strong belief I'm the right guy for Oregon State."
And he meant it. That's why when USC came calling in 2000, while Riley was the head coach of the San Diego Chargers, he turned them down. And when Alabama, Riley's alma-mater, did the same in 2002, he said no. In 2003, Riley got the offer he'd been waiting for and returned to Oregon State and signed a seven-year contract. He then signed two extensions. In 2009, 56-year-old Riley signed an extension through 2019.
"Mike's said he wants to be the Joe Paterno of Oregon State,'' Oregon State Athletic director Bob De Carolis told The Oregonian after the 2009 extension. "So we'll put something together to make (his contract) a lifetime deal."
Riley refused to leave the program his father loved so much.
But the day after the Eggers phone call, Riley had a meeting with De Carolis. Nobody knows for sure what was said in that meeting other than Riley and De Carolis, but the meeting was a definitive turning point.
That same afternoon, Riley got a phone call from Nebraska athletic director Shawn Eichorst.
Eichorst saw Riley as Nebraska's next coach.
"There was one coach who fit all the characteristics that I was seeking to lead our tradition-rich football program," Eichorst said in the press release announcing Riley's hiring. "Mike Riley has a proven record of success, a sound approach to football and teaching, an understanding of the educational mission of our university and the integrity and values that we cherish at Nebraska."
Riley has never won a conference championship. In his 12 years at Oregon State, his team won nine or more games just four times. And since 2009, Oregon State hasn't finished higher than third in the PAC-12 Conference.
Yet, Eichorst gave Riley a chance. Eichorst saw the 93 wins, the most in Oregon State history. The thought of choosing a coach who's done that in a small market for such a storied program as Nebraska − it all seemed to fit.
In a hotel room in San Francisco, Eichorst gave Riley a chance. An opportunity to take a step outside of his father's footsteps.
Over the next two days, he'd have to decide: Do I leave my life and my father behind?
Riley chose to chase a championship.
* * *
When the Rileys were done with their slices of pepperoni on that July 2012 afternoon at Boston Pizza, they walked outside. In the distance, storm clouds grew close. The hospital was about a mile away.
"Oh no," Mike said with a laugh. "We gotta go, Bud."
Bud looked up.
"Yeah, we gotta go," he said.
And so they went. The son pushing the father back down Main Street, jogging while the storm clouds got closer and closer.
"Faster!" Bud half-yelled and half-laughed at his 59-year-old son – as if Mike were the boy he watched from the bleachers for years in baseball, basketball and football.
"Faster!"
Mike's feet churned beneath him. The hill up Main Street grew steeper and steeper, and the laughs of his father in front of him grew louder and louder, until they finally turned right on Carmi Avenue and into the hospital.
The rain began to pour as the two got under the shelter in front of the hospital – the son gasping for air, the father laughing – the rain coming down in sheets in front of them. They'd made it. They'd won.
It was the last victory the two would share together.