I've been a student at the University of Nebraska-Lincoln for nearly five years now, and until Saturday, I had never heard "Go Big Red" chanted more in one day.
On Saturday, Jan. 23, Nebraska hosted seven sporting events, the most the university has held in a long, long time, at least since I've been enrolled here.
So I mapped out the day in an attempt to attend every single one. The 10.5-hour day was filled with farewells, fan support, cheap food, pop music, a lot of red and someone who had the same idea I did for the day.
***
10:41 a.m.
Photographer Andrew Barry shows up to my house near Haymarket Park to join me for the day. We have a rough idea of what we want to accomplish in this. Our only plan is to watch as many sports as possible. So we hop into my white, 1999 Isuzu Rodeo and head to the Bob Devaney Sports Center to watch the swim team face Illinois on Senior Day.
11:17 a.m.
We enter the Devaney Natatorium. On our right is a food and beverage table with fruit, coffee and bagels that were most likely softened up by the chlorine in the air.
Sophomore Jordan Ehly just won the 100-yard breaststroke, her first victory of the day. After I see the results, I look back at the stands, full of Husker fans.
Andrew goes off to take photos of the meet as I spot swim beat writer Trev McDiffett sitting on the left side of the stands, laptop being balanced by his knees. I look over, and Trev's typing with a brace on his right hand.
"How did that happen?" I ask.
"Ugh...long story," he says.
I tell him to save it for another time then. Still, good on him for typing his notes in the humid environment.
I find out from him I just missed the Senior Day ceremonies, where all the senior swimmers and divers were given flowers by the coaches. Heck, even the Illinois seniors were given flowers by the Nebraska coaches.
It's after 11:30 a.m., which means the track team is about to start the Mark Colligan Memorial meet down the hall. I tell Trev good luck on the rest of the day and exit the pool area after Taryn Collura wins the 50-yard freestyle. Andrew sticks around for a bit to talk with one of his photographers who is between the lap pool and the diving pool.
11:44 a.m.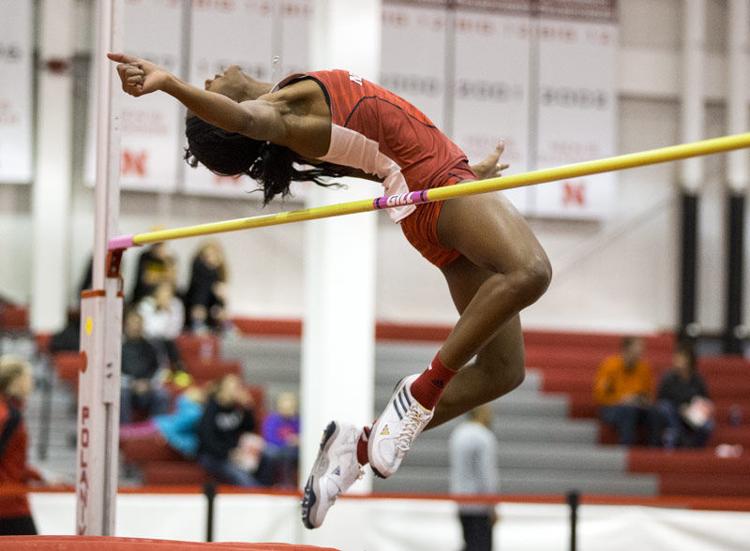 For the first time ever, I walk into the Devaney Indoor Track and see a group of Colorado State runners jogging for warmups. "Summer Love" by Justin Timberlake is being played over the speakers. Halfway through the song, the PA announcer lists the results of the women's long jump. Husker Reka Czuth took the competition with a 5.84 meter jump, almost 20 feet!
As I plop down in the middle of the 1,228 fans who attended the meet, I see Nebraska athletic director Shawn Eichorst in the middle of the track. He's easy to spot, as he's wearing a black long-sleeve with the red Nebraska logo on it, whereas everyone else around him is wearing red track suits.
A big day for him. A big day for a team that's not even competing right now: the football team. It's hard to ignore how many recruits are visiting this weekend and one of the notable parts of that is the men's basketball game against Michigan. I mean, the team is on a four-game win streak and fresh off a win against No. 11 Michigan State, and it's the third annual #AveryStrong Day. Pinnacle Bank Arena is going to be packed, and recruits will be shown a glimpse of the Nebraska fan base and the facilities.
Which reminds me, I got to head over to PBA now. I grab Andrew and we leave at 12:17 p.m. for the 1:00 p.m. tip-off with "Riptide" by Vance Joy being the last song we hear at the Devaney Indoor Track.
12:56 p.m.
Andrew and I just finished bolting from the parking garage on 11th and Q street, having let the beat writers use the DN's lone parking pass.
We approach Pinnacle Bank Arena, and even minutes before tip-off, fans are still filing in. Andrew and I just want to get in as soon as possible. My ears feel like potato chips that are about to break off.
We go through the ticket office door and make it in just before player introductions.
Instead of going straight to the court, I walk through the tunnel on the right toward the northeast corner entrance. In one of the rooms on the left, I see the National Championship trophy the volleyball team won last month. It makes absolutely perfect sense that it's there.
I turn left to head to the floor and coming out of the locker room is coach Tim Miles, wearing his yellow #AveryStrong shirt just like he did last year when the Huskers faced Michigan State.
We walk parallel to the court, and once Miles is seen, the crowd roars, and he pumps his right hand in the air. Seconds later, the National Anthem begins, the starters take off their #AveryStrong shirts to show off the old school jerseys they're wearing for the game and they tip off against the Wolverines.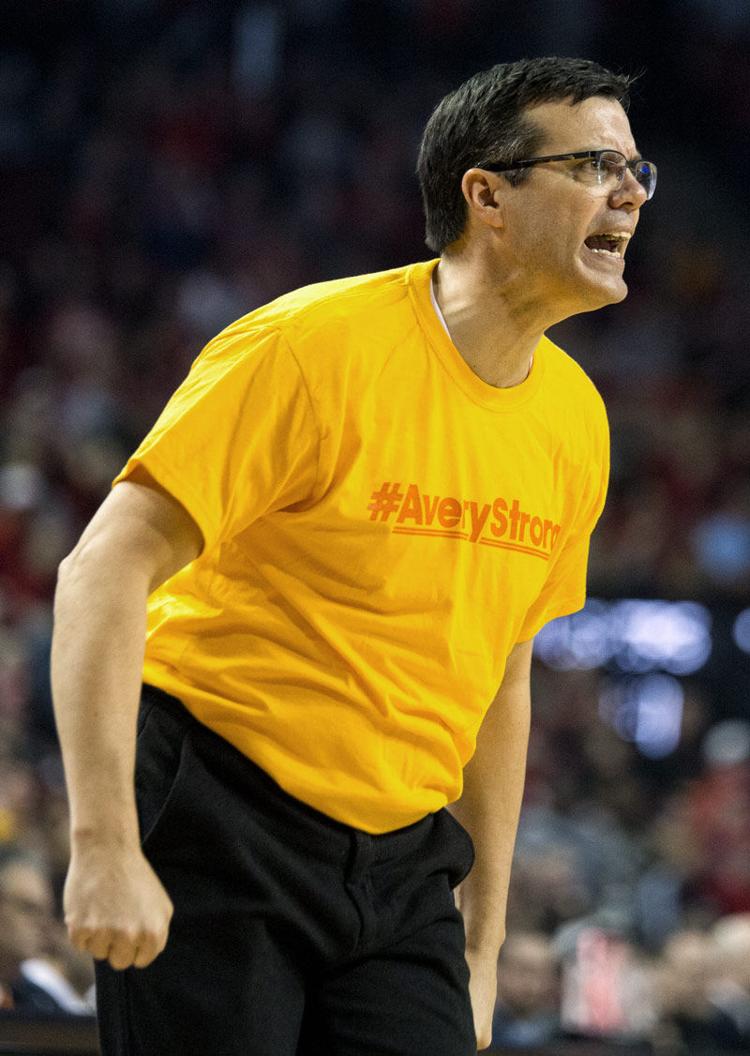 1:53 p.m.
Minutes ago, freshman guard Glynn Watson Jr. sank a three-pointer to put Nebraska within three points of Michigan, a team that is more comfortable on the outside than in.
Now, the volleyball team and coach John Cook are getting honored for their National Championship win against Texas, a.k.a. "Enemy of the State."
Then, Avery Harriman and other children battling pediatric cancer are on the big screen with "My Hero" by Foo Fighters being blasted through the PBA speakers. To be honest, I get goosebumps every time I hear the song, thinking back to the #AveryStrong Day I covered last year.
2:40 p.m.
I pace by the student section, say hi to a few classmates and stand in the second row next to the aisle to watch a few minutes as Nebraska tries to claw its way back against Michigan.
The guy next to me, Caleb Havekost, warns me.
"Mike Riley might come back for that spot," he said.
Yep. Football coach Mike Riley, one of the most well-known people in Nebraska, stood next to the senior accounting and management major for the first half of the basketball game.
Right before the start of the game, Riley was going to sit next to athletic director Shawn Eichorst and Chancellor Harvey Perlman in the third row. As he walked up the stairs, Havekost stopped him for a second.
"We have a spot for you," Havekost told him.
So Riley says sure and sits next to Havekost and his friends. Coincidentally, Riley was standing in the same spot he was for the last #AveryStrong Day on Jan. 24 2015, 50 days after he was hired as Nebraska's head football coach.
Havekost and his friends had plenty of questions for him, too.
They talked about recruiting, the players and families who are in town and how much he loves the passion at Nebraska.
Havekost was curious about a few more things.
"Do you get tired of the selfies and stuff?" he asked.
"I love it," he said. "They never get old."
Later, Riley had to split it off at halftime. He shook their hands and said it was really nice to sit with them.
Havekost promised him that his spot would be saved if he wanted to come back.
As the game winds down with Michigan defeating Nebraska 81-68, I grab Andrew, and we head to the Dillon Tennis Center to see the men's tennis team face UNO in its debut at the new facility.
3:17 p.m.
We enter the Dillon Tennis Center, an indoor and outdoor facility located next to the Devaney Center, which is so much closer than the old facility located near N. 70th Street and Cornhusker Highway, about a 20-minute drive from campus.
I walk up the stairs to the second level where the 1,400 seats are, and see that doubles matches are just wrapping up. Brothers Dusty and Toby Boyer are about to get another win for Nebraska on the day.
After a short break, singles begins.
I walk to an open area of seating behind Court 4, where Andrew Dzulynsky is going against UNO's Marko Minic. I put my jacket and bag in the seat next to me and just admire the place.
With thuds and squeaks in the background, I look up at the lights. The lights face up and reflect down on the court, rather than facing down on the court. That was one of the more interesting features of the place. I also look right to the east end wall, where there are murals of every tennis player at Nebraska. I thought for a second they were former tennis players who were successful as Huskers. No. The current players for the tennis teams were getting legendary treatment at a place that was long overdue.
4:33 p.m.
Andrew Dzulynsky has already defeated Marko Minic 6-4. Only one singles match remains and that's over on court 5, all the way on the right side where Nebraska's Bradford Zitsch is facing UNO's Erik Anderson.
All the fans pack over in the corner to cheer on Zitsch, who is looking to give Nebraska a complete sweep against UNO.
The players who are already done are with the fans too. Andrew Dzulynsky is having his post-game Goodcents sandwich.
Zitsch is in a tough spot, though. He's down 6-3, and it's not looking good. His teammates are being very vocal with him between serves.
"Let's go, Ford. Hit it."
"Here you, Ford."
"On it, Ford."
On the next serve, Zitsch gets a close judgment, tightening the deficit to 6-4. Then 6-5. Then he ties it at 6 following a subtle backhander that was too much ground for UNO's Anderson to cover. They switch sides.
Zitsch serves, but he hits the net. 7-6 Anderson. UNO coaches and players are all yelling "one by one" to Anderson. The Maverick makes it 8-6, then 9-6. Ultimately, Anderson defeats Zitsch 10-7, erasing the possibility of a sweep. The Huskers still won 6-1. Andrew Dzulynsky thanks the fans for coming and walks down the stairs to prepare for the team's match up against North Dakota at 7 p.m.
With an hour and 11 minutes until the gymnastics double duel at 6 p.m., Andrew and I head to Raising Cane's for a chicken finger-filled break.
5:56 p.m.
Another event that Andrew and I make to in the knick of time.
We catch another set of player introductions. This time, it's "Thunderstruck" by AC/DC being played.
3,032 fans are in attendance at the Devaney Center.
I drop my backpack off in the press area and explore the place. There's so much energy and support at gymnastics meets. After each routine, the teammates hug each other, high-five each other, whatever they want. It's encouraged. You don't see basketball players taking a long celebration after Andrew White III makes a three-pointer. It's overlooked how much dynamism and excitement are integral parts of gymnastics, as opposed to other sports. Both men's and women's teams competing under one roof. What more could you ask for?
7:53 p.m.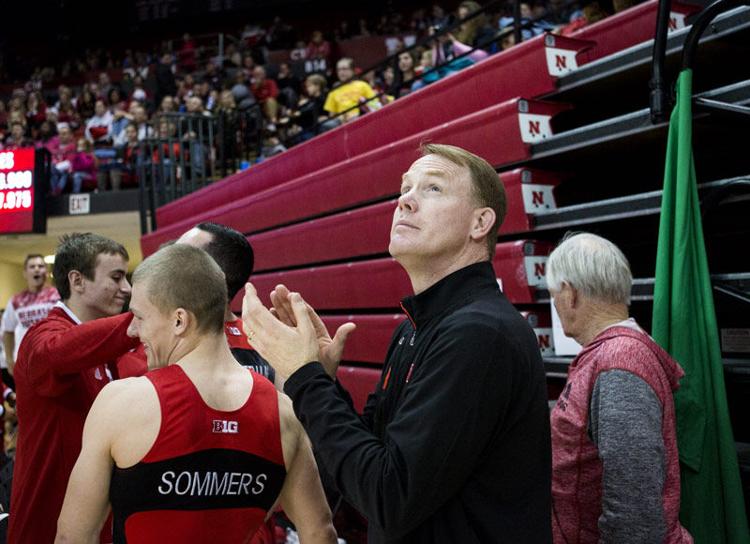 The women's gymnastics team has already defeated Rutgers 195.825-193.075, and the men's team only has a few more exercises left.
I spot athletic director Shawn Eichorst once again. This time, I'm close enough to ask him for a short interview. It looks like he's about to leave, so I grab him for a quick second.
"Hey, Shawn," I say.
I introduce myself and walk with him through the Devaney Center storage room, which he uses as a quick route to the parking lot so he can get to the tennis center for the men's final match of the night.
I have to ask: just how many events have you been to today, Shawn?
"I've been to the them all," he says with a chuckle.
So for a few more minutes, we talk about going to all seven Husker events. The student journalist getting paid $15 for a story is talking to the guy who makes more than $1 million a year.
He talks about how terrific it was to be in the student section once again for #AveryStrong Day. I also bring up that he had coach Tim Miles, coach John Cook and coach Mike Riley all at the basketball game earlier in the day.
"It's a really unique culture we have here," he says. "It's very positive, very optimistic, very caring. It's a humble group. They care about everyone and everything. When you have a dynamic group of people like that, all pulling in the same direction, good things happen."
Eichorst talked with a lot of fans in his Husker-filled day, and he reflects on that.
"The kind of thread I see is that people are excited to be around Husker athletics," he says. "It's a connection point, a spirit point, pride point."
He exits the storage room to the parking lot, and I go grab Andrew and my things in an attempt to get to the tennis match.
8:37 p.m.
We're too late for the match. Cars are leaving the tennis center, but we go in anyway. In all fairness, we were cut off in the parking lot by a silver Lexus with a license plate that said "VIVA RED."
I walk up the stairs and the players are meeting on the court, discussing their 7-0 sweep of North Dakota. The only person in the lobby is a fan with her small cockapoo dog named Teddy, who was wearing a white Nebraska Tennis shirt. This is the first part of the day when there's near absolute silence.
Then, the team finishes up its talk, yells "Go Huskers" and disburses, ending the day that included six Nebraska home wins and one loss. Ultimately, a successful day for Eichorst and the rest of Nebraska.