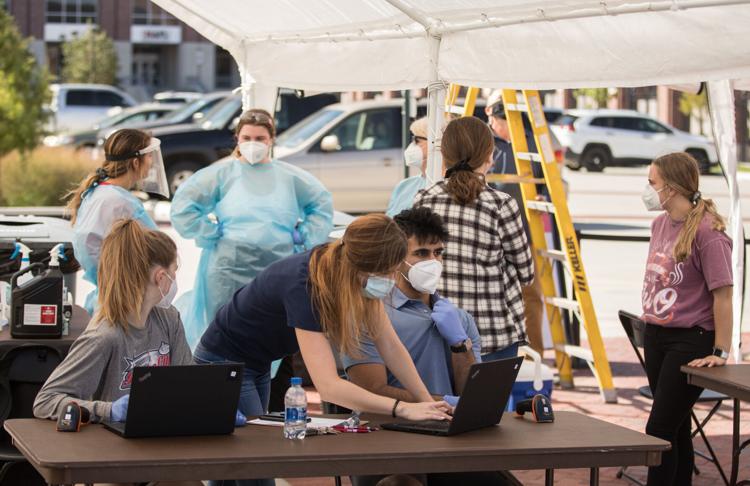 The return of Big Ten football has implications that go beyond being able to see a handful of games this fall.
Along with reinstating a shortened football schedule, this month's announcement from the Big Ten outlined testing procedures for its athletes. The conference hopes to help health officials better understand the ongoing COVID-19 pandemic. Documented cases of COVID-19 in the United States have exceeded 7 million, according to Johns Hopkins University.
The Big Ten press release includes a statement from Ohio State's head team physician, Dr. Jim Borchers, who praised the conference for "groundbreaking steps that are now being taken to better protect the health and safety of the student-athletes and surrounding communities." 
The impact on these "surrounding communities" will be studied by health officials at all Big Ten member institutions. Borchers said required daily antigen testing for all players, staff and officials will provide crucial data as schools "study COVID-19 and attempt to mitigate the spread of the disease among wider communities."
Dr. Scott Koepsell, a director of decentralized testing at the University of Nebraska Medical Center, said that the use of this data would be widespread.
"All the testing that occurs, whether it's antigen testing or PCR testing, gets reported up to the local health authorities as well as up to the CDC," Koepsell said. 
The Center for Disease Control (CDC) is the primary source of public health recommendations to mitigate the spread of COVID-19. Koepsell also stressed the importance of widespread testing data as the annual flu season approaches.
"Given how widespread and frequent testing will be for the Big Ten, across numerous states going into flu season, I think the public health entities watching this information will learn a lot about how this virus spreads," he said. "Is it getting more or less virulent? Does it spread along with influenza or will influenza rates be lower?" 
Nebraska, along with every other Big Ten institution, will have a "Chief Infection Officer" monitoring testing data, according to the Big Ten's press release. Positivity rates within teams and adjacent communities will be used to determine whether games and practices are allowed to continue.
Despite these stringent measures, Koepsell cautioned that daily testing of Big Ten football teams is not guaranteed to prevent the spread of COVID-19.
"I think the frequent testing is going to prevent transmission from the act of playing sports. It does not prevent transmission from visiting your friends and family," Koepsell said.
Koepsell said that the primary challenge in preventing the spread of COVID-19 within football teams is that athletes will continue to "live their lives" outside of sports. The frequent testing is designed to limit the amount of time the virus has to spread unmitigated.
"Because student-athletes are going to be living their lives outside of sports as well, what this frequent testing and monitoring is going to do is allow everybody to identify who is infected and get them away from the remainder of the team and the staff and the coaches," he said.
Preventing outside exposures will be emphasized by Big Ten schools as the football season begins. Three Nebraska football players received misdemeanor charges for a loud party, raising concerns about how effectively teams will limit these exposures. The debate around whether to have a football season has led some to conclude that players would be safest among their teammates and coaches. Koepsell is unsure.
"We just don't know how the act of playing sports is going to affect the prevalence and the rate," Koepsell said.
Aside from the short-term risks of contracting COVID-19, the Big Ten is also taking steps to study the relationship between the virus and myocarditis, an inflammation of the heart muscle. Cardiac registries will be established by all Big Ten schools to monitor the cardiovascular health of its athletes, according to the conference.
Koepsell remains wary of potentially permanent impacts of COVID-19, which he says requires further study to be better understood.
"As far as long-term risk, I think we're still learning a lot about this virus, whether you get it from your teammate, or whether you get it in the dorm room, or whether you get it at the grocery store," he said.
Whatever the risks may be, Koepsell believes that the Big Ten football season may be a step toward providing better public health services related to the spread of viruses.
"Risk factors that lead to the lingering effects of the virus are going to be better known going forward. Not only in the sports arena, but across the board."