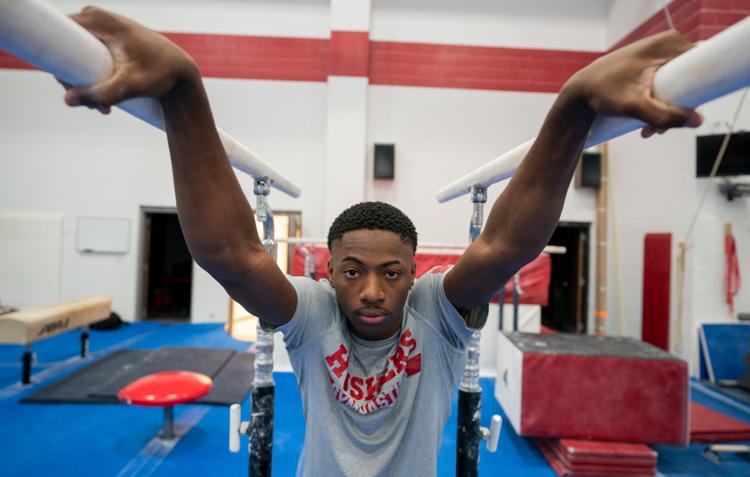 Khalil Jackson sits alone in mid-October, as he often did, with tears rolling down his face as he contemplates walking away from the sport he has loved for years. A labrum tear had taken its toll and forced Jackson to quit practicing and undergo surgery in order for him to alleviate his pain. 
At this point, Jackson wanted to walk away for good. Then, he thought back to why he was where he was and all of the people who had helped him get there. Instead, he gathered himself and refused to let the injury beat him as he got ready for the day.
"I have had a lot of days in the locker room just crying my eyes out following my surgery immediately after NCAA's, and I don't cry because it hurts, I cry because I am out here every day watching guys doing what I should be and want to be doing so that is really difficult," Jackson said.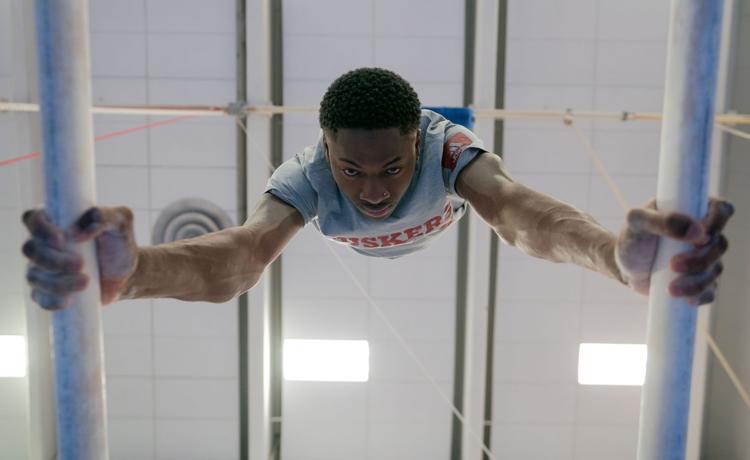 Jackson enjoyed major success back in 2014 when he was able to capture the Junior Olympic National Championship on high bar. His performance gained the attention of several Big Ten schools as he had offers flooding in and he began to think about where he wanted to continue his collegiate career. As the time for his decision got closer, he hit a roadblock. 
He sat right on the edge of reaching the admission requirement for the ACT score, but as he worked to raise his test scores, schools pulled their offers. However, one school and one coach stuck with him. Nebraska head coach Chuck Chmelka worked with Jackson and never allowed him to lose belief as he was able to achieve the required score and was welcomed to Nebraska to continue his career.
"I have always seen the good in people, I always feel like with every bad thing, two good things are going to come from it," Chmelka said. "Gymnastically he was a machine and I knew he would fit in extremely well and he is a great person. I always felt that with the help here and how great the school is about giving students that need some help the help that they need, and the biggest thing with Khalil is that in everything he does, he really cares and works hard at it."
Despite the obstacles he faced during his freshman campaign, Jackson was still able to achieve All-American status in high bar during the 2019 season. During the season, he fought through his labrum tear and was forced to cut out much of his practice routine in order to be able to still compete late in the season. Nonetheless, Jackson was able to become an All-American as a freshman despite his severe injury. A combination of his ability to maintain mental stability and strength, coupled with support from Chmelka and his teammates got him through his difficult freshman year and eventually through the offseason.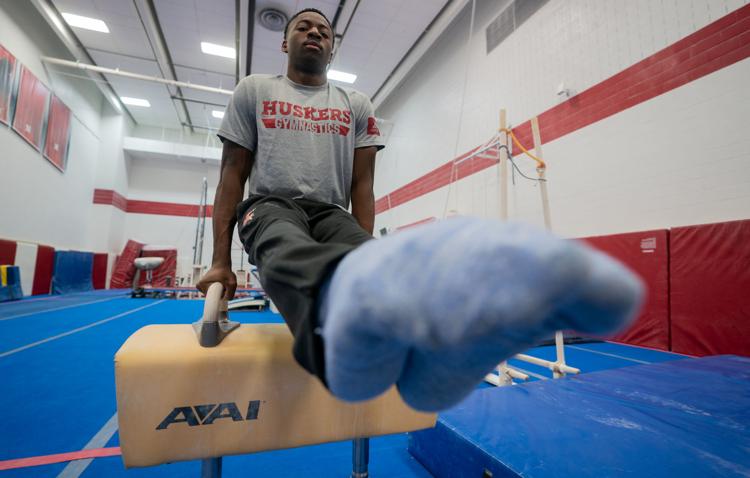 Now, as a new season begins, Jackson is looking to bounce back with a healthy year during his sophomore campaign.
"For me it was crazy to be able to reach that point, I never really pictured myself getting into the finals with my injury, I basically told myself that I have nothing to lose and I did my set and it was just a relief to me," Jackson said. "It was a really surreal moment because when I got here in the summer before my freshman year my two big goals I wrote down were to finish third as a team and to be an All-American as an individual, so to accomplish both of those was amazing."
As Jackson enters his sophomore season recovering from his surgery, he will look to remain healthy and take another step forward following a difficult but successful first season as a Husker. Chmelka has high hopes and expectations for Jackson as he looks for him to put together a productive and healthy year and to take the leap to become a two-time All-American in high bar.
"Khalil doesn't want to let his teammates down, they're way too important to him, they're his brothers, but we don't want to rush him back," Chmelka said. "We have to make sure he is totally healthy before we get him going but when he does I know he is going to do some great things."