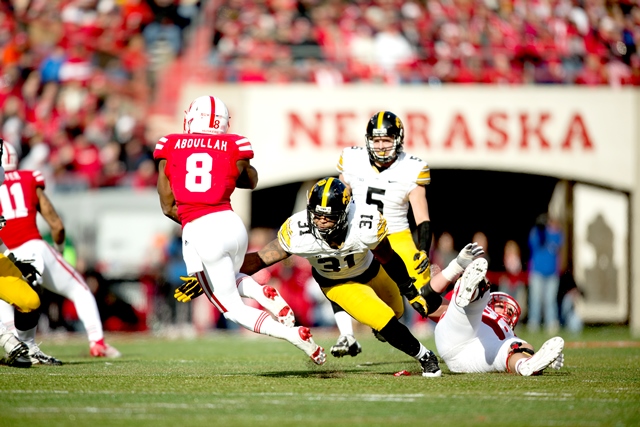 It is safe to say that many Nebraskans thrive on Husker football. Today marks 82 days until kickoff against Florida Atlantic on Saturday, August 30.
Fans in Nebraska live off of expectations. The end of the 2013 season gave fans numerous gossip points regarding the future of coach Bo Pelini and the future of the program as a whole. Bo finished his sixth straight four-loss season last year, leaving a bad taste in some fans' mouths.
But not the mouth of student ticket holder Tom Portwood, a junior at the University of Nebraska-Lincoln. "I believe we have a quality team that can achieve wins against quality opponents," he said. "I feel that putting everything on Bo's shoulders creates a bad atmosphere for players and fans. Bo is actually doing a lot more in terms of connecting to the fans and making his job not just about football."
The upgrades to Memorial Stadium to improve fan experience have not been quiet. The athletic department put a $12 million speaker system in the stadium as well as Wi-Fi access throughout.
Addison Morris, a sophomore at UNL and student worker, in the recruiting office has also noticed the upgrades to fan experience. This season will be Morris' third season with the athletic department.
"This year is a lot more orientated toward the fans," he said. "Getting better in game performances and social media involvement has definitely been a focus."
Now that the fans are happy with their experience in the stands, what can they expect on the field?
"I'm most excited for the defense, and the secondary will be the real question." Morris said.
The blackshirts lost seven defensive players and the secondary took a hit by losing Stanley Jean-Baptiste, and Ciante Evans.
Portwood said he's excited to see what the offense can do while Ameer Abdullah is on pre-season Heisman watch.
"Ameer has to be solid in the backfield this year -- epically -- after the confusion of a starting quarterback last season," he said.
At this time last year, Tommy Armstrong was the backup quarterback for Taylor Martinez, but ended up starting eight games in the season. The offensive line only has one full-time starter returning to the lineup this season, and that is one thing that could substantially hinder the offense this upcoming season.
The 2014 Nebraska football team is considered young, especially with the linebackers, secondary and the offensive backfield. But if you are like Portwood and Morris, the team is what you look forward to in the fall - in fact, you've been ready for football since the spring game.
With the addition of Rutgers and Maryland and the scrutiny fired at Bo Pelini, this season will be a grudge match from start to finish.
SPORTS@DAILYNEBRASKAN.com