Clara Colombo grew up around gymnastics. Her father was a coach, and her sister was a gymnast. Colombo first began participating in the sport around age 5. She continued to hone her craft over the years and performed well enough to become an NCAA gymnast for the Nebraska women's gymnastics team.
On the surface, nothing truly stands out about the freshman's journey to Lincoln. However, she holds one distinction no other NCAA gymnast has ever had — she's from Italy. 
Colombo grew up in Caravaggio, Italy, and trained in Melzo, communities about 30 miles east of Milan.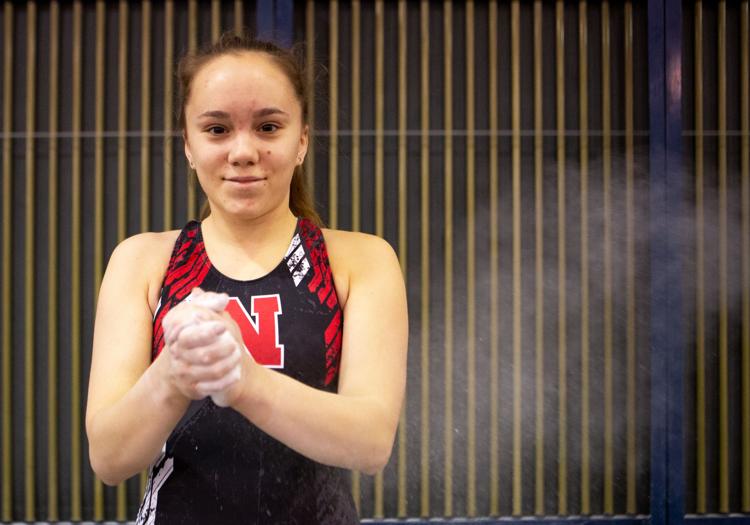 A friend who played tennis informed Colombo of the opportunity to compete collegiately in the United States, she said. The friend suggested Colombo reach out to a recruiting company that helped athletes and universities around the world get in contact with each other. The company sent out tape of Colombo's highlights to schools, including Nebraska women's gymnastics head coach Heather Brink.
"It was kind of during last year's season, so I didn't really have a lot of opportunity to have a conversation with her," Brink said. "It kind of went back and forth between myself and the recruiter, and then as soon as our season was over, I scheduled a trip to go over there and watch her."
Usually, the Huskers watch an athlete multiple times before deciding whether or not to focus on them in recruiting, Brink said. With the international traveling costs, that wasn't possible during Colombo's recruitment. Instead, Brink spent three days in Italy, watching her compete and experiencing what her home environment was like. 
Colombo's recruiting process differed from most because her parents didn't speak much English. 
"I think they can read and write it pretty decently, but they don't speak a lot of English," Brink said. "So, having an interpreter kind of guiding these conversations back and forth was unique." 
The actual recruiting process went fairly quickly, according to Colombo.
"I came from Italy in May, and I committed in June," she said. "It was really fast." 
Colombo chose the Huskers over offers from both Utah and Iowa, largely because of a good feeling she had after meeting the coaches and looking up some of the athletes on social media. 
"They seemed like fun, and I thought it could be really fun to go here," she said.
International gymnasts competing collegiately is nothing new, according to Brink. The overall number of international gymnasts today is about the same as what it was in the past, but the difference is where those gymnasts come from. 
In the past, Brink said, international gymnasts were almost exclusively from Canada. Other countries weren't as aware of NCAA gymnastics, but as the sport's popularity continues to grow, so does its global awareness. 
Between Italy and the United States, the popularity of gymnastics is the biggest difference in the sport, Colombo said. In Italy, the sport isn't as popular as it is in the U.S., but interest in gymnastics is on the rise. 
Colombo likes the feeling of trying and doing things not everyone is able to do the most, she said. She also likes competing and sharing her emotions with teammates. 
One of Colombo's strengths is her mindset, according to Brink. Colombo brings patience, love and a calm demeanor to the team, and her presence in the program has benefited everyone, Brink said. Other gymnasts who haven't had much experience traveling to different parts of the world have an opportunity to see what life is like outside of the United States. 
"The girls have accepted her," Brink said. "I think she's happy to be a part of the team and really kind of enjoying the family and tight-knit group that they are. I think, overall, it [has] been healthy for her, and it [has] been healthy for our team."
Adjusting to life in the U.S. hasn't been too difficult, Colombo said. The biggest challenge has been learning to speak English.
"I think I'm getting better day-by-day."