The punches keep coming for Nebraska football's recruiting, which has been one of the brighter spots of head coach Scott Frost's rocky start. 
One hour away from Lincoln, Omaha Central offensive guard Deshawn Woods and Omaha Burke linebacker Devon Jackson both didn't have Nebraska in their list of five potential college destinations over the last couple of weeks.
Nebraska lost out on top 2021 in-state recruit Avante Dickerson to Oregon and are already eliminated from getting the top two 2022 in-state recruits.
Combined with a couple of notable transfers, Nebraska football has been in the news for the wrong reasons this off-season. Nebraska may be pointed to as a revolving door, but the transfer market has significantly increased with relaxed NCAA standards giving more freedom to the players.
Like the transfer market, the age of recruiting in the internet era has significantly cut down how a school does within their state borders.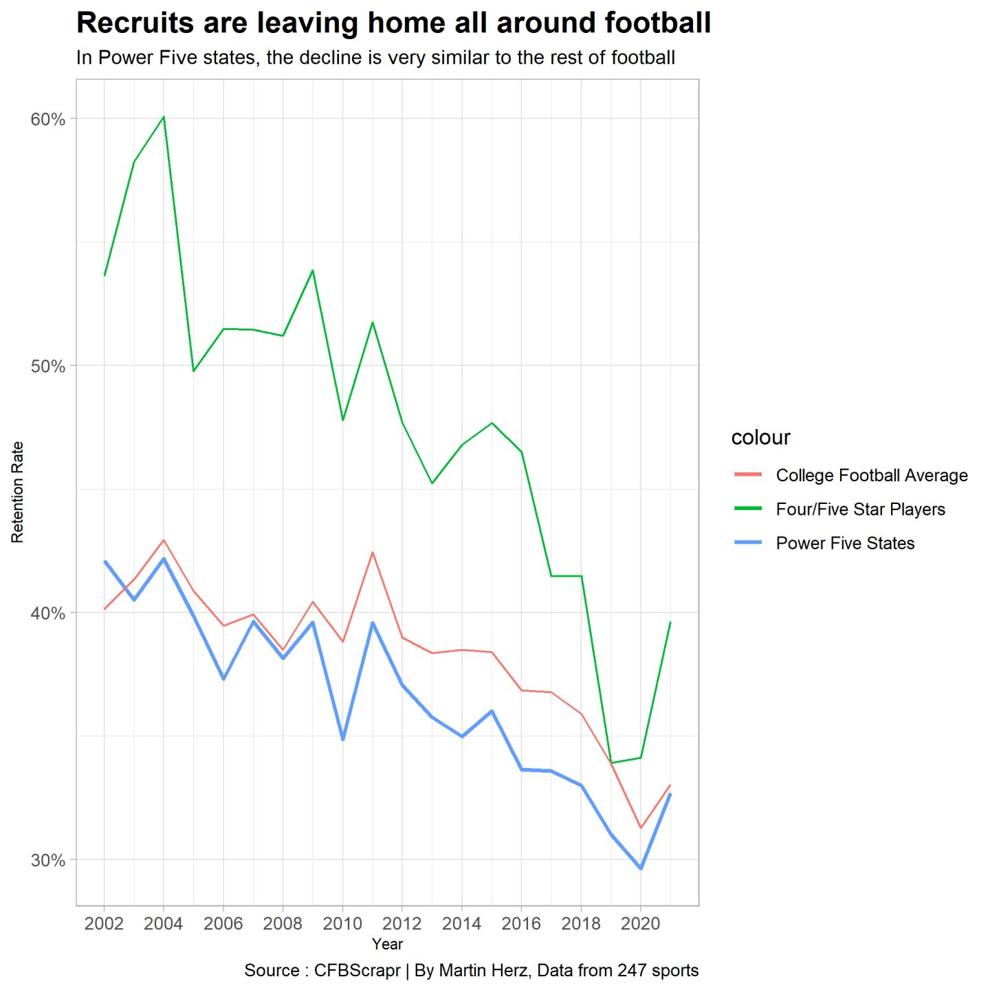 In 2002, the first consistent year of internet recruiting rankings, 42% of all recruits attended a school in their own state. 19 years later, that number has declined to right around 30%.
That may not be very impactful for the schools of some states, such as Texas and Georgia, which have been recruiting battleground states for nearly every Power Five school for a long time and will have highly touted players leave no matter what. 
Another way to look at this is the talent level of the recruits. The first line chart is all high school recruits since 2002 in 247 Sports' database, which may make the numbers more significant than they should be. This is because 247 Sports primarily tracks the highest caliber of player, which is the largest statistical cohort that moves out of state.
Schools like Baylor and TCU mostly recruit in Texas because of the abundance of football talent but usually are not competing for four and five-star players. Nebraska, on the other hand, is in a unique situation as it is the only FBS football program in its own state. 
Only Wisconsin, Minnesota, Idaho and Wyoming share the same happenstance with Nebraska. For the Huskers, there should be an expectation of not letting in-state talent walk, because the home school should be able to gobble up those waiting.
There is a declining rate in recruits staying home, but let's look at another perspective. One through states with only Power Five programs within its borders. Those states are Oregon, Washington, Iowa, Wisconsin, Nebraska, Minnesota, Kansas, Missouri and New Jersey.
That means that when the four or five-star player comes around in those states, the FBS programs there should be expected to have a better chance. Nebraska recently lost out on two four-stars so let's see how Nebraska's in-state retention of the top high school players compares.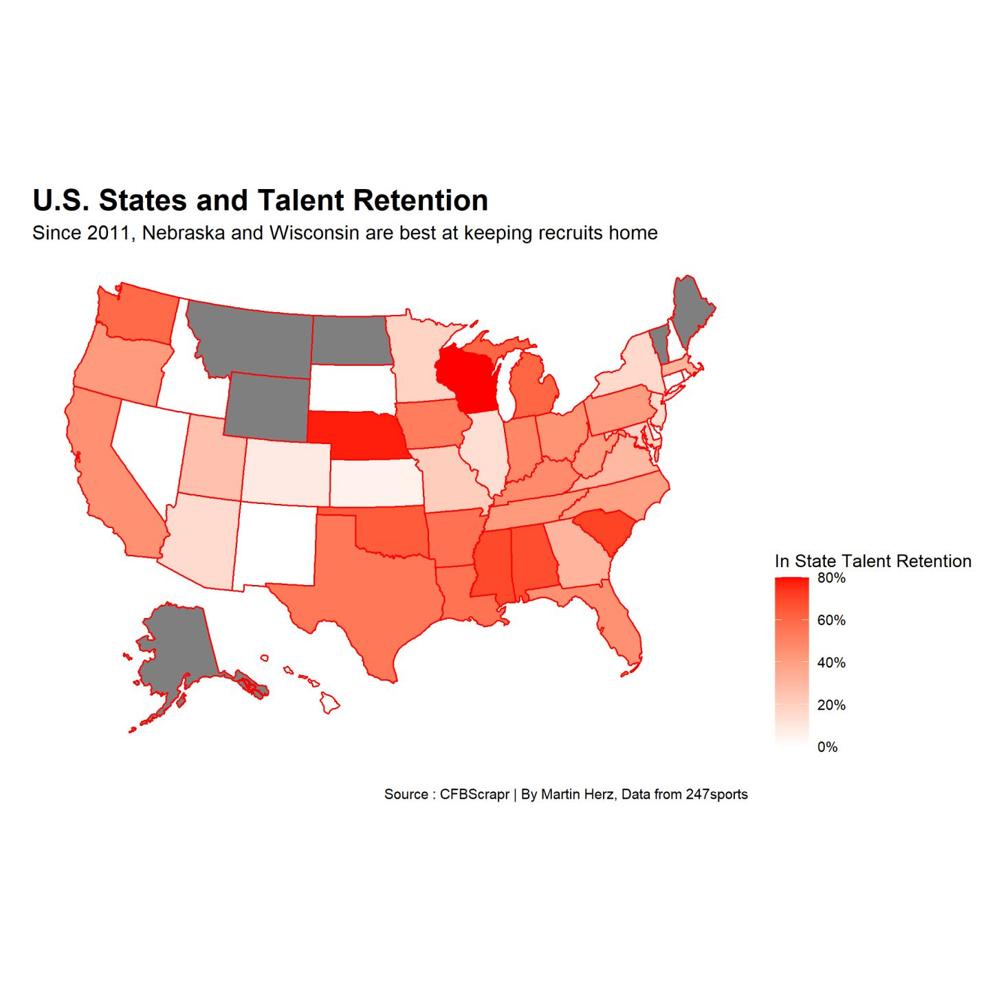 The gray means these states didn't have a single recruit with at least four-stars. Nebraska has done a great job at keeping the players with at least four-stars in Nebraska at 77% since joining the Big Ten. Under Frost, Nebraska was four for six on in-state high schoolers with at least four-stars before 2022.
67% puts Frost pretty high and including the 2022 losses, that's 50% for Frost since arriving. That may look bad in comparison to Nebraska history, but it's better than teams like Iowa and Minnesota who are better football programs than the Huskers right now.
In the football recruiting universe, the Midwest is the final frontier for the recruiting services. The region has long been under scouted, but with technology finally catching up to the Midwest, the hidden talent is starting to show.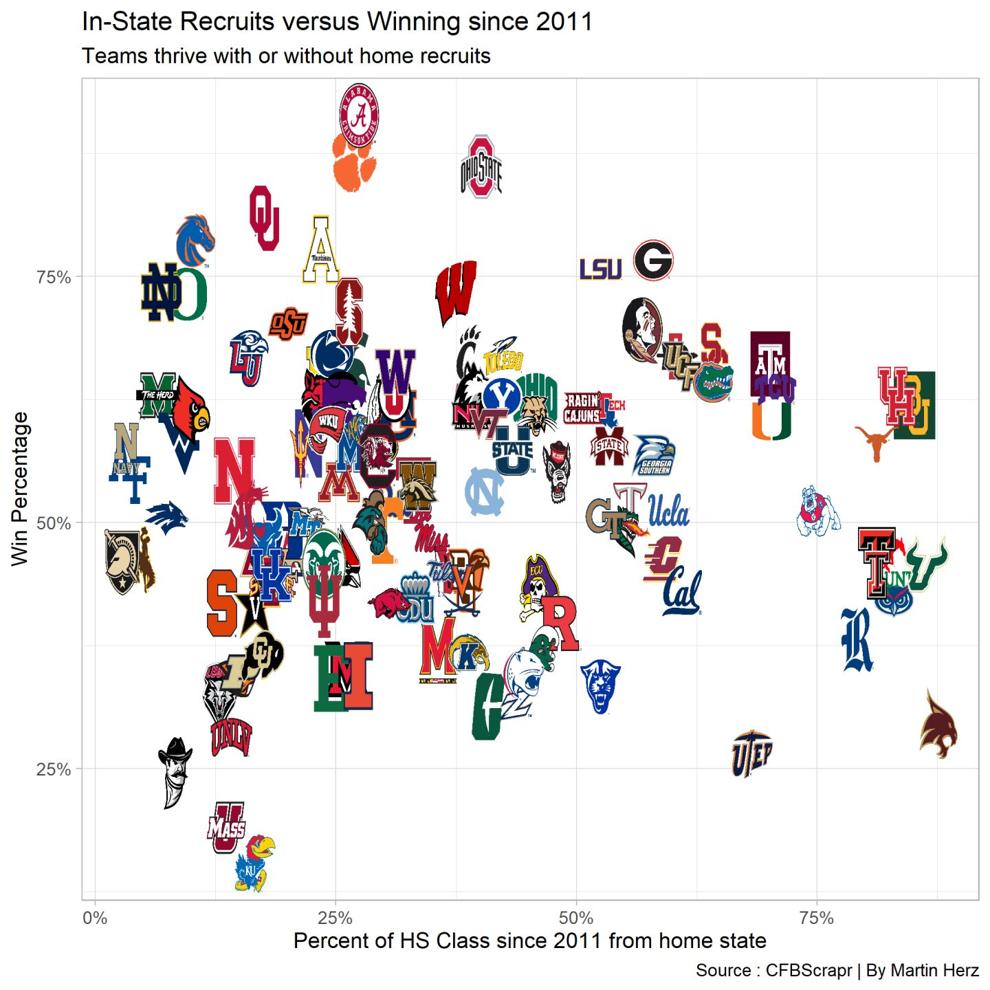 One such school is Iowa, as it lost out on the top three recruits within the state in 2021. Those three recruits were all top 200 players, and they went to Nebraska, Wisconsin and Kansas State. That's despite Iowa developing first round picks while consistently finishing above .500 and Iowa State notching a top ten finish in 2020.
Some schools do fine with losing home-grown talent, such as Oklahoma and Oregon, while other schools have benefited from keeping talent at home.
North Carolina head coach Mack Brown has revived Tar Heel football, and will most likely keep the momentum, in part due to in-state recruitment. In Brown's three recruiting classes, he has grabbed 38 North Carolina recruits with an average rating at around .89, a borderline four-star player.
The idea that Nebraska is falling behind because it missed out on two local four-stars does not hold much water in today's game. Recruits are leaving home more than ever, and home retention doesn't correlate strongly with success.
Obviously, it is not a good look that Nebraska lost two highly talented kids that likely would have become Big Ten starters, but keeping homegrown talent isn't what makes a successful program long-term.