On one side of the country in Tacoma, Washington, Meg Brandt was on her way to practice. On the other side, in Cary, North Carolina, Sinclaire Miramontez was preparing to head home to Kansas City. 
Then, the National Women's Soccer League made the announcement that the season would be suspended.  
Brandt, a midfielder, and Miramontez, a defender, both played for the Huskers in the 2019 season. In January, they were both drafted into the NWSL. Miramontez was drafted by the North Carolina Courage in the third round with the 27th pick. Brandt was also taken in the third round with the 34th pick to Reign FC, which has since rebranded to OL Reign. 
Brandt had practiced with the team for three days, and expected another normal practice. Then, the team had an impromptu conference call, where coaches informed players that the NWSL decided to suspend the season. 
"I was definitely expecting that we'd stop practicing for a little bit but I didn't think it would go on this long," Brandt said. "I just thought that maybe our preseason would be suspended a little bit but I wasn't expecting our entire season."
In the few days that Brandt had the opportunity to practice, she said that it was a "really fun and competitive atmosphere to be in," and that "she felt pretty confident going in." Not all of the team had reported to camp yet with some players playing in leagues overseas.
Meanwhile, Miramontez was preparing to head home. The Courage's front office suggested that it would be a good idea to head home until the start of training camp, as it appeared likely things would be suspended for a while. The day Miramontez left, it was made official that the season was suspended. 
Originally, she didn't expect the season to be shut down, and thought the team might just have to be careful and follow certain restrictions. Then, when other professional sports leagues began to shut down, including the United Soccer League Championship, the picture became clearer. North Carolina FC of the USL Championship is affiliated with the Courage, so Miramontez knew her team was bound to follow. 
"I think in the beginning, I had hoped that we wouldn't get completely shut down," she said. "But then as we started to see everything progress more, then I honestly felt that it was going to come."
Miramontez also had only been through a week of practice. Similar to the OL Reign and other NWSL clubs, not every player had reported to camp yet. Even with a small training camp, Miramontez described training as "intense."
"[Practices] were very intense and the team was looking good and honestly, I know a lot of people are just itching to get back out with training camp and getting the start whenever we get the green light to go," she said.
Despite getting drafted, Miramontez and Brandt both weren't signed yet. They're both currently trialists, and had to earn their spots during the preseason. Another result of them not being under contract is they were pushed, if not required to go home, since they weren't being paid. 
With the new opportunity being pushed back, both former Huskers are experiencing a range of emotions. Although Brandt understood the circumstances, she was upset that all the excitement she had to start camp is now delayed. She also experienced a bit of fear at first, because like most, she had no idea what was going on. However, she's had plenty of support.
"People have been really comforting about it," she said. "The staff that I'm working with at Reign, they're really awesome. They reach out to me a lot. So they help with that situation."
Miramontez also said she experienced fear and doubt for several reasons. She doesn't have the advantage of being able to stay in North Carolina with players under contract, or have the experience that others have.
"They kind of have that sense of, 'OK, I've been here for a couple years, I know how to train, I know how to self-train at this level of intensity,' whereas for me coming into that, it's hard to try and maintain that and match that on your own when you're away from the environment, so it is kind of scary, especially when you're away [for an] extended period of time."  
On top of that, the roster makeup could change by the time training camp starts again. With the Olympics this year, there would be more opportunities created for new players, since national team players wouldn't be competing. 
However, with the Olympics also being postponed, those opportunities may no longer be there when things start up again.
"It puts a little bit of doubt in your mind as to, 'Am I going to be able to work my way into being a contributing factor of this team or making the roster?'" Miramontez said. "But you know, you kind of just have to reassure yourself that you're going to learn from some of the best no matter at what point, whenever we get to start again."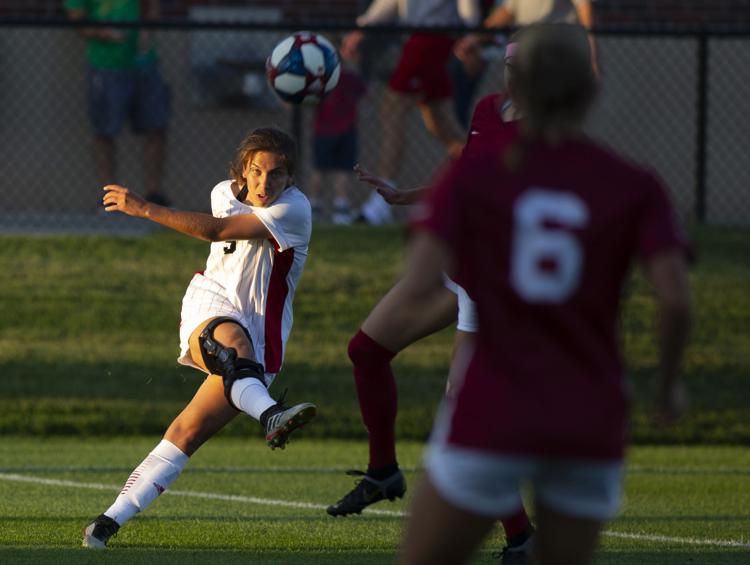 The suspension also presents a unique challenge to players in which they have to figure out how to train and stay ready during this time. 
One advantage Miramontez has is that her sister, Sydney Miramontez, played in the NWSL from 2017 and 2019. She retired following the 2019 season, but still has been able to help her younger sister. 
"She has been through making the jump from college to pros so I kind of have an advantage and an asset right there. You know, we're under the same roof. She's able to help me with some little tips and tricks on how to do some at-home training," Miramontez said.
Meanwhile, Brandt also found ways to train while at home in Ankeny, Iowa. The Reign have communicated with her and suggested workouts to do, while she also has received help from her family. 
"I go to like any open soccer field or open track to do my running and then all my family plays soccer as well so we go in the backyard and we play soccer tennis, we do fun juggling drills. It's really nice to have," she said.
Along with training by herself and playing games with her family, she's found ways to give back to those who have helped her along the way. 
On Tuesday, Brandt went on Instagram Live with one of her coaches from the Iowa Rush, the club team she played for up until she graduated high school, and demonstrated various drills. Her coach reached out to her prior to the livestream, and said it would be a good chance for her to give back as an alumni.
"Rush soccer has done a lot for me throughout my journey and I wanted to give back and hopefully motivate some of the younger kids to get outside and get touches on the ball," Brandt said. 
While Brandt and Miramontez were the only two Huskers drafted to the NWSL, other Nebraska soccer players had their chances delayed as well. Brenna Ochoa and Savanah Uveges both played for Nebraska last season, and were at training camps as non-roster invitees. 
Uveges was at training camp for the Orlando Pride, while Ochoa was with Brandt in Washington. 
"Brenna and I are really great friends and so that was really fun being able to go there and experience that together," Brandt said. "I think it helped us a lot having each other because, I mean, we're there for each other in a very new environment, but we also know how to push each other."
According to Miramontez, the four of them kept in touch through the process, especially in the first week of training camp. About once a week, they'll talk about how things are going, and they let each other know when they were heading home. They also keep an eye out for any statements or extensions on the moratorium, and discuss what they do, see and hear.
Depending on what happens with the season, the NWSL's current plan is to get things underway when the conditions permit. Brandt said the best picture for the league is to essentially restart and have every player come back. The future for when that will be is unclear right now, but Brandt is just trying to stay prepared. 
"I know that this is happening everywhere, it's happening with every team and it's not something that I can control or anyone can really control," she said. "So I'm just trying to stay as positive about it as I can, just continue to work on my game right now."
However, along with the rest of the country, the former Huskers will play the waiting game until things get back underway.
"Now we're waiting each time that the moratorium comes closer to ending we'll just wait and see. 'OK, are we going to clear or are we going to extend it a little bit longer,'" Miramontez said. "That's just kind of how life is now."