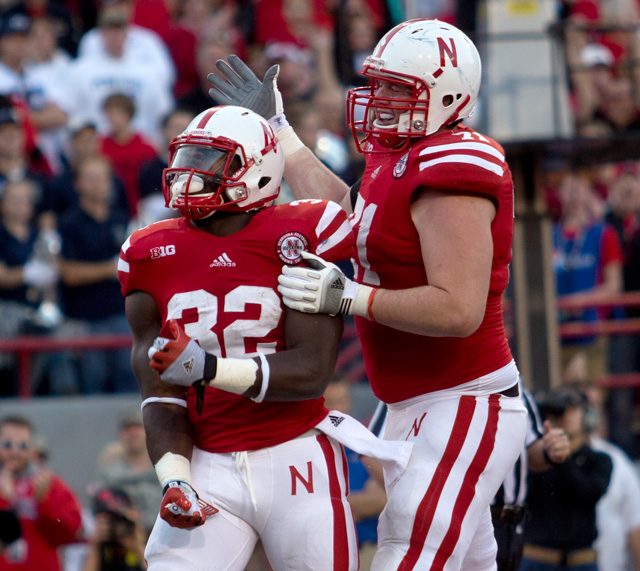 Imani Cross clapped out of the huddle and stepped into his position three yards behind the fullback and six yards behind the quarterback.
Nebraska trailed Penn State 20-6 early in the third quarter, and the Huskers struggled in the red zone during the first half. With only one yard between Nebraska cutting the Nittany Lion lead down to seven, Cross knew he was getting the ball.
All of Cross' extra reps in practice were about to be shown. Cross thought about one thing as Husker quarterback Taylor Martinez snapped the ball.
"Follow the offensive line to glory land," Cross said.
Cross powered through a hole and landed on his belly in the end zone. He found "Glory Land." He found it again less then two minutes later to tie the game 20-20.
Before Cross' pair of third-quarter touchdowns, Nebraska struggled after passing the 20-yard line during the first half. The Huskers failed to score a touchdown on two red zone possessions before halftime because they couldn't run the football inside the 10-yard line.
In previous games, Nebraska used a more flamboyant offensive package in those goal-line situations, according to running backs coach Ron Brown.
Against Ohio State, the Huskers put I-back Rex Burkhead at quarterback and ran a toss sweep with Burkhead as the lead blocker after he tossed the football. Nebraska ran the play twice and scored a touchdown both times in that game.
With Burkhead injured the last three games, Nebraska went with a traditional formation Saturday, Brown said.
"We went to a different package during the week to do some things with our line to get the extra blocker, and to get a bigger body in there like Imani is really helpful," Brown said.
Cross flourished in his role Saturday. He ran for two touchdowns on eight carries while accumulating for 22 rushing yards.
In addition to the pair of short-yardage touchdowns, Cross also recorded a first down for the Huskers on two third-and-short situations.
At 6 feet 1 inches and 225 pounds, Brown said Cross is ideal for those scenarios. However, the team hasn't used him much during the course of the season because the Huskers haven't been in many short-yard situations.
Now with Burkhead's injury, Cross will be called upon more, even though he is only a freshman.
"He's always been ready for (goal line situations) though we really haven't had as of them as we did today," Brown said. "We didn't have a lot of third and shorts; we didn't have a lot of goal lines. We've been playing him a lot more in situations like that."
However, he is freshman and freshmen always have a lot to learn, Brown said. One thing Cross needs to work on in particular is pad level, he said.
"Freshmen don't realize how much more leverage and how much more power they get when their pads are lower," Brown said. "I just keep preaching to him. I'm trying to get him to be more of beast because he's so powerful.
"I don't think people know how strong that kid is and he doesn't even know how to use every ounce of his strength yet. He's going to be a devastating runner before it's all said and done."
Cross said he doesn't mind the constant reminders to lower his pads from Brown. He just appreciates the trust the Nebraska coaching staff is showing him in those short-yard situations. But it's all about doing what the team needs him to do, he said.
"I don't know if it's a trust factor, but I think it's more of what I display in practice," Cross said. "I take practice very seriously. If you display that you are capable of doing something in practice I think it carries over into the game. I am thankful that I got the opportunity."
sports@dailynebraskan.com