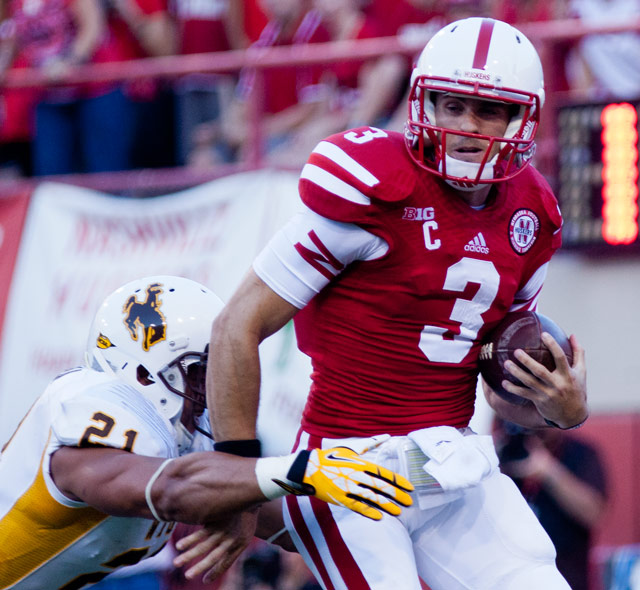 There was 6:51 left in the second quarter and quarterback Taylor Martinez couldn't have picked a better time to hand the ball off to Ameer Abdullah.
It was the running back's first touch since the opening quarter and he sprinted down the field for a career-high 62 yards. Abdullah put his team on Wyoming's 18-yard line and in a comfortable position to score.
The conclusion? A 17-yard run up the middle by sophomore Imani Cross to give Nebraska a 17-14 lead before halftime.
Cross and Abdullah finished the game with a combined 235 yards, with Cross finishing with a pair of touchdowns to help Nebraska beat Wyoming 37-34.
Although Abdullah looked impressive tallying over 100 yards for the seventh time in his career, the 5-foot-9-inch back said he was just as pleased with the performance of his teammate Cross.
"He had a great game," Abdullah said. "I've said it before and I'll say it again, Imani is an underrated runner. People look at his size and stature and just think he's a power back, but he's very elusive and a very shifty runner. I feel like people got a taste of what's to come for Imani this year."
After racking up 329 yards and seven touchdowns in his first year as a Husker, Cross kicked off his second season with a 105-yard performance last Saturday and averaged 8.1 yards per carry.
And it wasn't just the 1-2 punch that got reps in the backfield.
Freshman running back Terrell Newby also got his time to shine in the home opener and made quite the impression. The California native finished Saturday's game with 15 rushes, while checking in for 76 yards. Newby's late game performance assisted Nebraska to a total of 387 yards to start the season.
His impressive Husker debut was no surprise to Martinez.
"He played very well for his first game and being a true freshman," the quarterback said. "He's just like another Ameer (Abdullah) for us, and I'm glad he's on our team."
Abdullah agrees and said he doesn't expect Saturday's win to be the last time the team will call on Newby this season.
"He's been showing good signs in practice that he's ready to come in and compete," the junior said. "It's the same thing as with Imani, you saw a good little bit of what you can expect from Terrell this year and what's to come."
Although Abdullah will start the majority of each drive this season, fans can expect to see Cross marching onto the field when the team hits the red zone and possibly Newby in the fourth quarter like in Saturday's match-up.
But the luxury of having depth in the backfield and being called out of the game doesn't bother Abdullah, he said. In fact, the starting running back has liked how the rotation's played out so far.
"Coach (Ron) Brown puts people in a for certain situations that he thinks are the best for that situation," Abdullah said. "I think he's done a pretty good job up to this point."
Even though Martinez has a plethora of options at the back as well as wide receivers, Martinez said he can also trust Newby to be given the ball when called on.
"A lot of true freshman get nervous but I thought he played well," the quarterback said. "And I can't wait to see what the future holds for him."
sports@dailynebraskan.com