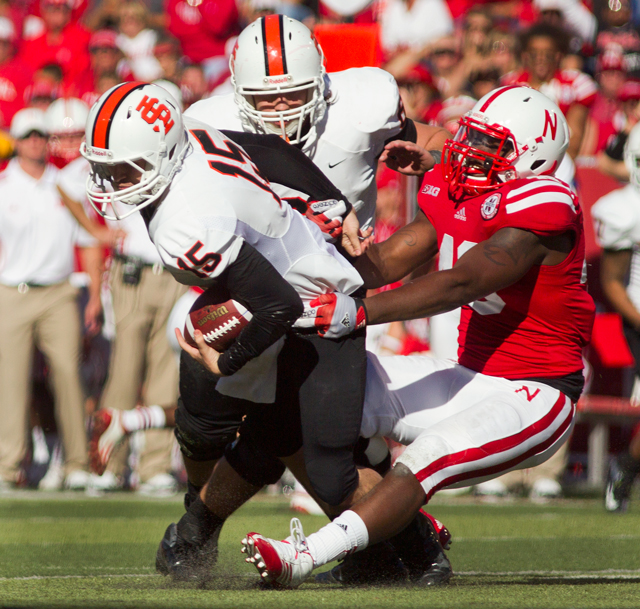 Eric Martin hopped back and forth, jumping between Nebraska linemen before Idaho State snapped the ball.
The senior defensive end attacked as the ball was snapped. He plowed over an offensive lineman, jumped over him and grabbed a hold of his victim. He spun Idaho State quarterback Kevin Yost around, smashing him to the ground.
Another sack for Nebraska. Another sack for Martin.
"You have got to want to pass rush and beat the person in front of you," Martin said. "It's just a one-on-one, and you got to outwork the person that you are going against."
Martin outworked his opponent all afternoon Saturday.
He recorded a game-high 2.5 sacks, including a quarterback hurry to lead the Nebraska pass rush.
Not only did Martin contribute with sacks, but he was everywhere on the field. Whether he knocked down an offensive lineman on one play or flushed the quarterback toward a fellow teammate on the next, Martin made his presence known Saturday.
He was why Nebraska's pass rush was effective Saturday. The Huskers finished the game with a season-high seven sacks as a team and hounded Yost the entire afternoon.
The pass rush pleased defensive line coach Rick Kaczenski, especially the play of Martin, he said.
"He's a great pass rusher," Kaczenski said. "Eric is a guy that brings a ton of energy for us. Brings us a great element because he can play the run and he is obviously showing us what he can do in the pass game."
The Nebraska defense fed off Martin's energy the entire game. The Blackshirts played their best ball of the young season Saturday.
To go along with the seven sacks, the Huskers recorded 15 tackles for loss and held the Idaho State attack to 179 yards of total offense, including 31 rushing yards. The Bengals didn't score until the fourth quarter.
Ten different Nebraska defenders recorded a tackle for loss, seven of which recorded at least half a sack. Martin led the way with those two and a half sacks and a team-high five tackles, all of which were behind the line of scrimmage.
"You can't take plays off," Martin said. "You can't let them get in your head with words or anything. You just got to go out there and stay focused."
Martin confused the Bengal pass rush by standing up out of his defensive end position. He bounced in between down linemen making his attacking point unknown before the snap.
Martin said this tactic may work sometimes, but he prefers to attack from a three-point stance, the natural position for a defensive end.
"When you start off low, you go faster," Martin said. "Starting in a three-point stance is fun; there's nothing wrong with it. Being down, I feel faster and more explosive coming out."
Kaczenski loves the energy Martin brings to the game, he said. It doesn't matter if he's standing up, Martin knows how to bring it when his team needs him, Kaczenski said.
"Any time you get big hits, or offenses behind in the count, guys feed off that," Kaczenski said. "It was great to see Eric provide a spark for us."
Hopefully, that spark is in Memorial Stadium next weekend when Wisconsin comes to town to kick off the conference schedule, Kaczenski said.
The Nebraska linemen are gearing up for next weekend. Kaczenski said all hands are on deck before conference play. Even linebacker Alonzo Whaley played defensive end Saturday to see if he can add depth to the Husker trenches.
One thing is sure though - the defensive line will be ready for Wisconsin, Kaczenski said.
"Winning is hard, and we're going to enjoy it for 24 hours; then we're going to focus on next week," Kaczenski said. "The price of poker is up now. It's going to be a heck of an environment on Saturday."
sports@dailynebraskan.com