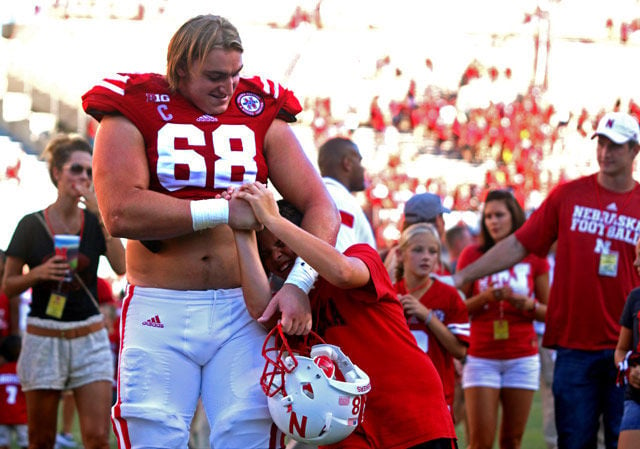 McNeese State using two quarterbacks
Saturday's game will be McNeese State's season opener, and, to begin their year, coach Matt Viator announced two quarterbacks will get playing time.
The Cowboys had a quarterback transfer to them from Kansas State this offseason. The transfer, Daniel Sams, is a dual-threat quarterback who can hurt defenses with both his arm and legs.
"We're familiar with Sams from his time at K State," said John Papuchis,Huskers'defensive coordinator. "We'll look at some film of him from there. You got to be prepared for both."
Because this will be the Cowboys' first game, the Huskers only have last season's game film to get ready for the game.
"It's hard to know what to expect, considering that they haven't played a game yet," senior safety Corey Cooper said.
Papuchis said the Huskers will prepare for McNeese State in a similar way that they did for Florida Atlantic,which was to prepare for everything, but don't give the Cowboys an offense they don't have.
"You walk a fine line of inventing an offense without knowing what they're doing," Papuchis said.
Young players on defense
When the Huskers built up a big lead last Saturday, this gave an opportunity for younger players to get game-time experience.
The Florida Atlantic Owls mustered only 75 yards after the first drive.
"I thought they made a good first impression," Cooper said. "It was obviously their first game, so they were a little bit nervous. So, for the most part, I thought they played pretty well."
A player like junior defensive end Jack Gangwish received playing time when junior defensive end Randy Gregory left the game with an injury.
The defense, as a whole, forced a string of seven consecutive three-and-outs. In the game, the Owls went 4-for-15 on third-down conversions.
"The young guys, they did a phenomenal job for their first game," sophomore safety Nate Gerry said.
Offensive line
The Huskers rushed for 498 yards on Saturday against Florida Atlantic.
That's good enough to rank second in the nation.
"That's something nice," senior offensive lineman Jake Cotton said. "It's a testament to our back more than anything. We kind of take over for a few yards, and then they make the magic happen."
A large amount of rushing yards could be attributed to the offensive line, but Cotton said the running backs deserve more of the credit.
"There's a lot of things we can do better, and our backs bailed us out a lot of the times, " Cotton said.
In the past few years, the Huskers have featured a consistent offensive line. But this year's group had a few doubters. After the performance Saturday, the line may have proved some people wrong.
Cotton said this year's line has the potential to be like offensive lines of the past.
"Time will tell," Cotton said. "We got a really good group of guys. Guys that have been here the last few years, and who've seen great lines go through here. I think it will show later this season, what we really can be. Right now, we're just going to work everyday."
sports@dailynebraskan.com