An hour south of Memorial Stadium, past Beatrice and downtown Blue Springs, lies an old converted metal barn at the top of a hill. A place where the only noise for miles is the faint whistle of wind gently passing through tall prairie grass and across the corrugated patchwork metal of the barn.
On the other side of the gravel road once stood the house of Berlin Guy Chamberlin, one of Nebraska football's first legends. The house is gone now, replaced by cornfields faded by the sun. Chamberlin used to own the barn, but it has since been converted into a house. Down the road, perched on a corner, was where the old schoolhouse was, where Chamberlin attended elementary school.
When he was old enough, he'd take a horse and buggy into town to attend high school. Blue Springs no longer has a high school, but Wymore, the town just to the south, does. Back in Chamberlin's time, he played football against Wymore.
Instead, where Chamberlin attended high school is now Southern Elementary School. In the shadow of his old high school is a monument dedicated to him. Established in 2013, the monument was a project spearheaded by Kane Hoekstra, a teacher at Southern Elementary School, and Jan Morris, who has worked on a number of different reclamation projects in the Wymore/Blue Springs area.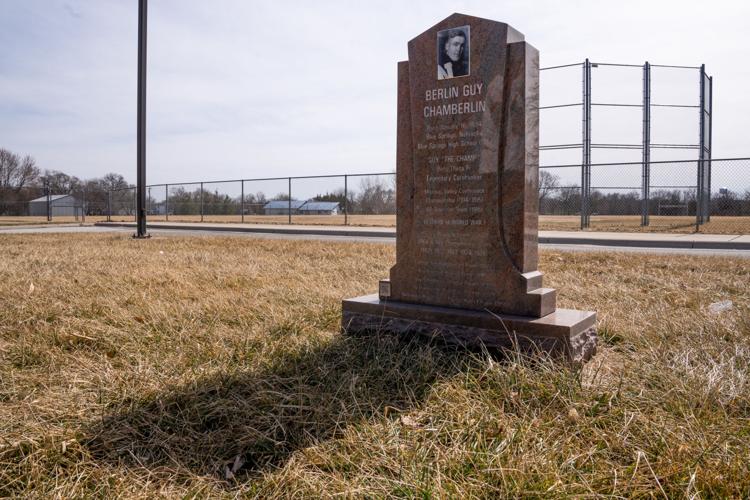 On the monument is a list of Chamberlin's accomplishments, his affiliations, his accolades and his hometown.
"The example that we try to draw out of the story is that anybody can be Guy Chamberlin," Morris said. "A hero, or an athlete, is not someone you see on TV or on a college field. They grew up right around you, or you can be that person too."
Following his two-year stint at Nebraska Wesleyan, Guy Chamberlin transferred to the University of Nebraska-Lincoln where he played the final two years of his career and graduated in 1916. He did so after helping lead the undefeated 1914 Huskers, who claimed the Missouri Valley Conference Championship. The team would become known as the "Stiehm Rollers," aptly named after legendary head coach Jumbo Stiehm. 
Following that season, Chamberlin began playing on both sides of the ball for the Huskers, helping lead Nebraska to yet another undefeated season and Missouri Valley Conference Championship. Chamberlain held a team-leading 15 touchdowns as both a halfback and a defensive end. Chamberlin was awarded All-American honors both of his seasons at Nebraska, and he ended his career with a four-touchdown performance, including a 60-yard scamper to the endzone, in a 52-7 victory over Iowa. Thanks to his accomplishments while playing at Nebraska, Chamberlin became the fifth inductee into the Nebraska Sports Hall of Fame. Nebraska also created the Guy Chamberlin Award to honor Husker football players "who have the qualities and dedication of the Husker Tradition."
During his two years at Nebraska, he racked up 24 total touchdowns, and the Huskers accumulated a stellar record of 15-0-1. Chamberlin performed memorable moments such as returning a 95-yard kickoff against Michigan State, running for a 70-yard score against Kansas and running for two touchdowns and throwing the game-winning touchdown, as he almost single-handedly beat Notre Dame 20-19.
Before Chamberlin ever stepped on a college field, he was helping his family tend to their farm in Blue Springs. He grew up as one of six children of Elmer and Anna Chamberlin's. He fell in love with his home and helping his family tend to the farm, and he returned to this home later in his life.
Chamberlin's athleticism was well-documented and was likely developed by his chores on the farm as a child.
Chamberlin was exposed to football in high school, where he captained the Blue Springs High School team. He fell in love with the game, and Nebraska Wesleyan gave him a spot on the team. He then transferred to Nebraska two years later.
The Chamberlin monument was only part of the historical reclamation projects for the community of Wymore and Blue Springs.
Wymore was founded as a pop-up town next to the railroad, and the community quickly thrived afterward. Many thought the two communities, Blue Springs and Wymore, would merge as Wymore grew, but the towns kept their respective character. Still, the two towns are so close together they're often considered one entity: Wymore/Blue Springs.
Wymore stopped growing when the railroads fell out of use, and the community gradually moved away for different opportunities. Census reports say the population of Wymore was 2,420 in 1890. That number has fallen to 1,457, according to the 2010 census report. Blue Springs on the other hand, has fallen from a population of 963 in 1890, to 331 in 2010.
The work of people such as Morris has helped preserve the history of Southern Gage County and Chamberlin's part in it. Morris worked on the Blue Springs Trailhead on the Chief Standing Bear Trail, which stands in the shadow of an old grain mill that once serviced trains in the area. 
"People ask me 'how can you talk about Blue Springs in an hour?'" Morris said. "And I say, 'I cannot get out of my mouth the first 75 years of Blue Springs in an hour.'"
These historical projects serve an important role for the community. The Chamberlin monument in particular helps to honor the past and provide an example for children who attend Southern Elementary. At the dedication of the monument in 2014, former Director of Creative Services at Huskers.com Randy York was a speaker, and UNL helped with the entire process. For a community proud of its local football, UNL honoring Wymore/Blue Springs added to that pride. 
The monument aims to inspire future generations by Chamberlin's story. Hoekstra, who coaches the football team at Wymore High School, teaches his fourth graders about Chamberlin as part of a running series in his class covering Husker history.
"The kids are excited. They're excited to know that a famous Nebraskan grew up outside Blue Springs and went to school at the same place they're going to school," Hoekstra said. "Everybody roots for the hero, especially the hometown hero."
Hoekstra wasn't born in the Wymore/Blue Springs area, but since taking a teaching job in the area, he has lived there for more than half his life.
Today, Wymore/Blue Springs still produces athletes. Braden Klover, who lives in Wymore, is committed to the Husker walk-on program and will start at UNL next year. He doesn't play running back like Chamberlin did, preferring to be on the other side of the ball as a linebacker, but he appreciates what the community of Wymore/Blue Springs has offered him over his life.
"I feel like it's an accomplishment, but I don't want to tell myself like I'm higher than anybody else," Klover said about playing for the Huskers. "I don't want to think down on people because they didn't get to where I am."
Chamberlin's lingering presence in the community is easy to see. The archetype of a local who, by force of his will and determination, succeeded at the highest level of his craft, is one that is invaluable for communities. Chamberlin's example serves not only as a role model, but as proof that someone from a part of Southern Gage County can make it. While that archetype is valuable, it is by no means unique in the community of Wymore/Blue Springs. The town serves as living proof of succeeding in a modern world, just as Chamberlin has. The examples of the people of Wymore/Blue Springs show that there's value to be found in rural Nebraska.
"[The monument] is meant to recognize him and his accomplishments," Hoekstra said. "It's also a symbol [of] his hard work and [that] great effort can motivate the younger generations as well."
Today, Chamberlin remains in his hometown with his monument. His daughter Patricia spread his ashes on a hill in a piece of farmland that his family owned. It is unknown which  hill it was, as many fold and curve through the landscape of the prairie. The only thing known is that he's somewhere in the grass plains of section 10 of the Blue Springs Township, Nebraska, overlooking his home.