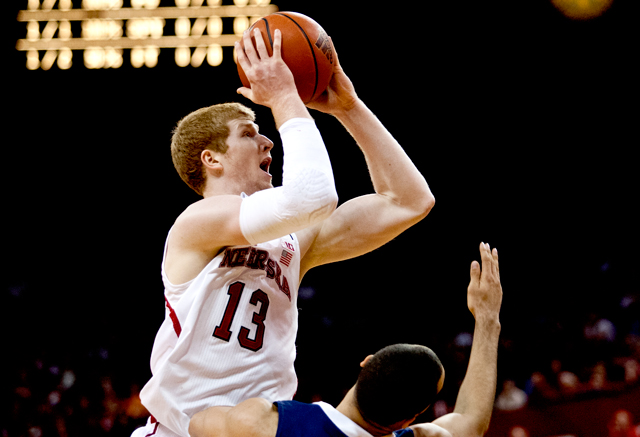 The Bob Devaney Sports Center crowd saw its share of foul shots Saturday.
During Nebraska's 67-53 win against Penn State, Big Ten officials called a total of 51 fouls, resulting in 73 combined free throws between the two teams. Put that stat together with a rash of poor shooting and, by all accounts, it was a sloppy game Saturday.
"I think everyone was going to the line tonight," Nebraska coach Tim Miles said. "When 70 percent of their shots are misses, and 68 percent of ours are misses, then everything is a loose ball. That's hard to officiate, and that's hard to play. Players started to drive it harder, and rebounds are more contested, so it's just an ugly game. Those are hard to officiate, and we've been in a few of those this year."
Nebraska took advantage of the game's pace early on, recognizing how the officials were calling fouls and getting to the line. Husker forward Brandon Ubel said he and his teammates made a conscious effort in changing how they attacked defenders.
"We attacked the rim," Ubel said. "We didn't settle for jump shots. There were a lot of times in the first and second half that we could have taken a three, but instead we pump faked and drove to the rim. That is a really good thing because not only does it make it five on four which then you can get to the rim, but it also opens up guys for shots."
The Huskers have struggled to earn chances at the foul line this season, getting more than 16 free throws a game. They shot 41 against the Nittany Lions.
"The fact that we got there so many times is a good sign," Ubel said. "I think that just means we were attacking more at the rim, instead of being hesitant. That is a good sign for us going forward."
So the Huskers made things happen on the offensive end, but they committed 23 fouls of their own. Miles had multiple players reach two fouls in the first half – putting stress on a shallow Nebraska bench – but he decided to leave his starters in and take the risk.
"I feel that if we get a good lineup out there, then we can build a lead and we did," Miles said. "Then the fouling got worse, but early in the second half I thought we were able to build on that."
Dylan Talley – who led the team with 16 points and seven rebounds – ended the game with four fouls. He and Ray Gallegos were on the court together nearly the entire game. Gallegos played all 40 minutes, while Talley logged 38.
The pair of guards led Nebraska to its third conference win of the season. After the game, Miles described it as a "satisfying" victory.
"I told the team, we're catching something," the coach said. "We're either catching Penn State by losing and moving backwards, or we have a chance to catch Northwestern, Illinois or Iowa. Two of those won in the last couple of days, so if we truly want to catch them, we have two games against Iowa and one against Illinois, and we have to win. We have to go out and find a way to win, and we did. That was important."
sports@dailynebraskan.com