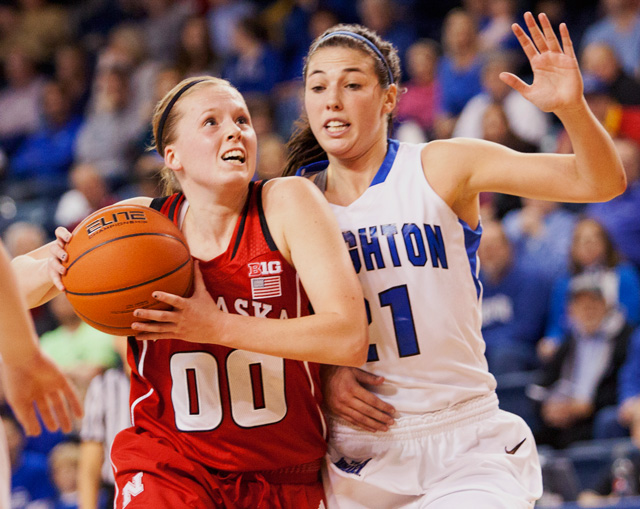 OMAHA — The Nebraska women's basketball team just couldn't catch a break here Wednesday night losing to Creighton 66-57.
After battling back from being down 12 early in the second half, Nebraska finally cut the lead to three after a Lindsey Moore 3-pointer made it 40-43. On the ensuing possession, Creighton's Jordan Garrison snapped the Huskers' 11-2 run with an lay-up and a foul that sent her to the free throw line. Garrison missed the free throw, only to be rebounded by Creighton freshman Marissa Janning, and put it in for an easy lay-up.
Just like that it was 47-40, and the Huskers wouldn't get closer than that for the remainder of the game, as the No. 25 Husker fell for their third loss.
"They just exposed our weakness, really," senior Lindsey Moore said after the game, who finished with 15 points and six assists.
The Huskers dropped to 6-3 on the season after the loss as Creighton improved to 4-2. As a team, Creighton shot 9-22 from the three point range and 56 percent from the field, both season highs. But the main story from the Creighton perspective was their defense. They've held teams only had one team to score more than 62 points on them, but their greatest defensive accomplishment came tonight, when they held Nebraska's Jordan Hooper, coming into the game off of a season high 29 points, to no points on 0-7 shooting.
The Blue Jays' defensive strategy was to keep Hooper in check, and play off of forward Hailie Sample.
"We took a gamble, we decided we were gonna not play Sample and stick camp-outs in the lane and cut off Moore's penetration and Hooper's post points," Creighton coach Jim Flanery said.
Creighton's strategy worked almost to perfection. Sample took advantage of the opportunity and doubled her career high to 20, and held Hooper scoreless for the first time in her career.
"They were helping on Lindsey and Emily so it was kind of just like, if I cut (my teammates) would find me," Sample said.
The first half started slow as both teams shook off nerves. Neither team got much going in the first few minutes. The final few minutes, however, Creighton got hot, hitting three 3-pointers in three possessions to take a 27-21 lead in the first half. Sample shortened the lead to four with two free throws, and drew a charge against Creighton's Marissa Janning on the ensuing possession, swinging momentum Nebraska's way. They then cut the lead to two with a long Emily Cady jumper. Then Creighton turned things up, scoring on their final four possessions to go into the half up 36-27.
The Creighton offense was firing on all cylinders in the first half. The Jay's shot 62 percent from the floor, and hit six three-pointers, most in transition after a missed Husker shot. Penetration was easy for Creighton as well, who had 18 points in the paint and countless lay-ups. The Jay's were lead by McKenzie Fujan, who finished with 13 points, and freshman Marissa Janning, who finished with 19 points.
"We expected that," Moore said. "We came into the game not communicating well."
The second half was an uphill battle for the most part of the game, and Nebraska had a tough time creating shots for themselves and stopping Creighton's penetration, a problem Moore again attributes to lack of communication.
"We were not where we needed to be and that's something we need to fix and should fix," Moore said. "We also weren't pressuring the ball like we needed to, so they got simple skip passes that lead to some shots."
Nebraska finished the night shooting just 2-for-12 from the three point range and excluding Moore and Sample, no one score more than eight points.
"They did a good job of playing their system, and we didn't," Moore said.
sports@
dailynebraskan.com