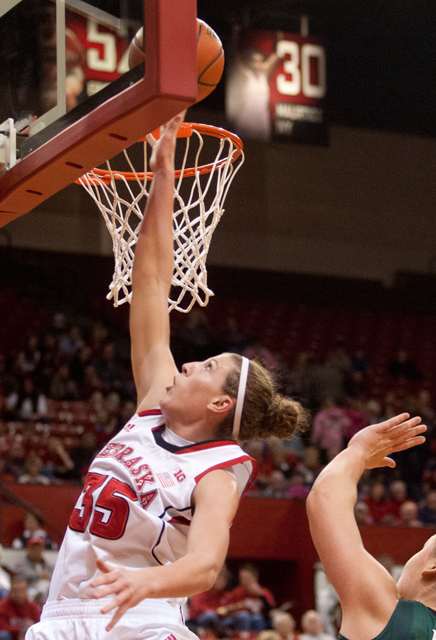 The Nebraska women's basketball team dominated the paint and the defensive end of the ball as the Huskers beat No. 25 Michigan State 59-54 Thursday night at the Bob Devaney Sports Center. Preseason All-American Jordan Hooper ended the night with 25 points and seven rebounds, and fellow preseason All-American Lindsey Moore stuffed the stat sheet with 12 points, six assists, three steels, three rebounds and a block.
"This was a big win," Hooper said. "We needed this one."
The Huskers (14-6, 4-3) were able to penetrate the Spartan defense, something coach Connie Yori was concerned about before the game. Nebraska scored 34 points in the paint and out rebounded the taller Spartans 39-38.
The Spartans (16-3, 4-2) had troubles on offense, shooting just 32 percent from the floor and had a nine minute stretch without scoring a point.
"We had good looks. I liked our fight," Michigan State coach Suzy Merchant said. "You can't go nine minutes on the road in the Big Ten and not get a basket. We were getting the looks we wanted. We just couldn't buy a bucket."
Michigan State's Kiana Johnson led the Spartan charge with 22 points off the bench, and Courtney Schiffauer also added 11 points, but aside from that, only one other Spartan scored more than five points.
Merchant credited guard Tear'a Laudermill's pressure as a factor and said that Nebraska's switching off screens threw the Spartans off their groove. Michigan State played with three starters out with injuries: two with torn ACLs and one with an Achilles tear.
Nebraska's offense, on the other hand, found much success on the inside, something they've struggled with most of the year.
"We finally went inside a little more. We've been trying to all year and just hadn't found our rhythm. Tonight I think we found it a little," Hooper said.
The high-low look from Moore to posts Hooper, Meghan Williams (three points, three rebounds) and Emily Cady (six points, five rebounds) led to easy layups and open 3-pointers for Nebraska. Points off of turnovers also helped the Huskers out. They scored 16 points off 12 Spartan turnovers.
Hooper credits Moore's passing ability for the easy points.
"She's a great passer, and she sees you even when she's not looking," Hooper said.
But it was Hooper's 50 percent shooting from the floor (9-18) that had Michigan State scratching their heads.
"We usually do pretty well on their best scorer, but Hooper's a tough matchup," Merchant said.
According to Hooper, her play came as a bit of relief.
"It's about back to where it should be," Hooper, who scored over 20 points for the first time since Nebraska's Dec. 20 win against Oral Roberts, said. "There are still things I need to work on but I feel like I'm where I should be now."
Nebraska will have a bye week and won't play until next week's Jan. 31 road trip to Ohio State. The break is well needed, according to Hooper, who said the team needs time to rest and get healthy.
"We'll just rest up and keep our mentality up and come back ready to go," Hooper said.
sports@dailynebraskan.com