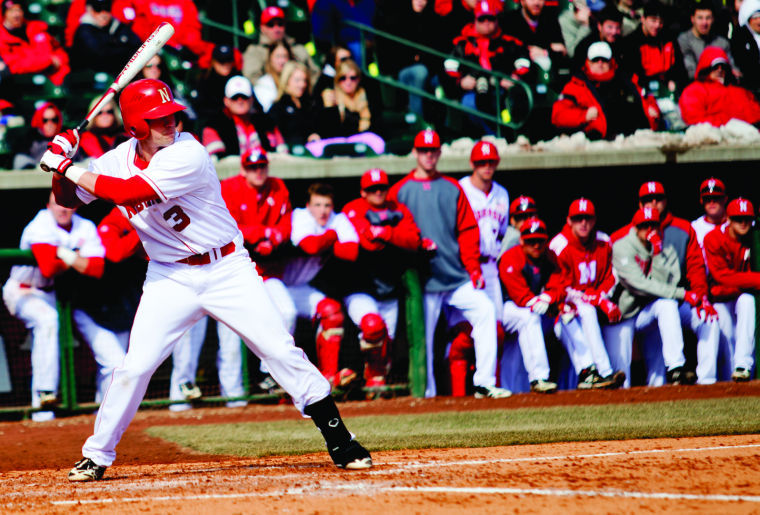 The Nebraska baseball team used a little home cooking to turn its fortunes around during the weekend.
The Huskers (2-7 overall) – after starting the season with seven-straight road losses – picked up a pair of wins against the preseason No. 21 New Mexico Lobos (2-6) at Haymarket Park. The two teams played a weather-shortened two-game set with Nebraska winning 8-5 Saturday and 3-0 Sunday.
The hero for Nebraska on the mound was pitcher Christian DeLeon, who pitched himself in and out of jams throughout Sunday's game. The junior-college transfer allowed runners to reach second base in the seventh and eighth innings, but with the help of a double play and few key strikeouts, was able to work his way out of trouble. He only allowed one runner to reach third base through eight innings of work, stranding him there.
"When you can throw three pitches for strikes in college baseball, and you can pitch backwards, throwing off-speed in hitters counts and keep the ball down," Nebraska coach Darin Erstad said. "When you do that and let the defense work behind you, you are going to be successful."
Erstad said DeLeon's performance has been an instance of a guy taking an opportunity and running with it. The pitcher wasn't supposed to be a part of the weekend rotation, but an injury to potential ace Kyle Kubat made him a starter. The junior has thrown in each of Nebraska's first three weekend series accumulating a 1-0 record and a 1.45 ERA with 13 strikeouts.
"Really, I just wanted to get on the mound and pitch," DeLeon said. "I just stuck to my game plan and just focus on what I need to do. When I got that first start, I was thankful enough for that, and I've just tried to stay locked in."
Brandon Pierce – who threw on Saturday – along with Zach Hirsch and Ryan Hander are in a battle for the two remaining weekend spots. Kubat is day-to-day and could also be in the mix for a starting role down the road.
At the plate, it was left fielder Chad Christensen, who rose to the occasion for the Huskers. He hit in the 3-hole both games, going 5-of-8 with a pair of doubles. The senior is on fire right now, owning a .389 average through nine games.
The rest of the Husker bats came alive during the weekend as well. The offense exploded for seven runs in Saturday's sixth inning and came up with 11 total across the two-game set. After struggling to get anything going a week ago in Texas, the seven-run outburst felt like a relief to Husker hitters.
"Some of the hits just started dropping," first baseman Kash Kalkowski said. "We had a lot of frustrated kids – including me – because we were hitting the ball hard, and it just wasn't falling."
Kalkowski said it was good to get the monkey off the team's back with a pair of wins and some offensive production.
"It's still in there, the 0-7 thing," he said. "But the coaches have been good about telling us to stay focused on the little things. We are right there. We are about the break out in hitting, break out in pitching. We are starting to come out."
sports@dailynebraskan.com