When kids start swimming competitively, they often watch their favorite swimmers like Michael Phelps and Katie Ledecky swimming at the Olympics. 
Seeing them hit the wall to win or just seeing them swim at that stage can inspire anyone. Sophomore swimmer Audrey Coffey is one of those people. 
When she started swimming competitively at the age of seven for a club near where she grew up around Austin, Texas, she didn't like the sport at first because she wasn't good. It wasn't until she was around nine that she started watching those swimmers and really began to love the sport. 
Coffey recalls there was one meet that she was so close to qualifying for, but she fell short. From then on, she told herself she was going to work as hard as she could to make that meet. 
"I eventually made that meet the next season, but I think that was the first time I really had that mind set of wanting to get better, and thinking of what I can do," Coffey said. 
Growing up, Coffey also did gymnastics for a short time, but stopped because her mom didn't like how hot the gym was. With how her swimming career has gone thus far, that seems to have been the right choice. 
In high school, Coffey was a three-time all-state swimmer at Naperville Central in Naperville, Illinois. As she started to see that swimming was her calling, she decided to not compete on her high school team during her junior year, instead focusing on her club team. During that time she worked on her skills and received great training from her coaches, but she started to get some pre-race anxiety, which led to her coming back and competing for her high school team her senior year. 
During her time in high school and continuing on at Nebraska, Coffey found that swimming distance was her calling, and her main event was the 500-meter race.
"I kind of found it, I wasn't really good at sprinting. Swimming my first 500, I was nine at the time and I was beating 13 year olds and one 15 year old which was fun … It's a love-hate relationship [with swimming distance] really, it hurts," Coffey said. 
It wasn't long until colleges started to see what Coffey could do in the pool. She talked with colleges like Virginia Tech, Houston, Rice and Illinois, which is the closest college to where she grew up. In the end, the team atmosphere at Nebraska led Coffey to choose the Huskers.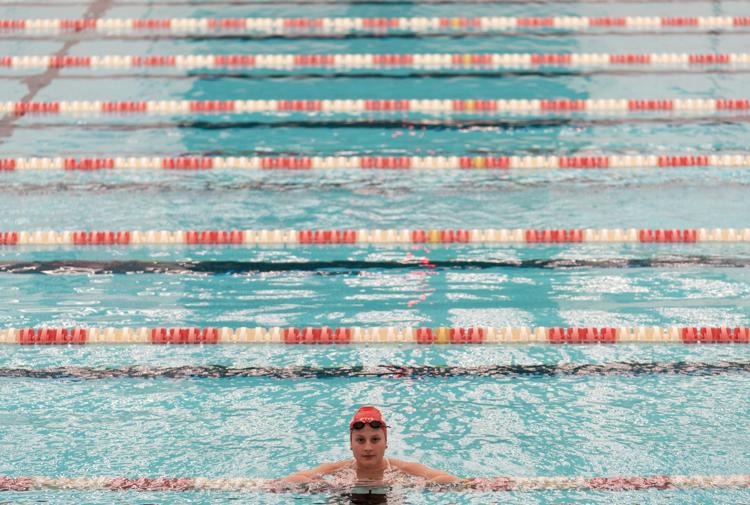 "It was the team that really drew me to Nebraska, I had to try the least when I first met people here. With the other schools I felt like I was putting up a front, but Nebraska I just felt like I was acting like myself and was already a part of the team here," Coffey said.
Something else which brought her to Nebraska was the coaching that she saw.
"He [head coach Pablo Morales] was the best, I can really see that when he talks to me or motivates you that he knows because he has been to the highest level," Coffey said.
Coffey made an immediate impact at Nebraska, as she earned eight top-five finishes, including three first-place finishes and three runner-ups. Also in her freshman year she set career bests and had Nebraska's top individual finish in the 1,650 free at the 2019 Big Ten Championships at 19th. She also holds Nebraska's school record with a time of 16:48.76 in the 1,500-meter free, which is where she earned a qualifying time for the 2020 U.S. Olympic Team Trials in Omaha.
One thing Coffey appreciates about Nebraska is the event-specific training she receives. 
"This was the first time I really had specific distance free training, I was always training on other events along with distance but here I can focus on that and I think that has really helped me," Coffey said.
Outside of the pool, Coffey is looking into pre-medicine, with a focus on nutrition sciences. Despite it being "lots of science," Coffey said that as an athlete "it makes sense since it's what I am going through."
Coffey has already had a very successful start to her college career, and she will look to continue that into her sophomore year with the Huskers. This year Coffey has succeeded in her individual events, including in Nebraska's latest meet against Iowa State. In the meet, she won the 1000-meter free, setting a collegiate career-best in that event, and also won the 500-meter free.