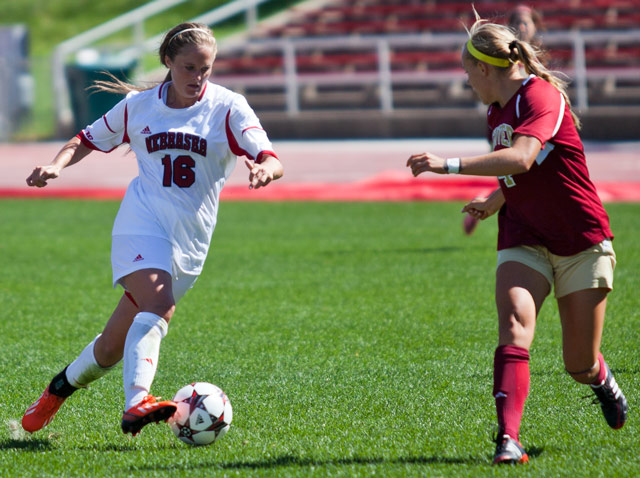 The Nebraska soccer team lost 2-1 to No. 20 Michigan at home on Sunday, but the one goal the Huskers were able to score was a milestone for senior forward Jordan Jackson, who now has the eighth-most goals in school history.
"Knowing what it took to get to this point with all the hard work and the fundamentals, it's nice to see that everything is paying off after four years," Jackson said.
On Sunday afternoon, trailing 2-0 against Michigan, the Husker offense was just trying to get a shot into the goal. In the 74th minute, the offense was moving down the field, trying to create an opportunity. Then freshman midfielder Courtney Claassen took the ball and sprinted down the sideline to set up for a cross pass.
Knowing there was a great chance to close the margin, Jackson ran up the middle to try to get into the box so she could knock it. When Claassen found the right moment, she charged up the left sideline. She crossed to the middle into a slum of players going for the ball. Jackson then extended her neck and knocked the ball in with a header to close the margin to 2-1.
After finding out she reached the milestone, her teammates who have been there with her during her Nebraska career were not surprised, including senior midfielder Stacy Bartels.
"It's an awesome accomplishment for her," Bartels said. "She definitely puts in the work, and it's great to play with someone like that — someone who works so hard and shows it on the field. When we came to the first camp together, I always knew she was a great scorer going into it, and her freshman year she was starting and scoring goals. And it's been amazing seeing her score goals since she started here five years ago."
Jackson's skills are not only valued by the team, but with many young players on the squad, there is a lot to learn from a scorer like Jackson, and according to freshman forward Jaycie Johnson, the team's leading scorer, Jackson is a role model for incoming players.
"It's great to see her get up there with the great players in this program," Johnson said. "She's given me so many pointers and has given me so much confidence as a player, and that's a big deal for me. To have her trust and respect means so much to me as a freshman."
After Jackson missed all but two games in the 2012 season, she is still making her mark on the program, and this season, it's paying off. Nebraska is currently ranked No.24 in the country and has a 9-3-1 record. Jackson said this year's offense is better than it was the past few years.
"I think it's awesome to have a balance in our offense so we're not just relying on one person, which has happened in recent years," Jackson said. "So it's great to have balance and depth on the offense. I definitely think we're at another level."
Jackson will continue working her way up the scoring the list when the Huskers travel to face Purdue on Friday.
sports@dailynebraskan.com