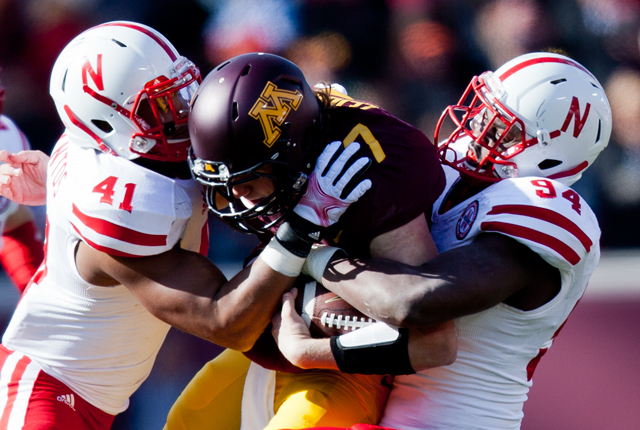 Defense responds to losing Blackshirts
The Nebraska defense let up 430 yards of total offense to Minnesota last Saturday, including 271 yards on the ground. After those yards turned into a 34-23 loss, defensive coordinator John Papuchis and the rest of the defensive staff decided it was time to make a change, and they revoked the Blackshirts from the seven Husker defenders who sported the traditional practice jersey.
"We have a standard that we want to try and live up to, and certainly what we put on the field on Saturday wasn't up to the Blackshirt standard," Papuchis said after practice Wednesday. "I don't wear a Blackshirt. If I wore a Blackshirt I'd take mine off, too. We didn't do anything at all well enough to have one."
The seven defenders who lost their blackshirts were Ciante Evans, Stanley Jean-Baptiste, Corey Cooper, Josh Mitchell, David Santos, Jason Ankrah and Thad Randle.
The move, Papuchis said, was handled well by the team, as they acknowledged they did not play well enough to wear a Blackshirt.
Nebraska ranks 75th in the country in rushing defense, allowing 173.7 yards per game, is tied for 68th in the country for 3rd down defense and is 77th in the country in overall defense.
Linebackers and special teams coach Ross Els said after practice the team responded well to the shirts being taken away.
"I haven't heard a thing from them. I really haven't," Els said. "I know that's a big part of Nebraska tradition, but these guys are a part of such a team-oriented group that they know they weren't playing well enough last week to earn anything."
Papuchis said the team had no time to feel sorry for themselves and they have to learn from their mistakes.
Eye on Colter
Northwestern senior Kain Colter is on Nebraska's watch list for the game on Saturday. The dynamic dual-threat quarterback is 54-for-66 so far this year with 500 passing yards and an 82 percent completion rate. Papuchis said stopping Colter will be crucial for Nebraska's chances on Saturday.
He mentioned that though Colter left the game against Iowa with an injury, when he came back, the entire demeanor of the Northwestern offense changed. And with Colter, Northwestern poses many threats to the Nebraska defense.
"Part of us is preparing for everything they've done, and part of us is keenly aware that there are some things that have been in our past that they might try to attack," Papuchis said.
Shift at linebacker
The ever-changing middle-linebacker spot is moving again. Redshirt freshman Michael Rose is taking senior David Santos' spot at middle-linebacker for this week's game. Rose has 15 total tackles on the season and has started just one game before Saturday.
"Michael is a leadership presence," Papuchis said. "He's going to take charge, and he's shown that this week."
Papuchis said the middle-linebacker spot is flexible, and he has seven or eight guys he could shift in there.
Martinez still out
Senior quarterback Taylor Martinez exited practice wearing street clothes again Wednesday. Neither he nor any offensive coach was able to comment on whether he practiced or if he will suit up for the game on Saturday.
- compiled by Chris Heady
sports@dailynebraskan.com