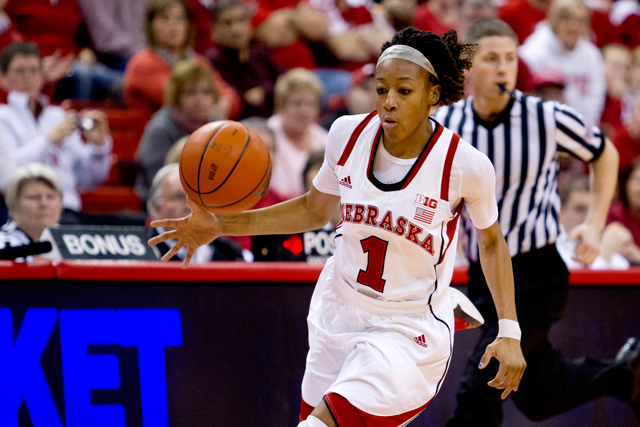 Nebraska has finally found its groove.
The women's basketball team's 80-56 thrashing against Minnesota Sunday marked the Huskers' fourth conference win in a row.
"After the first Minnesota win (Jan. 20), that was definitely the turning point for us," junior Jordan Hooper said after the game.
Hooper led Nebraska in the win with 27 points and seven rebounds.
Before the women's four-game win streak, Nebraska dropped two in a row to No. 8 Penn State and Illinois. After that disappointing stretch, sophomore guard Tear'a Laudermill said the team held a meeting to sort out the problems on the court.
"We just came together as a team," Laudermill said. "We knew as soon as we had those losses, we knew like, 'Hey, this isn't us, we don't play like this.' So we just had to step it up."
Laudermill, who finished the game tying her career high of 14 points, said the seniors on the team, guard Lindsey Moore and forward Meghin Williams, talked a lot about dropping distractions and meshing as a team.
Ever since that team meeting, Nebraska coach Connie Yori has talked a lot about the boost in aggressiveness the team has shown. The recent stretch of success has Yori optimistic with the team's progression.
"We're playing closer to our potential," Yori said. "We did a lot of things right, and we shared the ball. The stat: 18 assists, 9 turnovers is a great stat."
While Hooper collected a solid outing on Sunday, her 27 points were added to nicely by four other players recording double digit scores. Laudermill's 14 points, along with Moore's 12 points, freshman guard Rachel Theriot's 11 points and sophomore forward Emily Cady's 10 points, completed a well-rounded offensive effort for the Huskers.
But more than a solid offense was needed to take down Minnesota's leading scorer, sophomore guard Rachel Banham, who averages 21.1 points per game. The first time the Huskers played the Gophers this season, Banham scored lower than her average with 15 points. On Sunday, Nebraska did an even better job with Minnesota's leading scorer, limiting her to only 11 points on the night. The key to shutting down Banham, Yori said, was being aware of where she was at all times.
Nebraska's defensive pressure was a game changer. Moore, who briefly left the court for an injury, managed Banham through most of the game. But in a defensive mindset, no player affected the game as much as Laudermill. Laudermill's presence, which led to two steals, several turnovers and a few annoyed Gophers changed the game.
"(Laudermill's) defensive pressure was definitely a key in the game, and she made shots," Yori said.
After building an eight-point lead going into the break, Nebraska closed out early in the second half to secure the victory. The Huskers overhauled the Gophers 42-26 in the last 20 minutes, including 19 points off Gopher turnovers.
"They weren't gelling like usual, but I don't know if they actually fell apart," Hooper said. "They're a really good basketball team, and they were still hitting buckets down toward the stretch and everything."
Sunday's win against Minnesota completed Nebraska's first full week back from its bye week. After giving players a couple of days off, Nebraska has gone 2-0 against Ohio State and Minnesota. Nebraska had been playing with eight players for the past several games, but thanks to the rest of a bye, sophomore guard Brandi Jeffery re-entered the lineup against the Gophers. Jeffery added two points, but more importantly 16 minutes for the Huskers.
sports@dailynebraskan.com