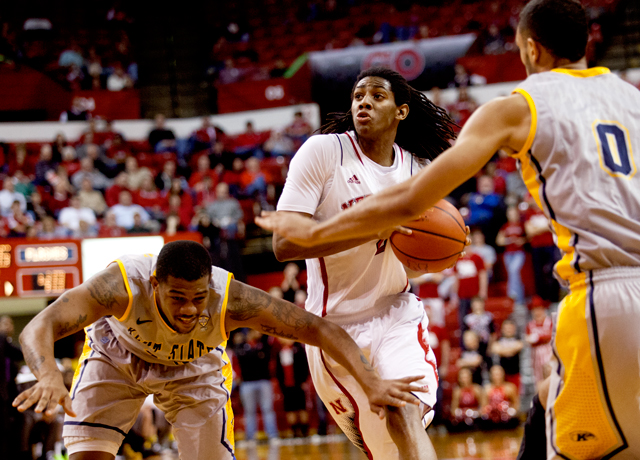 The Nebraska basketball team shot better from the field than it had in two weeks.
Three Husker players led Nebraska with double-digit shooting performances, with its leading scorer coming from a first-time starter. And the team scored the highest it had in Big Ten play all season.
But even those impressive factors weren't enough to win as the Huskers dropped its fourth consecutive contest with a 66-56 loss to Michigan State on Sunday evening.
Sophomore David Rivers made the first start of his collegiate career, leading Nebraska with a team-high 18 points. The 6-foot-7-inch forward had an 8-for-8 showing from the floor to assist the Huskers to its first tally of more than 50 in two weeks.
Prior to the game, the team was given some unsettling news when they discovered junior guard Mike Peltz would have to undergo season-ending surgery because of a left knee injury.
The bad news didn't stop there. The team's starting big man Brandon Ubel was forced to sit out with an elbow injury the senior forward suffered in the final minutes of Nebraska's last game against No. 2 Michigan.
Although they were unable to pull out the win, Husker coach Tim Miles said he was impressed with his team's efforts given the odd circumstances.
"Our guys battled hard," he said. "That was a tough loss for us."
With the blow from Ubel's injury, the Huskers knew they'd need a major contribution in the paint from senior center Andre Almeida. After playing just 10 minutes in Nebraska's previous two matchups, the 314-pound senior was due for a dazzling performance.
However, the opposite effect would occur when Almeida began the game with a pair of unlucky missed shots and two early fouls.
Freshman Shavon Shields, however, would go on to anchor the offense the first minutes of the game, shooting 4-for-5 from the filed to tie it early at 10 points apiece. The guard continued his strong shooting from the floor giving the Huskers its first lead, 18-17, with 9:23 left in the first half.
Shields finished the half with nine points, while dishing two assists.
Rivers also showed off his shooting range, leading the Huskers with 12 points before the heading to the locker room tied at 32 apiece with the Spartans. Miles felt pleased with his team's poise against its 18th-ranked counterparts.
"You have to be able to just battle, stay with the course we'll be okay," he said.
Like the tail end of the first half, lead changes seemed to plague the second half.
Senior guard Dylan Talley anchored the Husker offense tallying 10 of his total 17 points after halftime.
But the Spartans shot better as well.
After an injury sat MSU leading scorer and sophomore Brandon Dawson for nearly 10 minutes, senior center Derrick Nix and Adreian Payne led the Michigan State forefront with 14 and 17 points respectively.
Nebraska kept its composure well until two minutes to play down 55-54. But late fouls, including a fifth and final by Almeida for an early exit, assisted Michigan State to a final 10-point victory against the Huskers.
Although Michigan State escaped with the win, coach Tom Izzo said he left Sunday's game impressed with the away team.
"They played harder than us, they coached better than us and probably deserved to win the game in every way," he said. "They did a hell of a job and made some shots that they don't usually make from the guard positions."
Besides Rivers' 18 points and Talley's 17, senior guard Ray Gallegos also added 12 points, including five rebounds.
Despite having the winless record in conference play, Miles said there were things to be optimistic about. One includes scoring more than its total 34 in the team's last visit to East Lansing, Mich., a year ago.
"We scored 56 points," Miles said. "Most people probably thought we'd score 36 tonight. A lot of good things went on just not enough to win."
The team finished with its highest total score and shooting performance, 39.7 percent, since its 68-59 win against Nicholls State, Dec. 29, when they shot for 45.8 percent.
sports@dailynebraskan.com