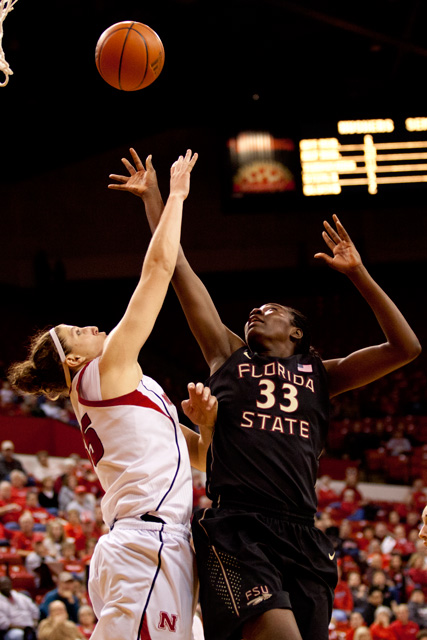 In an exciting finish at the Bob Devaney Sports Center Saturday afternoon, the Nebraska women's basketball team upset the unbeaten No. 24 Florida State Seminoles 78-77, and improved to 7-3 on the season. The Huskers were led by All-American Jordan Hooper, who erupted for a career-high 36 points and added 12 rebounds coming off a scoreless game against Creighton on Wednesday.
"I knew I was on during shoot-around today," Hooper said in the postgame press conference. "I was just glad to come out and hit some shots. This was a big win for our team against a great Florida State team."
The matchup came down to the final seconds when Nebraska's Emily Cady was called for a foul seemingly at the buzzer. The referees determined the foul occurred with .4 seconds on the clock, and Florida State's Natasha Howard would be sent to the line for two shots. Down by a point, Howard, a 66-percent free throw shooter, clanked the first off the back of the rim, and failed to hit anything on her second attempt, air balling Florida State's chance at a win. Nebraska would inbound the ball, and the clock would expire again, but this time, with a 78-77 score in favor of Nebraska set in stone.
"I was praying during those free throws," Hooper said.
The game might as well have been "The Hooper Show." She put on runs all by herself, including an 8-0 run to bring the Huskers out of a 23-30 deficit in the first half to take a 31-30 lead. Nebraska would lead 40-36 at halftime. Hooper accounted for 22 of those 40 points.
"Honestly I put (the Creighton game) out of my mind. It wasn't pretty for our whole team, we just didn't play very well," Hooper said. "I tried not to let that get me down for this game, I tried to look past that game and just move on to the next one."
The second half was packed with lead changes, and eventually came down to a 59-59 tie with 11 minutes left. Neither team would gain more than a two-point lead for the rest of the contest.
"It was a fun, fun game to play in," Nebraska guard Lindsey Moore said, who had one of her best all-around games of the season with 14 points and 8 assists.
With 26 seconds left and the Huskers down by one, Moore dribbled left off of a high-ball screen from Hooper and hit a 10-foot leaner, putting her team up one, and would eventually be the game-winning bucket after Howard's missed free throws. The team, and Husker coach Connie Yori, pointed to the crowd for keeping them in the game.
"Our crowd was unbelievable throughout the game, but I'm not sure I've ever heard the Devaney Center louder than it was at the end," Yori said. "Our crowd was huge today. They gave us energy throughout the game, and they were definitely there for us at the end."
Florida State's electric offense was unable to be stopped by Nebraska. As a team, the Seminoles shot 53 percent from the field, and an astonishing 77 percent from 3-point range. Their best shooter, Leonor Rodriguez, who shoots 62 percent from behind the arc on the year, led the team with 24 points on 7-for-13 shooting, including 3-for-4 from 3-point territory.
Going into Finals Week, Nebraska will finally have a week to rest and practice. Yori is looking forward to finally working on improvement.
"We have to work on everything," Yori said. "Especially our defense. Our defense is not where it needs to be."
The Huskers will take their 7-3 record on the road to South Florida on Dec. 16, and they will try and keep their undefeated record against Florida teams this season alive.