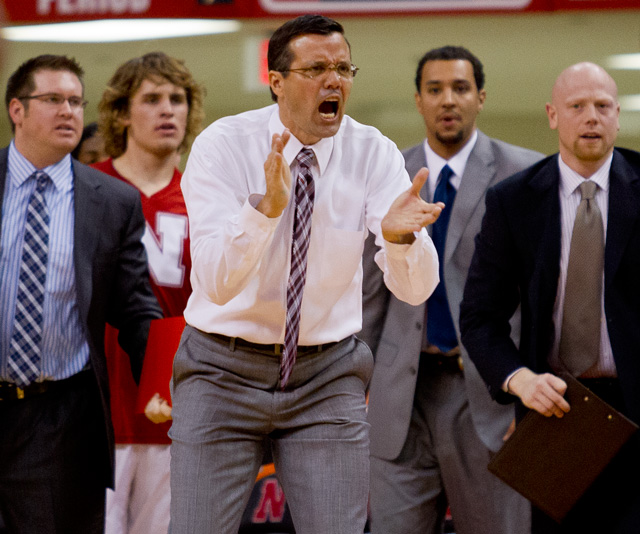 Brad Bigler lay in a bed at Avera McKennan Hospital in Sioux Falls, S.D., in early August.
The Southwest Minnesota State men's basketball coach lay there with 10 broken bones, including some ribs and his clavicle. He also had a collapsed lung.
The accident happened just a few days earlier, when Bigler's wife, Heather, was driving him, their 5-month old son Drake and Heather's grandmother down Minnesota Highway 29 in a 2008 GMC Acadia.
A drunk driver in a 2005 Dodge truck swerved into Bigler's lane and hit the Acadia head on. Heather suffered minor injuries, while her grandmother and husband were listed in critical condition.
Drake had been born that February after an upset win over St. Cloud State, the No. 24 team in NCAA Division II.
The baby didn't survive the accident.
Bigler knew he could get through it, though. He had lost a loved one before. He saw his mother die in a kayaking accident last year. He made it through that.
Mostly, though, he says he's mentally tough enough because of the person who was sitting next to his hospital bed. That guy in glasses was tough on him when Bigler played basketball at Southwest Minnesota State.
Nebraska basketball coach Tim Miles, Bigler's former coach, is always tough on his point guards.
---
Husker fans know Miles looks more like an insurance salesman than a basketball coach. They know the first-year NU men's basketball coach talks like a car salesman trying to meet his quota for the month. They know he likes to crack a joke more than Larry the Cable Guy.
What they don't know is Miles is the kind of guy who likes to break grease boards during halftime speeches.
They don't know he is the kind of guy to turn down the opportunity to play basketball in order to coach it.
They don't know he is the kind of guy to call his buddies from his hometown of Doland, S.D., before he calls a Colorado State booster member who gives $100,000 a year to the school.
But that's the kind of guy Miles is. He Tweets at halftime, he orders pizza for students standing in line to attend a game and he visits a former player in the hospital.
On top of all that, he's turned around four basketball programs using a combination of doofus, tenderness and toughness.
---
Coach Al Bortke called Miles and another University of Mary senior player into his office in Bismarck, N.D., one day early in the season. He had to ask the seniors a question: Did they want to remain as players or become student-coaches?
At Mary, Bortke played eight guys and if a senior didn't make that cut, he gave them the choice to continue as players and play only in scrub minutes or become a coach.
Miles chose the latter.
"Can I coach the JV team?" Miles asked.
Bortke said no. Miles asked a different question.
"Can I go to all the coaches' meetings?"
Bortke said yes. And Miles never missed one. This didn't surprise Bortke at all. He always knew Miles would be a coach.
Miles furthered Bortke's intuition when he attended Bortke's coaching theory class. Then a senior, Miles would constantly badger Bortke with questions throughout the class period.
What if we ran it this way? Can't we teach that a different way?
"I said 'Tim, you're probably too advanced than the other people in this class. You were probably intimidating people in the class,' " Bortke said. "He was ahead of the curve."
One time, when Miles was student-coaching, Mary was getting beat badly. Miles watched the game in silence, but when the opponent stretched its lead further, he leapt out of his seat and called timeout. You just don't do that under Bortke.
"Damn it, did you just call timeout?" Bortke asked Miles, as he looked over.
Miles gave a sheepish grin and nodded his head.
"All right, you called timeout, you coach," Bortke said.
Miles coached the team in the timeout and then Bortke took over again after the players broke the huddle.
"He must have saw something we weren't doing and got so wrapped up in the game he called timeout," Bortke said. "He didn't do a bad job in the timeout, though."
Then again, Bortke knew he would do a good job. He knew he'd do a good job even when Miles took his first head coaching position at Mayville (N.D.) State, an NAIA school in a town of less than 2,000 people.
"It is impossible to fly anyone out there. It was a pit to recruit players," Bortke said.
Mayville State went 2-22 two seasons before Miles took over the job in 1995. He won two conference titles and went to two NAIA national tournaments during his three years at the school.
When North Dakota State came calling after his stint Mayville and Southwest Minnesota State, Miles called his old coach in 2001 to see if he should take the position.
"The only way to go is up, Tim," Bortke said.
---
When Miles recruits players, he looks at three criteria.
The players have to be good citizens, academically accountable and competitive.
Miles, who graduated seventh in a high school class of 13, said if he can be academically accountable, so can any player out there.
"I'm average in every way, shape and form," Miles said. "Average height, average weight, average intelligence. If I can go to the University of Mary and get two degrees, elementary (education) and (physical education), go out and get a master's degree, anybody can do it. I mean that with our guys and I expect them to walk out of here with a degree."
Miles also doesn't see the point in getting a player who doesn't have the right perseverance or mental toughness.
"I always say, 'If you can't help us win at Wisconsin, at Michigan, then why should I play you?'" Miles said.
As North Dakota State's coach from 2001 through 2007, he played three-on-three pickup games with other members of his staff and football coaches. For the most part, the games were fun, but competitive, Miles said.
"I usually threatened to fire somebody each game," Miles joked. "They usually end up where some student manager would cheap shot an assistant coach and the coach's ego would get in the way and I'd have to yell at everybody."
One time, he wanted to know if he liked running a version of the Princeton offense called "Chin." This version can be run with three people faking handoffs and cutting backdoor.
Miles and two of his coaches, who were his teammates for that game, watched film on the offense and ran it. The football coaches playing against Miles' crew didn't know what hit them. Two of those coaches, Bob Babich and Gus Bradley, now coach for NFL teams.
"I think Bob almost broke his knuckles one time from punching the floor he was so mad," Miles said.
Miles knows it takes a little more effort and preparation to stay competitive and tough, but that's what separates the good players from the great players, he said.
---
Miles heard about the accident as he was packing up his house in Fort Collins, Colo.
He had just got back from a recruiting trip in Kansas City, and needed to help his wife move to his new home in Lincoln. He got a call from a former assistant at Southwest Minnesota State, Greg Stemen.
Brad Bigler's baby was dead.
"It was sickening," Miles said. "So many things go through your head."
Miles didn't know all the information. How was Brad? How was Heather?
The newly hired Nebraska basketball coach continued to pack his house after hearing the news, but in a different mindset.
"How would you feel in that situation if it was your family?" Miles said. "You're just trying to search all of those empathetic situations."
Miles moved into his new Lincoln house a couple days later. Then he blew off the 100 other things he had to do as the Huskers' new basketball coach and hopped into his car to drive north.
"Your schedule doesn't matter. It's life," Miles said.
He drove the 293-mile drive to Sioux Falls, S.D., three days after Bigler's life had changed.
---
Miles says he is always tough on his point guards.
He compares them to quarterbacks in football. Those are the guys you have to lean on to make plays, Miles said.
Bigler, as Miles' first starting point guard when he coached at Southwest Minnesota State from 1997 to 2001, was treated just like other point guards.
"He taught me how to be mentally tougher and that is something that helps me today," Bigler said.
Miles is known for fiery halftime speeches, Bigler said.
One time at SMSU, Miles yelled so loud, he blacked out and had chest pains the whole second half.
"When they find me someday and do the right tests, they are going to ask me, 'Have you ever had a heart attack?'" Miles said. "I'm going to say, 'Yeah, Concordia St. Paul, September 1999.'"
Another time, SMSU trailed Wayne State by 10 points heading into halftime. Bigler knew Miles would be fired up. The Mustangs sat on benches in the basement of Wayne State's gym. The area looked nothing like a college locker room.
Miles came in and stood in front of his team and began to yell. Mid-scream, he tried to pick up a six-pack of Gatorade water bottles off a training table, acting as if he were going to throw them across the room to make his point, Bigler said.
Miles strained and managed to only pick up the bottles a couple inches, not realizing they were full. The bottles managed only to travel as far as the trashcan in front of the table.
"I didn't know if he was trying to make a point or what," Bigler said. "It was one of those moments where we couldn't laugh because of the moment we were in, but later we had a good laugh about it."
"First of all, if those guys would have played better in the first half we wouldn't have those halftime issues," Miles said, laughing.
The thing about Miles' halftime speeches: His teams usually played better after them, which might be one of the reasons he took a Southwest Minnesota State team with one winning season in 13 years to a conference championship and 28-win season his first year. He went 78-39 in four seasons at SMSU.
---
Miles' teams were monsters on neutral courts when he was at Colorado State the last five years.
The Rams won the Top of the World classic in Alaska his first year as coach, despite going 0-16 in conference play that same year.
The next year, Colorado State headed to the Hawaiian Islands for the Rainbow Classic. When the team got to the islands, a storm hit and caused the Rams to lose power for 12 hours, Colorado State assistant Niko Medved remembers.
The team had a banquet by candlelight that night, then the coaches and players headed off to their rooms.
"We couldn't watch film or anything, so we didn't know what to do," Medved said.
The coaches got bored eventually, and went down to the convenience store to get some "adult beverages." As they waited in line, Miles came up with an idea.
"Miles says, 'You know what, you're only in Hawaii once. Let's go swim in the ocean,' " Medved said.
Sure enough, the entire coaching staff of a team that went 7-25 the year before had a midnight swim in the ocean, with three basketball games in four days ahead of them that week.
CSU went on to lose in the tournament's title game to Buffalo. Those early years at Colorado State were tough for Miles; he didn't win more than 10 games until his third season.
One time, the Rams were losing by eight points to a 3-6 Denver squad heading into halftime. Miles came in the locker room and shattered a large dry-erase board belonging to Denver's basketball program.
After the game, which CSU lost, Medved went up to the other team's coaching staff and said they would pay for the board. A month later Miles received a bill from Denver University for $480.
"He liked to break dry-erase boards, so you had to take a couple extra with you on the road," Medved said.
Nonetheless, Miles built a winner at Colorado State, leading the Rams to a 20-win season and a berth to the NCAA tournament in 2012, his final year at CSU.
"You just have to be patient with him," Medved said. "He's a builder that puts programs on the national map. It doesn't happen overnight, but he'll build a program."
---
Miles does absurd things to get fans in the seats.
He Tweets at halftime. He buys pizza for students standing in line for a game. He gives away free Runzas when Nebraska scores over 70 points. He goes to fraternity houses and talks about basketball with the guys.
Miles is looking into new things to get the students involved. He thinks about opening a Facebook account. He made a movie to ask fans to support Nebraska when it plays Creighton Thursday night.
When he first came to Nebraska he tried to use the hashtag, AskTimMiles. When you are No. 5 among Division I basketball coaches with more than 35,000 followers, it's hard to answer all the questions.
The most constant thing he does though to draw a crowd at games is win.
Miles is 6-1 in his first season at Nebraska. He has double-digit wins at Wake Forest and at home against USC. Both times Las Vegas had the Huskers as underdogs.
"There is an unbelievable amount of support here (at Nebraska)," Miles said. "People want to support you. There are more things in place here so I expect success sooner. First of all, I have to stay patient and teach, teach what your expectations are.
"You know basketball can be played just how cookies can be made. There are all kinds of recipes, there's all these types of ingredients, you can do it anyway you want, but you still end up with really good dessert. Our way is going to be different than the way it was done before."
---
Miles talked with Bigler's dad and the Southwest Minnesota State athletic director.
"I was worried about Brad," Miles said. "I didn't want him to just rush into work, because there are a lot of things you can do to mask your grief. Nothing breaks your heart more, because I'm a parent, when you see one of your guys and he's just lost a child."
Miles says he understands what Bigler is going through. He has been around suffering in his life.
A friend showed up for Miles' wedding reception. On the way back, the friend was killed in a car accident. He was hit head on by a semi.
Another time, an SMSU player was killed two weeks after he transferred to a different school.
"You give a mom a kid's jersey … that's about the worst thing you can do," Miles said.
So when Miles sat next to Bigler's hospital bed, he wanted Bigler to know he cared.
"You go through a lot of things as a coach and a lot of things that are emotional and things (when) you find out what's important," Miles said. "I just told him that his son is in a great place, in heaven."
Miles' predecessor had recruited Bigler. When SMSU hired Miles the spring before Bigler enrolled at school, he didn't know if he wanted to stay. He did.
"It was the best decision of my life," Bigler said.
The two talked that early August day about life and adversity. They talked what Bigler wanted to talk about, Miles said.
"You know he has a great sense of humor and love for the game, but he's even better as a person," Bigler said. "Just his presence being there was just unbelievable and something I'll never forget."
Bigler had to get healthy. He had to plan the funeral of his son. He had to be a caring husband to a grieving wife. He had a basketball team waiting to be coached in the fall.
Miles sat next to him, making him tougher once again.
sports@dailynebraskan.com