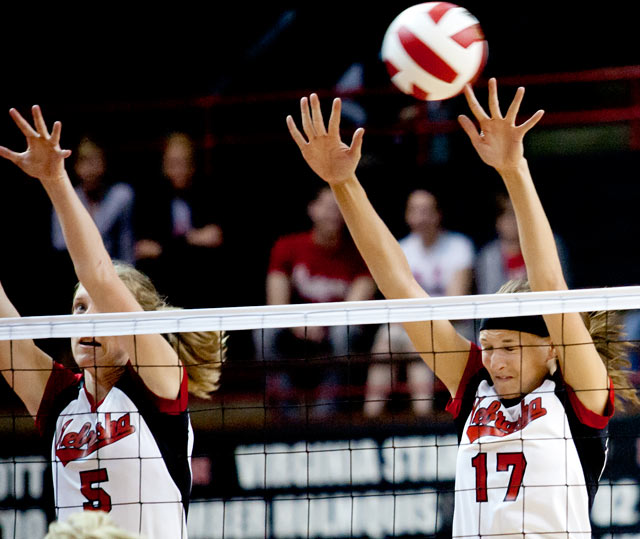 The Nebraska women's volleyball team fell to Wichita State on Saturday in four sets (22-25, 25-17, 19-25, 21-25). The Huskers and Shockers also played an exhibition set, where the Huskers won 15-12.
The loss capped off the spring season for the Huskers, and the squad finished with a 2-2 record after dropping its last two matches. In the final two matches of the spring, the Huskers totaled 68 attacking errors and 23 service errors.
However, against Wichita State, the Huskers managed to have more service aces than serivce errors. Nebraska racked up nine aces, six of which came courtesy of senior Kelsey Robinson's jump serve.
The Huskers' attacking percentage was at its best in the first set at .217 percent with 15 kills. Despite their efforts, the Shockers answered with 16 kills and a .239 percent hit percentage to take the opening set.
Robinson also switched up roles and didn't get a kill, but led the Huskers on defense with 28 digs.
The second set consisted of the Shockers having a 0 percent attack with 10 kills and 10 attacking errors, which helped the Huskers claim the victory set No. 2.
In both the third and fourth sets, the Huskers were out matched by the Shockers' attack. Wichita State earned 28 kills with only seven attacking errors in the two sets, while the Huskers had 23 kills with 15 errors.
This led the Shockers to claim the match and defeat Nebraska 3-1 in the match. After finishing the game, teams agreed to play an exhibitional fifth set.
The Shockers, again hit for 0 percent with six kills and six errors. On the Huskers' side, the team was able to hit for .160 percent on the attack, and took the fifth set.
The Huskers had strong performances from sophomore Alexa Strange, who earned seven kills and led Nebraska with 45 assists. Senior Hayley Thramer also played a key role with seven total blocks in the match.
The team leader in kills for the Huskers was sophomore Kelsey Fein with 14.
Nebraska will look to get back on the court next fall in its new home, the Bob Devaney Sports Center, with the rest of its recruiting class.
sports@dailynebraskan.com